Barons Blast Past Blue Wahoos 9-5
Collins drive in four as Birmingham comes back to take series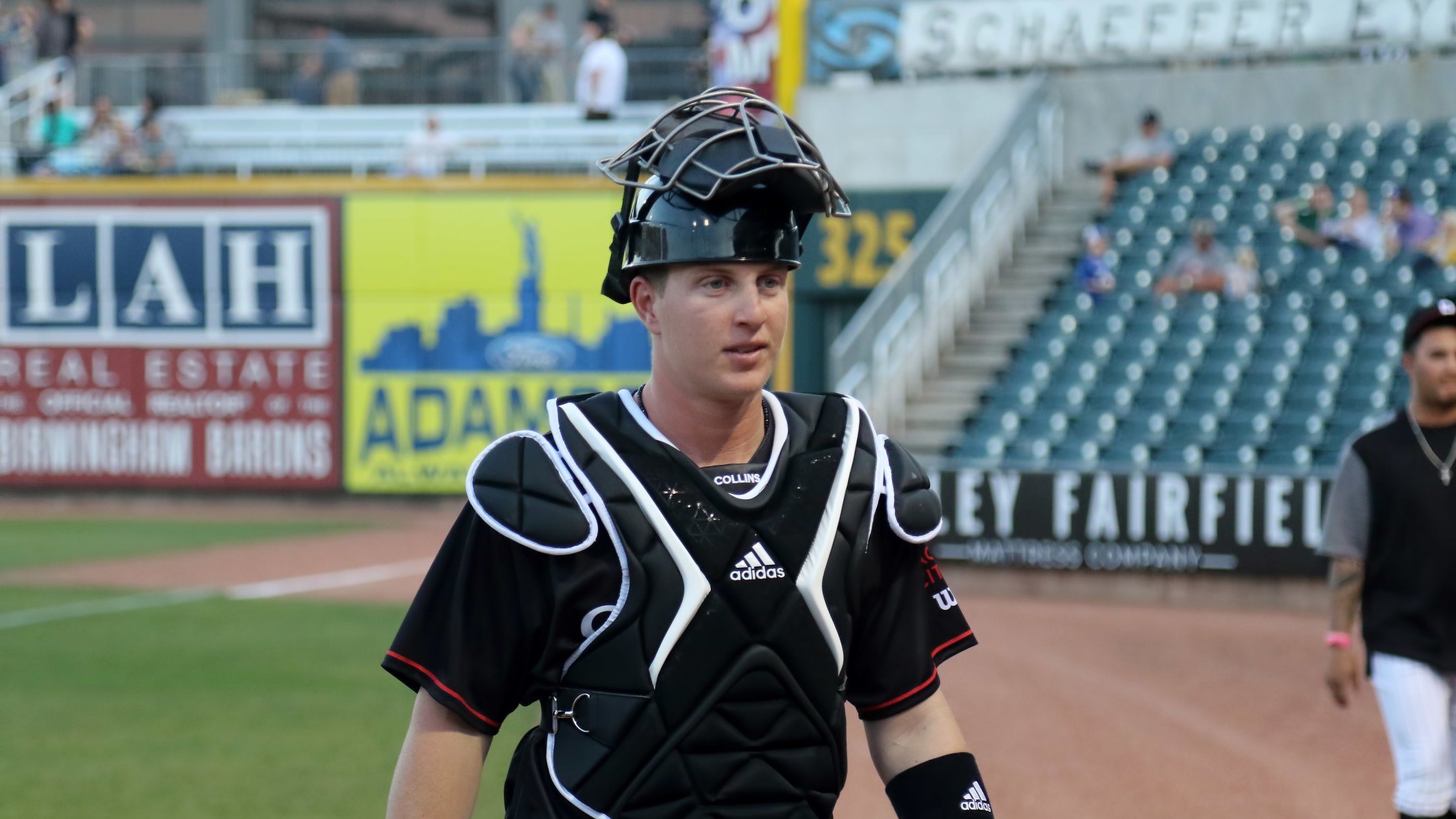 Zack Collins drove in four runs to lead the Barons offense on Tuesday night. (Michael Wade)
After falling behind early, the Birmingham Barons (9-10) got their biggest offensive inning of the season to storm back and defeat the Pensacola Blue Wahoos (8-11) 9-5 on Tuesday night at Blue Wahoos Stadium. The win gives the Barons a series victory with one game still remaining on their 10-game
After falling behind early, the Birmingham Barons (9-10) got their biggest offensive inning of the season to storm back and defeat the Pensacola Blue Wahoos (8-11) 9-5 on Tuesday night at Blue Wahoos Stadium. The win gives the Barons a series victory with one game still remaining on their 10-game road trip.

Facts And Figures: In the bottom of the second, Barons pitcher Jordan Guerrero committed the Barons' league-leading 24th error of the season with a wild throw to second base, allowing a run to score as the Blue Wahoos jumped out to a 4-0 lead. Guerrero lasted just 3.0 innings, giving up four runs, three earned, on four hits with three strikeouts and three walks.
Turning Point: One inning after falling behind, the Barons charged in front with their largest hitting frame of the season. Zack Collins began the comeback with a bases-loaded double to score three runs. Seby Zavala then tied the game with a sacrifice fly. Two hitters later, Trey Michalczewski capped the barrage with a two-run double to give the Barons a 6-4 lead.
Moments That Mattered: The series of power continued for the Barons as Zavala hit his team-leading fifth home run of the season, a solo shot for the Barons' eighth home run in four games of the series, to increase the lead in the fifth. Collins added another RBI double in the seventh to finish 2-for-4 with two doubles and four RBIs. Michalczewski and Zavala each finished with two RBIs while Eloy Jiménez added an RBI in the ninth.
By The Numbers: After Guerrero lasted just 3.0 innings, the Barons bullpen was needed to complete the game, and three relievers combined to hold the lead for Birmingham. Brian Clark (W, 1-1) pitched 2.0 scoreless innings to earn the win. Ryan Burr gave up one run in 2.0 innings, and Colton Turner (S, 1) finished the game with 2.0 clean innings of his own to get the save.
Up Next: The Barons and Blue Wahoos conclude their five-game series with a 6:35 p.m. matchup on Wednesday night. Southpaw Ian Clarkin (2-1, 2.55) is scheduled to start for Birmingham against Wyatt Strahan (2-1, 3.00). Curt Bloom will have the call on 960 WERC News Radio and the iHeart Radio app.