Barons End Home Slate With Wild Walk-Off
Barons score five late to top Generals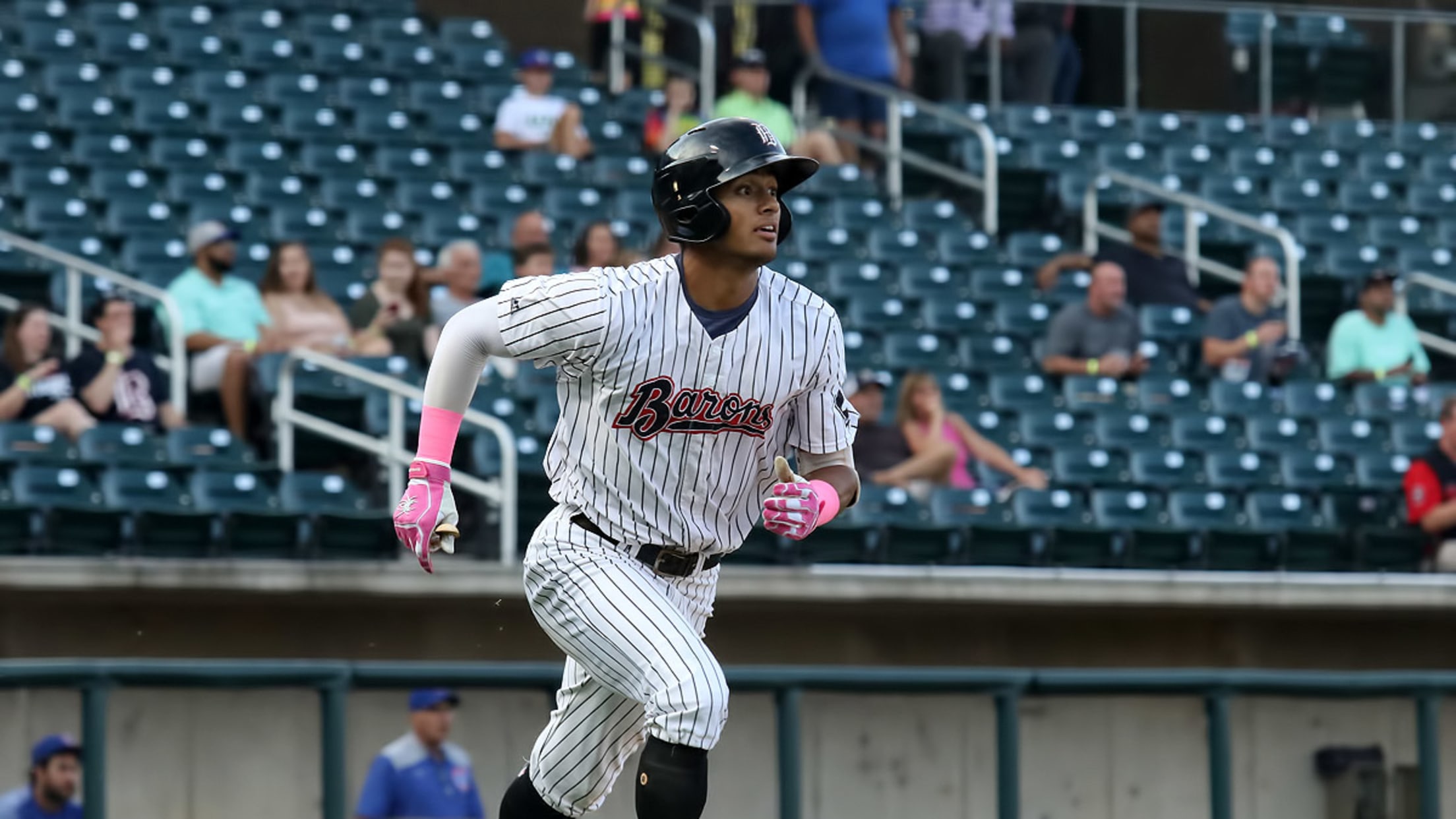 Joel Booker scored the winning run in Tuesday's wild win. (Michael Wade)
In the most dramatic of fashions, the Birmingham Barons (64-69) concluded their home schedule with an improbable 5-4 win in 10 innings over the Jackson Generals (72-62) on Tuesday night at Regions Field. The walk-off win is Birmingham's fourth of the season. Moments That Mattered: Down 3-0 in the bottom of
In the most dramatic of fashions, the Birmingham Barons (64-69) concluded their home schedule with an improbable 5-4 win in 10 innings over the Jackson Generals (72-62) on Tuesday night at Regions Field. The walk-off win is Birmingham's fourth of the season.

Moments That Mattered: Down 3-0 in the bottom of the ninth, the Barons began to threaten for the first time all night as Luis Basabe singled and Zack Collins walked to put two runners on with nobody out. Alex Call followed with one of Birmingham's biggest hits of the season, a game-tying three-run home run, his seventh of the season, to even the score with the Barons down to their last three outs.
Turning Point: After the Generals took a lead in the top of the 10th, the Barons tied it on Joel Booker's fielder's choice ground out. With Booker running, Basabe then lined a base hit to right-center. Hustling around third as fast as he could, Booker dove toward the plate, but was called out with the potential winning run. However, the umpires conferred and called interference on Jackson shortstop Domingo Leyba, making Booker safe at home as the Barons walked off to end the game.
Quotable: "I was going to third all the way and I got the wave, but I don't know if he fully waved me," Booker said. "At first, I saw go and then when I was past him I saw his arms up, but I had already the made the decision to go and I went for it, and we got the call"
Facts And Figures: Making the start, Kodi Medeiros tossed a quality outing for Birmingham, giving up three runs, one earned, on five hits with one walk and eight strikeouts. Ian Clarkin (W, 4-5) pitched the final 2.0 innings to get the win after giving up the unearned run in the top of the 10th. The Barons offense didn't record a hit until the sixth inning, but erupted for five late runs in the stunning win. Call led the way with the three-run homer while Basabe went 2-for-4 in the win.
By The Numbers: The win gives the Barons a 33-36 record to close out their home schedule. That marks their second-highest win total since moving to Regions Field, behind only the 2013 Barons, who went 44-26 in route to a Southern League Championship.
Up Next: The Barons hit the road for the final series of the season, a five-game set against the Biloxi Shuckers that begins on Thursday night at 6:35 p.m. Tanner Banks (4-5, 2.83) is set to start for the Barons. Spencer Siegel will have the call on 960 WERC News Radio and the iHeart Radio app.