Barons Excited For Return To Rickwood
Barons head back to iconic ballpark for annual Rickwood Classic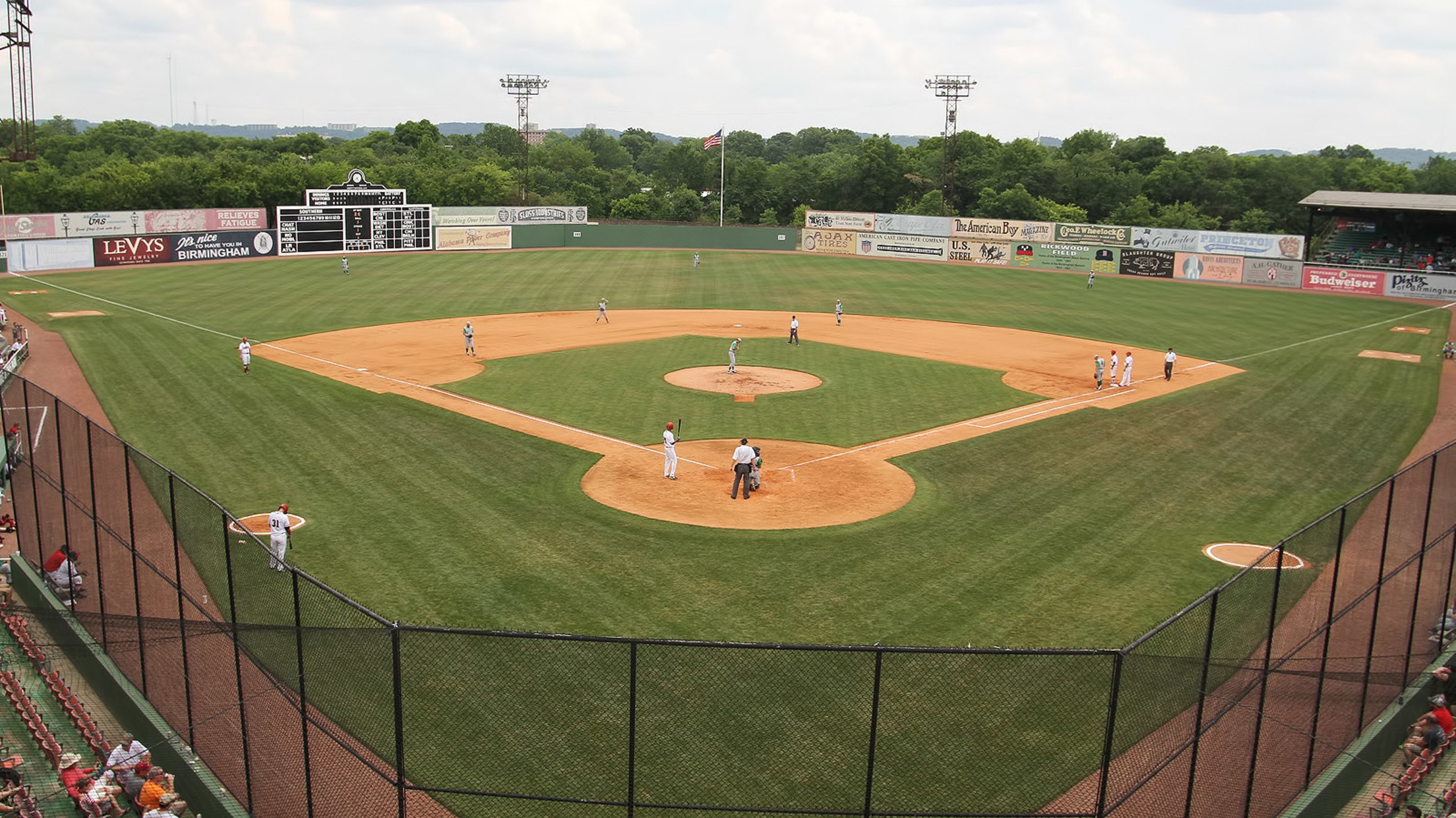 The Barons return to their original home for the Rickwood Classic. (Michael Wade)
The Minor League Baseball schedule is a grueling 140-game grind, with few breaks and a relentless travel schedule. Cities and stadiums start to blend together as the days get longer and the temperature gets hotter. But for one game, baseball returns to its roots in America's oldest active ballpark. The
The Minor League Baseball schedule is a grueling 140-game grind, with few breaks and a relentless travel schedule. Cities and stadiums start to blend together as the days get longer and the temperature gets hotter. But for one game, baseball returns to its roots in America's oldest active ballpark.
The 22nd Annual Rickwood Classic will match the Birmingham Barons against the Chattanooga Lookouts on Wednesday, May 30 at historic Rickwood Field.
The game will be number 51 on the schedule for the Barons, but this game represents more than just nine innings. It's the return of one of Minor League Baseball's most storied franchises to its original home of more than seven decades, and the current Barons couldn't be happier to head back to sacred soil, if only for one day.
"It's an honor to get to play there because not many do," said infielder Trey Michalczewski. "The history behind it is pretty cool and it's definitely a story I hope to tell my kids and grandkids about how I played in such a historic ballpark."
"Being able to be a part of such a great event is really special," said Barons manager Ryan Newman. "There's a ton of history over there, not just in baseball but life in general. So it's exciting to be a part of it."
Nearly 200 Baseball Hall of Famers have played on the diamond at Rickwood Field, and that fact only provides more motivation for the current Barons as they look to take the next step in their careers.
"Hopefully one day I'll be able to join that list. That's my goal," said pitcher Dane Dunning, who is scheduled to get the start on Wednesday afternoon.
"When you step on that field, you think about all the legends who have stood in the same spot you are in right now," said 2016 Rickwood Classic starter Jordan Guerrero. "It's an awesome experience to be able to play there."
The history will bring the game back to its roots, with the ballpark in pretty much the same state it has been in since 1948. Since then, only a few minor renovations have taken place over the ensuing decades.
For the current classic, the Barons will honor the "Fabulous Fifties" and wear uniforms commemorating their affiliation with the New York Yankees. 1978 World Series MVP Bucky Dent will be the guest of honor.
"Obviously we're not the Yankees, but to change it up a little bit and include us in the history of Birmingham and all the teams they've been with in the past, it's pretty cool," Newman said.
"That's going to make it really exciting," Dunning said of the Yankees theme. "I'm looking forward to it."
The buildup to the game enhances the exciting atmosphere at Rickwood Field exciting for the fans and the community. But once the first ball is thrown, it's game on just as usual, with maybe a few minor disturbances to deal with.
"You can't see the field from sitting in the dugout so I'm ready to wear the old school jerseys and sit on top of the dugout to watch the game," Guerrero said. "Its something you don't normally get to do."
"All the hoopla that goes along with this game makes it different," Newman said. "But as soon as the umpire says, 'Play Ball,' it's game on."
"These special games are a lot to be a part of because the fans get into it a little more," Dunning said. "As a team, when you're playing these games it seems like they could mean more and they are always exciting."
Once on the mound, Dunning or whoever gets the ball for the Barons will have a unique situation to deal with.
"That backstop is really deep," Guerrero said. "I just tried not to worry about that and throw a wild pitch and have a runner score from first."
Recent history has not been kind to the Barons at Rickwood, as Birmingham has dropped three in a row and seven of their last nine games at the ballpark dating back to 2009. In order to reverse the trend, the home team will approach the game the same as any other, despite the unique surroundings.
"We treat every game the same way. There is definitely some added excitement for this game, but there's no more pressure," Newman said.
"I've got no expectations for this one," Michalczewski said. "We just want to go out there, have fun, and try and win just like it's a game anywhere else."
Ultimately, there is only one thing left to do.
Play the game.
First pitch at Rickwood Field is scheduled for 12:30 p.m. on Wednesday. For tickets, click here.