Barons Rally To Top Tennessee 5-2
Barons end homestand with series win over Smokies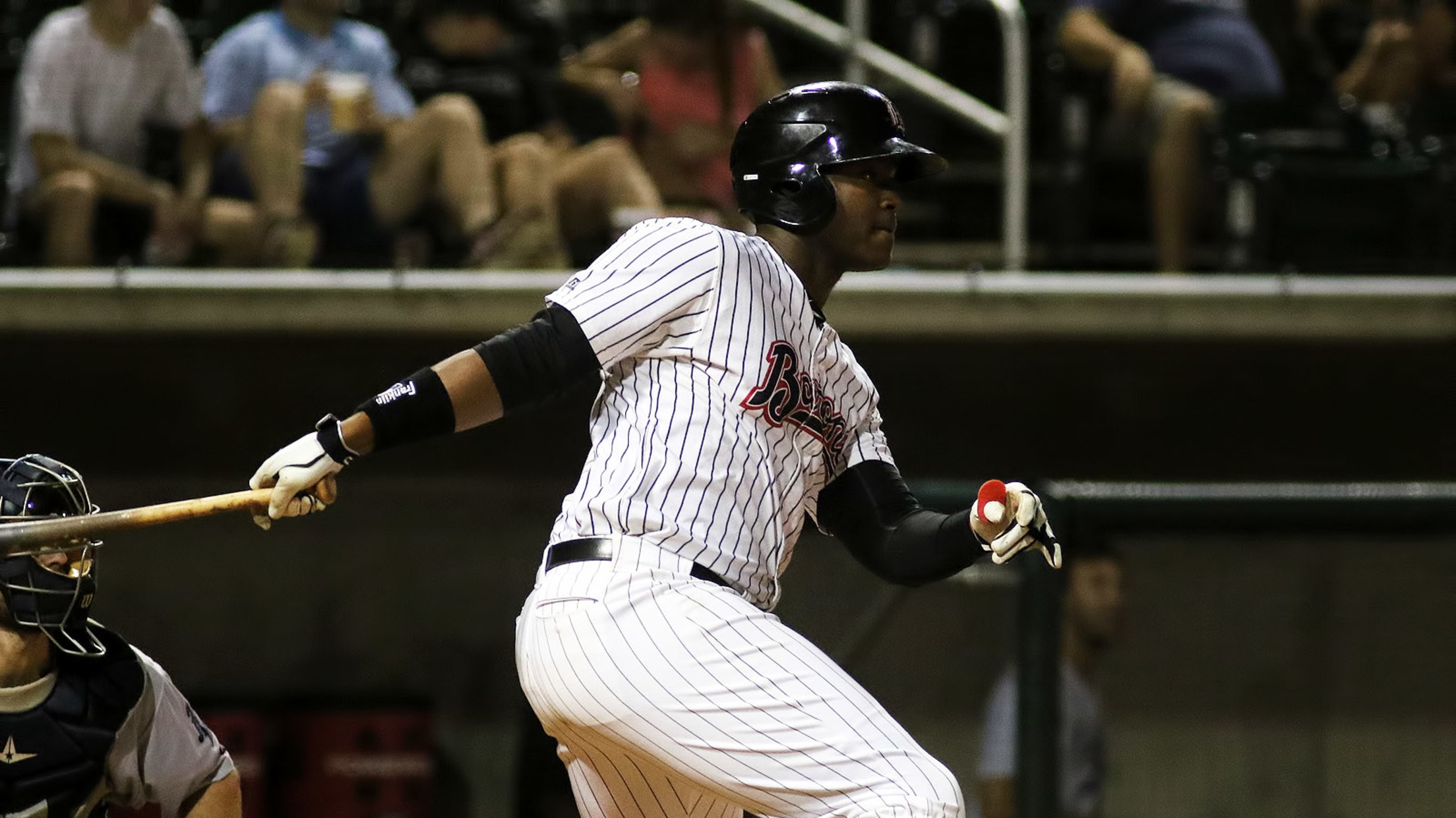 Keon Barnum hit his 12th home run of the season in Friday's win. (Michael Wade)
A late offensive outburst proved to be the difference for the Birmingham Barons (53-50) in a 5-2 win over the Tennessee Smokies (51-54) on Friday night in front of 6,722 at Regions Field. The win gives the Barons a series win at four games to one, as they end their
A late offensive outburst proved to be the difference for the Birmingham Barons (53-50) in a 5-2 win over the Tennessee Smokies (51-54) on Friday night in front of 6,722 at Regions Field. The win gives the Barons a series win at four games to one, as they end their 10-game homestand with seven wins to remain in first place in the North Division standings.

Turning Point: In the bottom of the eighth, the Barons rallied to take a decisive lead. Trey Michalczewski led the inning with a triple into the right-center field gap. Two batters later, he came home with the go-ahead run on a sacrifice fly from Matt Rose. The next hitter, Keon Barnum, put the game out of reach with a two-run homer, his 12th of the season, 386 feet into the Barons bullpen to extend the lead to 5-2.
Quotable: "This is a great feeling to help the team get a win and keep our momentum going," Barnum said. "We're all having fun playing together and it's great to be a part of this team right now."
By The Numbers: The late eighth inning rally put the Barons ahead for good, but it was a third inning rally that gave them the early lead. With one out, Alfredo González singled to extend his hitting streak to 12 games. Later in the inning, Luis Basabe's RBI triple extended his streak to 15 games, tying the Barons season-high set by Eloy Jiménez in April and May. Basabe would then score on a single from Michalczewski, who finished 2-for-4 on the night.
Moments That Mattered: With the game tied in the top of the seventh, Barons starter Bernardo Flores was pulled in favor of Brandon Brennan (W, 4-2). The right-hander worked into a jam as the Smokies loaded the bases with two outs. But the reliever rebounded to strike out Trent Giambrone swinging on a 3-2 pitch to end the inning and preserve the tie.
Facts And Figures: In his seventh Double-A start, Flores was strong again as he tossed his sixth quality start as a Baron. Over 6.2 innings, the lefty gave up two earned runs on seven hits with two walks and five strikeouts. Brennan earned the win behind 1.1 scoreless innings and José Ruiz (S, 9) pitched a clean ninth to earn the save.
Up Next: The Barons hit the road to begin a five-game series with the Mississippi Braves on Saturday night at 6 p.m. Tanner Banks (2-1, 2.70) is scheduled to start the opener for the Barons against the M-Braves Bryse Wilson (2-5, 4.13). Curt Bloom will have the call on 960 WERC News Radio and the iHeart Radio app.