Barons Sign Kolbe Thornbury
15-year-old set to become youngest member of Barons roster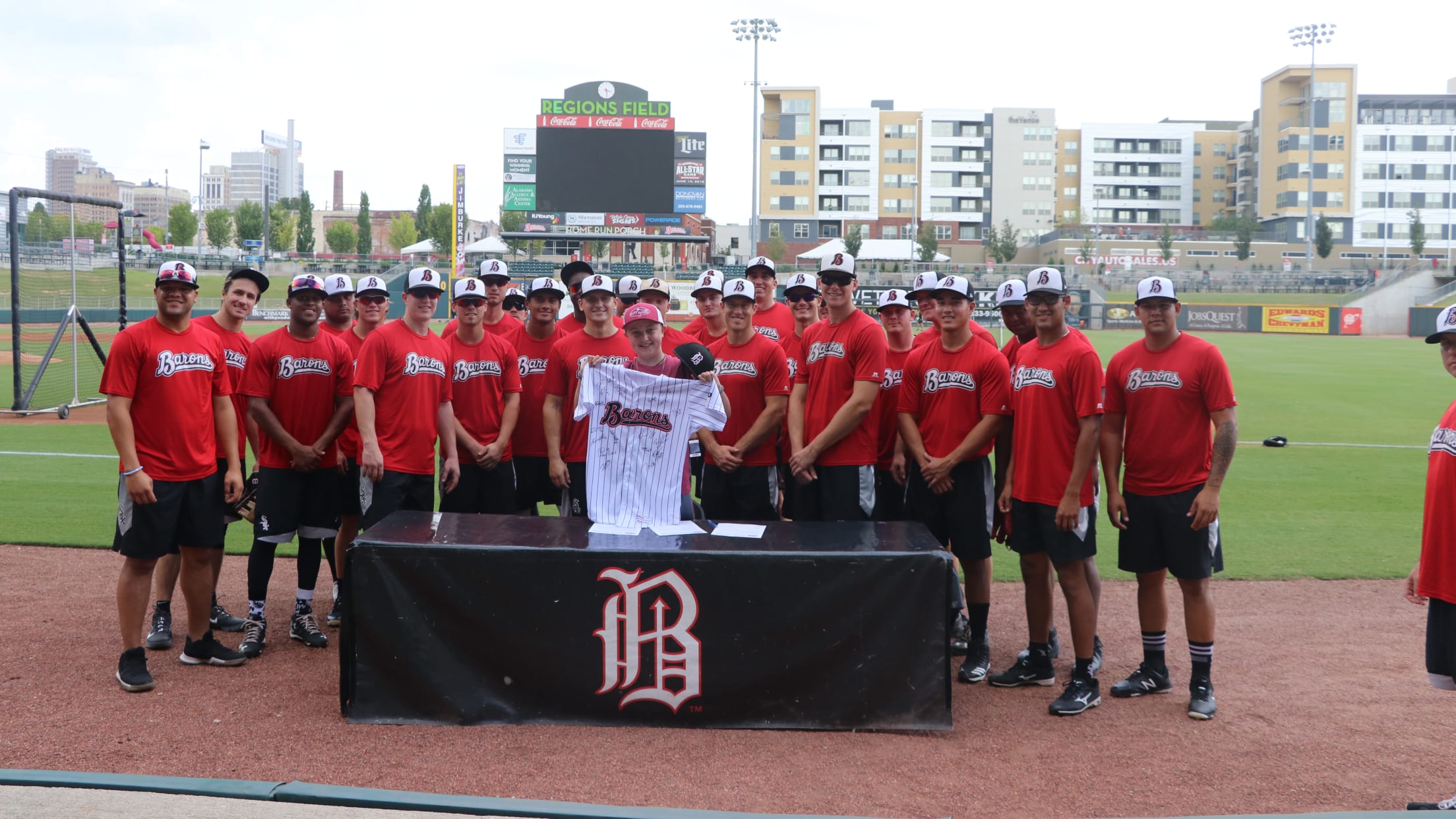 Kolbe Thornbury is the newest member of the Barons. (Hope Finley)
The Birmingham Barons are proud to announce the signing of 15-year-old Kolbe Thornbury to a one-day contract for their game against the Jackson Generals on Sunday, August 26 at 3 p.m.A former patient at Children's of Alabama, Thornbury was diagnosed with Hypo plastic Left Heart Syndrome at a very early age. Before
The Birmingham Barons are proud to announce the signing of 15-year-old Kolbe Thornbury to a one-day contract for their game against the Jackson Generals on Sunday, August 26 at 3 p.m.
A former patient at Children's of Alabama, Thornbury was diagnosed with Hypo plastic Left Heart Syndrome at a very early age. Before he was four years old, he had three open-heart surgeries. Admitted to Children's on January 31, 2018 with congestive heart failure, Thornbury waited over five months for a heart before receiving a transplant on June 28.
"Every time we went over there we drew closer and closer to Kolbe and got to hang out with him, meet his family, and see what kind of character is. Ultimately he really blended really well with our guys," Barons pitcher Jake Johansen said. "It's going to be awesome to see him outside of the hospital. It's going to touch a lot of guys hearts in here. It's going to be a great experience to see him here."
During his time at Children's, Thornbury has formed a close relationship with Barons players during their visits to the hospital over the course of the season. Always one of the first to greet the players upon their arrival, he likes playing video games and air hockey with the players, rarely losing a matchup to a Baron.
"The players spent a lot of time at Children's and they took a liking to the kids over there," said Barons manager Ryan Newman. "He's been through a lot and anything we can do to help take his mind off of it and put a smile on his face is why we're doing it. This should be an experience that he'll remember for the rest of his life, being a Baron for a day."
Originally from Sylacauga, Alabama, Thornbury is a big fan of all sports and being outdoors, but he especially enjoys baseball, basketball, and football, specifically the Barons and the Alabama Crimson Tide. Thornbury also loves riding four-wheelers and dirt bikes. This season, he has been a part of every fireworks countdown video on the Regions Field scoreboard, but this will be his first time attending a Barons game in person.
Thornbury will be an honorary Baron and will throw out the first pitch before the game against Jackson. Any media wishing to speak to his mother, Ashley Williamson, must contact the Barons media relations department prior to the game. Kolbe himself will not be available for interviews.