Birmingham Stunned 3-2 In Tennessee
Smokies score twice late to stop Birmingham streak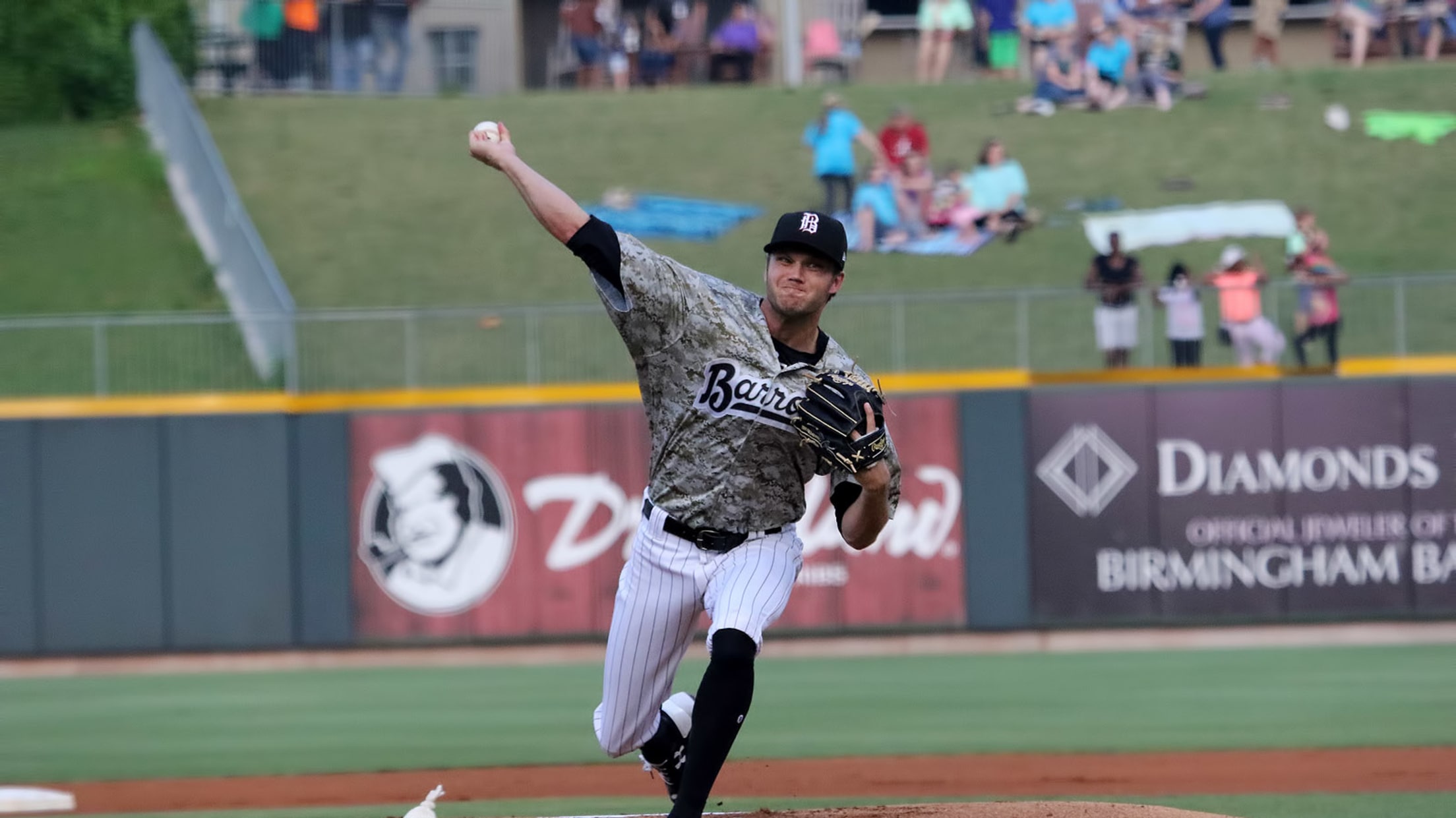 Spencer Adams gave up one run in 6.0 innings on Sunday afternoon. (Michael Wade)
Despite another quality outing from one of their starters, the Birmingham Barons (29-33) could not hold a late lead as they fell 3-2 in walk-off fashion to the Tennessee Smokies (32-31) on Sunday afternoon at Smokies Stadium. The loss snaps Birmingham's winning streak at three games. Turning Point: Holding a 2-1
Despite another quality outing from one of their starters, the Birmingham Barons (29-33) could not hold a late lead as they fell 3-2 in walk-off fashion to the Tennessee Smokies (32-31) on Sunday afternoon at Smokies Stadium. The loss snaps Birmingham's winning streak at three games.

Turning Point: Holding a 2-1 lead with two runners on and two outs in the bottom of the eighth, the Barons turned to Ian Hamilton (L, 2-1) to try and record a four-out save. For the first time this year, the closer faltered as Yasiel Balaguert singled to tie the game. An inning later, Hamilton again couldn't end the frame as Zack Short's two-out single scored Trent Giambrone to give the home team the walk-off victory.
Facts And Figures: Early in the game, the Barons could do little against Tennessee starter Duncan Robinson. The righty held the Barons hitless until the sixth inning, when singles from Zack Collins and Eloy Jimenez gave the visitors a 1-0 lead. The starter finished with 11 strikeouts and no walks in 6.0 innings for Tennessee.
Moments That Mattered: After the Smokies went to the bullpen in the seventh, Trey Michalczewski rudely greeted reliever Jake Stinnett, crushing the second pitch he saw well over the right field wall for his third home run of the season to put the Barons in front 2-1. Michalczewski has now recorded an RBI in all three games of this series so far.
By The Numbers: Spencer Adams tossed his third straight quality start for the Barons, giving up just one run on five hits with one walk and three strikeouts over 6.0 innings. However, he would not factor in the final decision.
Up Next: The series continues on Monday night at 6 p.m. Jordan Guerrero (2-6, 6.55) will toe the rubber for the Barons against the Smokies' Thomas Hatch (5-3, 3.28). Curt Bloom will have the call on 960 WERC News Radio and the iHeart Radio app.