Foster Realizing Hometown Dream
Alabama native back at home with Barons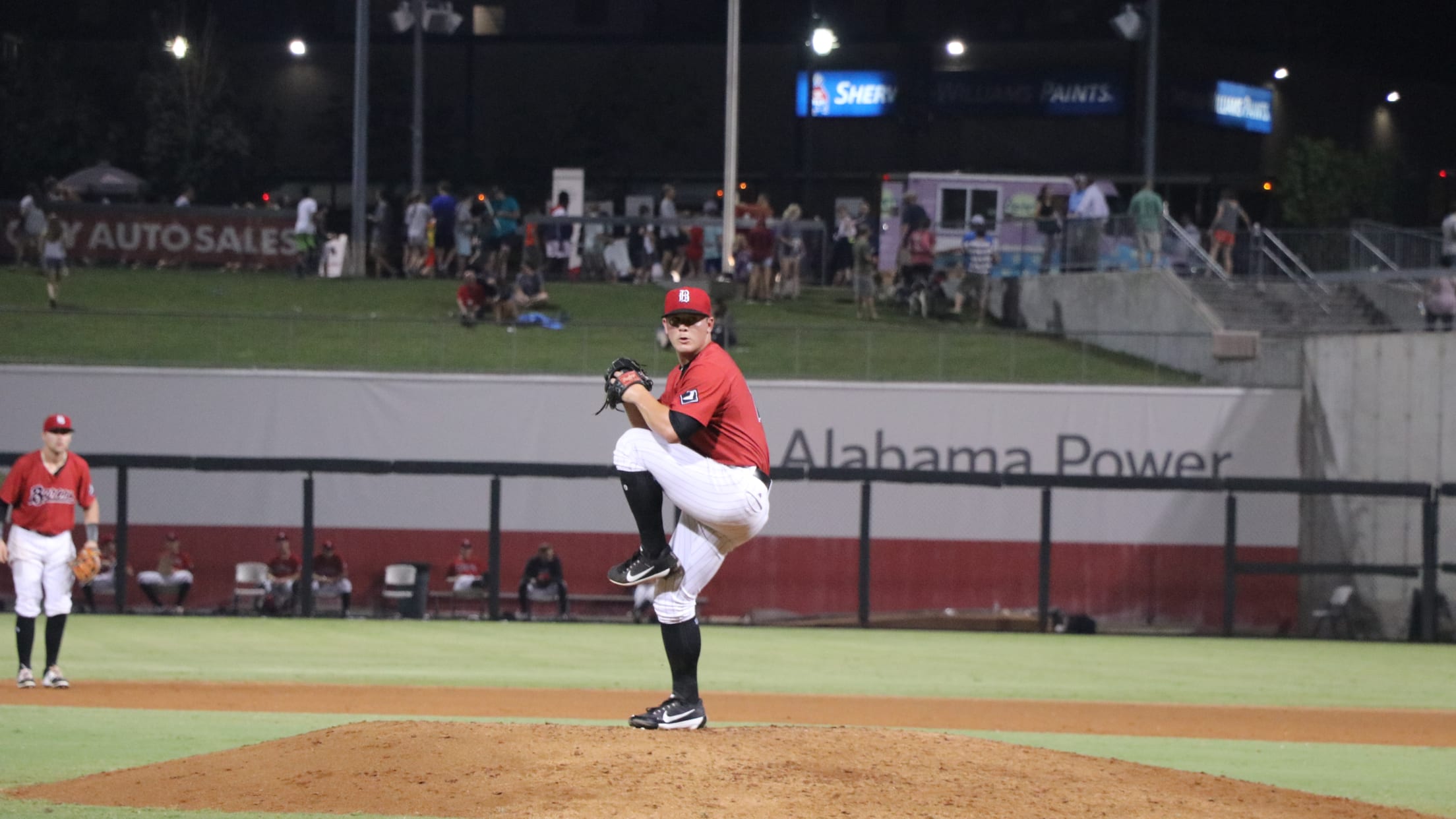 Matt Foster joined the Barons for the second half of the season. (Aaron Cheris)
Almost two decades ago, a 4-year-old from the small town of Valley, Alabama, managed to hit a tennis ball over his neighbor's house. As his parents watched the ball disappear, they didn't realize they'd seen the first glimpse of their son's future.What started as a simple game of backyard ball
Almost two decades ago, a 4-year-old from the small town of Valley, Alabama, managed to hit a tennis ball over his neighbor's house. As his parents watched the ball disappear, they didn't realize they'd seen the first glimpse of their son's future.
What started as a simple game of backyard ball quickly turned into a lifelong passion for Matt Foster.
At the age of six, Foster found himself playing on teams with boys one and two years older than him, but his ability put him above his classmates. By the time he reached Valley High School, he had established himself as a star player, even catching the eye of the Arizona Diamondbacks, who drafted Foster in 2013.
Instead of pursuing a professional career, Foster signed at Gulf Coast Community College in Florida in order to focus on baseball as well as his education. After playing two years there, he transferred home to The University of Alabama. His chance for a professional career came again in 2016 when the Chicago White Sox drafted the pitcher.
Fast forward to the 2018 Carolina League All-Star Game where his mother, Daphne Foster, received news she had been waiting to hear since 2016.
Her son was returning home.
Matt had been promoted to Double-A Birmingham for the first time in his career. While roughly three hours away from Valley, Matt's return was a welcome reunion for his family and friends.
"It's great to be home," Matt stated, "Being able to see the family a lot more has been really good."
While being surrounded by loved ones, Foster continues to focus on finishing out the season strong. He uses skills developed during his time in college, such as locating pitches and keeping composure on the mound, to further his career with the Barons.
"He's all business when he gets out there," stated his mother, Daphne, "It amazes me how he has the ability to focus on the task at hand."
His focus led him to an All-Star selection with Class-A Winston-Salem after going 2-1 with a 2.57 ERA and 40 strikeouts over 21 relief outings. Since joining the Barons in the second half of the season, Foster is 0-2 with a 3.93 ERA over 13 games with 20 strikeouts.
No matter the position, stadium, or team, the competitive atmosphere of the ballpark helps fuel Matt's competitive side, which translates to his work on the mound.
"I hate losing, no matter what it is," said Foster. "Now my goal is just to stay healthy and keep doing my job, getting guys out."
Besides his focus and competitive nature, Matt's mother believes his versatility is another strength of his. He played various positions growing up, even winning the Silver Slugger and All-State honors as a third baseman in high school. He originally signed to catch during his college before moving to the mound.
After the season, Foster is excited to return to UA as he continues pursuing his degree and training at the Capstone with his ultimate goal of reaching the Major Leagues in sight.
For Mrs. Foster, watching Matt take the mound at Regions Field brings back memories of an 8-year-old swinging a bat around and saying he would play in the majors one day. Now, she gets to witness his dreams become reality. She's there every step of the way, reminding him to "stay focused and work hard."