Historic Homers Blast Barons To 18-2 Win
Birmingham hits two grand slams in ninth to top Montgomery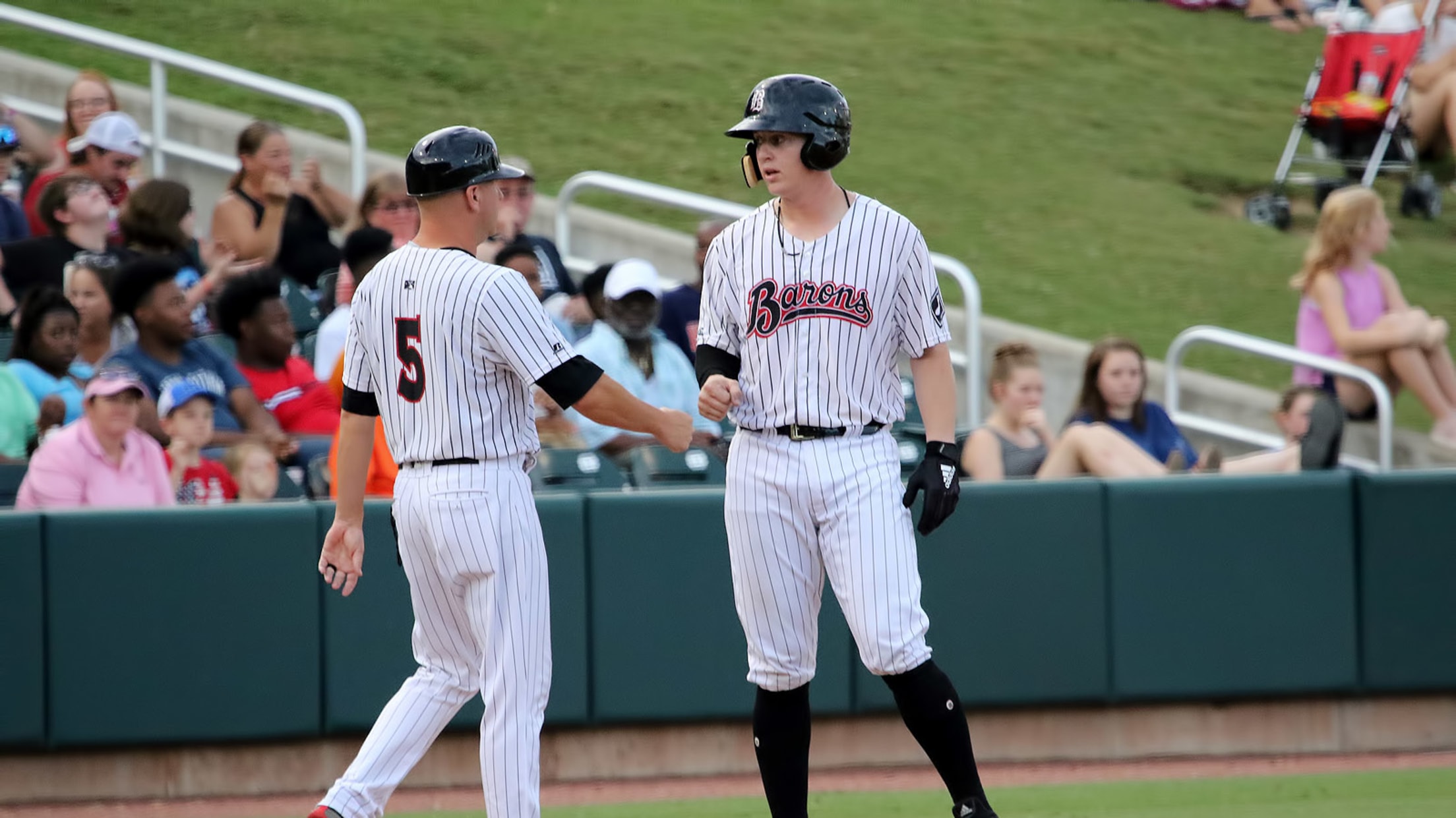 Zack Collins homered twice in the ninth inning of Friday's win. (Michael Wade)
With a historic display of power that began on the game's first pitch, the Birmingham Barons (56-60) mashed their way to an 18-2 win over the Montgomery Biscuits (64-53) on Friday night at Riverwalk Stadium. The win cuts Montgomery's series lead to two games to one and puts the Barons
With a historic display of power that began on the game's first pitch, the Birmingham Barons (56-60) mashed their way to an 18-2 win over the Montgomery Biscuits (64-53) on Friday night at Riverwalk Stadium. The win cuts Montgomery's series lead to two games to one and puts the Barons 3.5 games out of first place in the North Division.

Turning Point: The game couldn't have opened any better for Birmingham. On the first pitch from Montgomery starter Blake Bivens (L, 0-1), Luis Basabe crushed a solo home run to right, his fourth with the Barons, to put the Barons ahead in a hurry, setting the tone for the rest of the night. An inning later, Keon Barnum's two-run homer gave the Barons a 3-0 lead. Matt Rose doubled the Barons' run total in the sixth inning with a three-run blast, his team-leading 16th of the season, before Danny Mendick added two more runs with his 13th big fly of the year in the eighth. However, the final inning would top the output of the previous eight.
Moments That Mattered: Zack Collins kept the offensive onslaught going with a two-run homer in the ninth, but that was only the start of the damage. The next three hitters all walked before Rose flew out. Barnum kept the inning going by launching a grand slam to center for his second home run of the night, increasing the lead to 14-1. The scenario repeated itself as the following three Barons all drew walks. Back at the plate, Collins repeated his powerful swing by crushing a grand slam of his own deep over the right field fence to cap the scoring on the Barons 10-run ninth inning.
Facts And Figures: For the first time in franchise history, the Barons hit seven home runs in a game, topping the previous record of six most recently set on April 22, 2004 at West Tennessee. The seven home runs in a game also ties a Southern League record, with Jacksonville the last to accomplish the feat on June 4, 2010.
By The Numbers: On the mound, the homers were plenty to support Dylan Cease (W, 3-0). The righty gave up just one run on two hits over 5.2 innings while walking five and striking out six to earn the victory. At the plate, Collins finished 3-for-6 with two home runs, both in the ninth inning, and six RBI. Barnum went 2-for-5 and also added six RBI while all nine Birmingham starters scored a run in the triumph.
Up Next: The North Division rivals continue the series with a 6:05 p.m. matchup on Saturday night. Kodi Medeiros (7-5, 3.14) is set to start for Birmingham. Curt Bloom will have the call on 960 WERC News Radio and the iHeart Radio app.