Michalczewski Lifts Barons Past Generals, 4-3
Eighth-inning home run the difference as Barons take series lead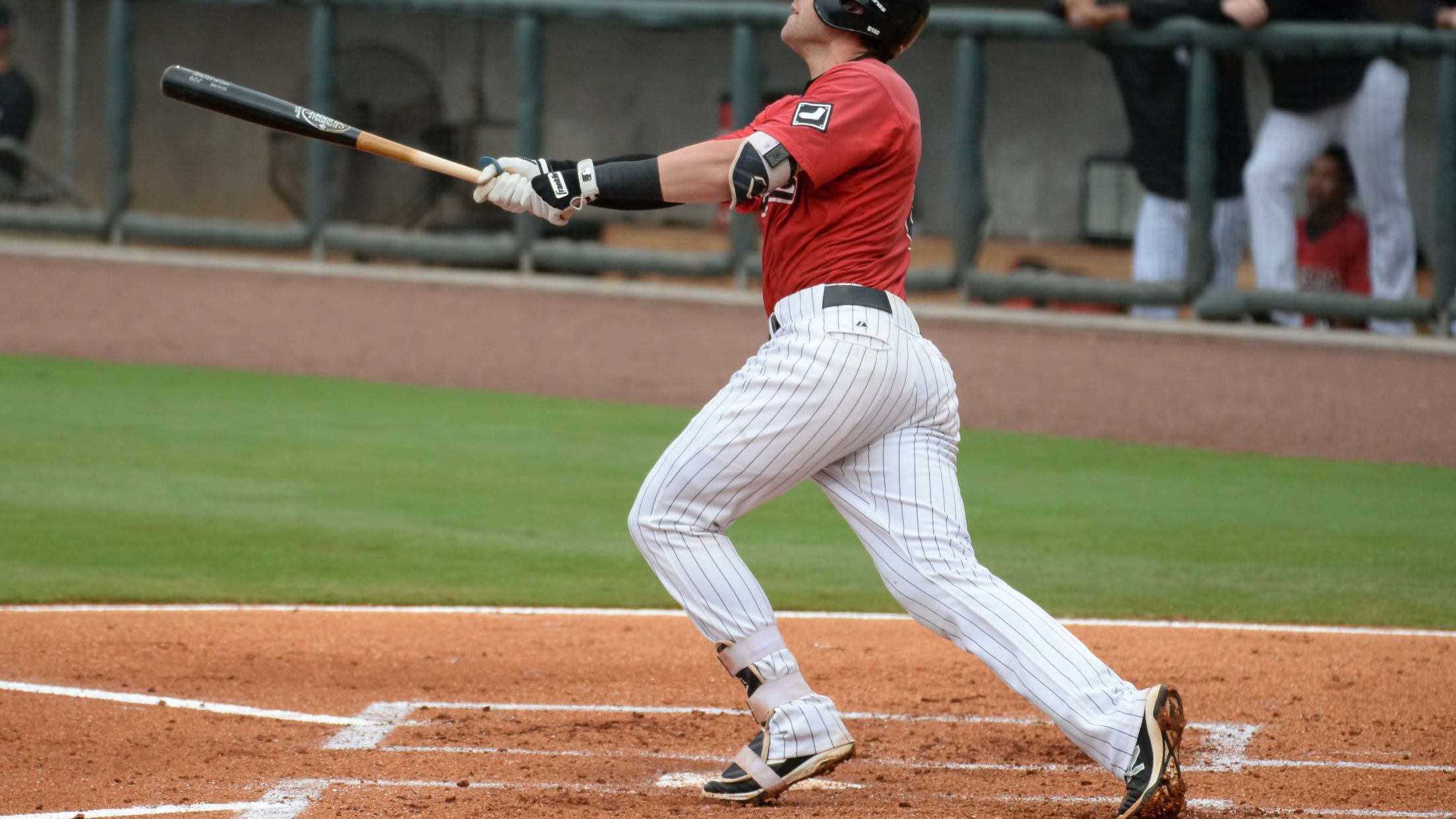 Trey Michalczewski hit the game-winning home run on Friday. (Michael Wade)
Down early, the Birmingham Barons (48-48) rallied to come back and earn a 4-3 win over the Jackson Generals (52-45) on Saturday night at Regions Field. The win gives the Barons a series lead at two games to one and puts them alone in first place in the second half
Down early, the Birmingham Barons (48-48) rallied to come back and earn a 4-3 win over the Jackson Generals (52-45) on Saturday night at Regions Field. The win gives the Barons a series lead at two games to one and puts them alone in first place in the second half North Division standings.

Turning Point: With the game tied 3-3 in the bottom of the eighth, the Barons sent Trey Michalczewksi to the plate. Hitting right-handed, he worked a 3-0 count against Jackson lefty Daniel Gibson (L, 2-2). On the next pitch, Michalczewski got a pitch over the plate and crushed it out over the right-center field fence for a solo home run, his fifth of the season, to put the Barons in front 4-3. That would prove to be the decisive swing.
Moments That Mattered: Trailing 3-0 in the first, the Barons began the comeback in the third as Luis Basabe's double down the left field line scored a pair to trim the deficit to one run. In the eighth, Alex Call lifted a sacrifice fly to left, scoring Bryant Flete to tie the game at 3-3 and set the stage for Michalczewski's heroics an inning later.
By The Numbers: At the plate, Basabe's double extended his hitting streak to eight games. Flete, Call, and Alfredo González each recorded a hit and a run scored in the win, the third straight one-run game to begin the five-game series. Behind the plate, Gonzalez threw out three Jackson runners trying to steal.
Facts And Figures: Making his first start since returning from the Futures Game, Dylan Cease struggled at the onset, giving up a three-run homer to Rudy Flores in the first inning. The righty rebounded to not give up another run after that, finishing with three earned runs against on four hits with three walks and seven strikeouts over 5.0 innings. In relief, Zach Thompson kept it close with 2.0 scoreless innings of his own. Colton Turner (W, 6-2) did the same in the eighth and finished the victory in the ninth to lower his ERA to a minuscule 0.61 and earn his team-leading sixth win of the season.
Up Next: The Barons and Generals continue the series on Space Jam Night on Saturday at 6:30 p.m. Bernardo Flores (2-2, 2.59) is scheduled to start for Birmingham against Jackson's Bo Takahashi (1-3, 6.75). Curt Bloom will have the call on 960 WERC News Radio and the iHeart Radio app.