Raita, Bancroft Elected to Barons Hall Of Fame
The Barons inducted Raita and Bancroft at the Rickwood Classic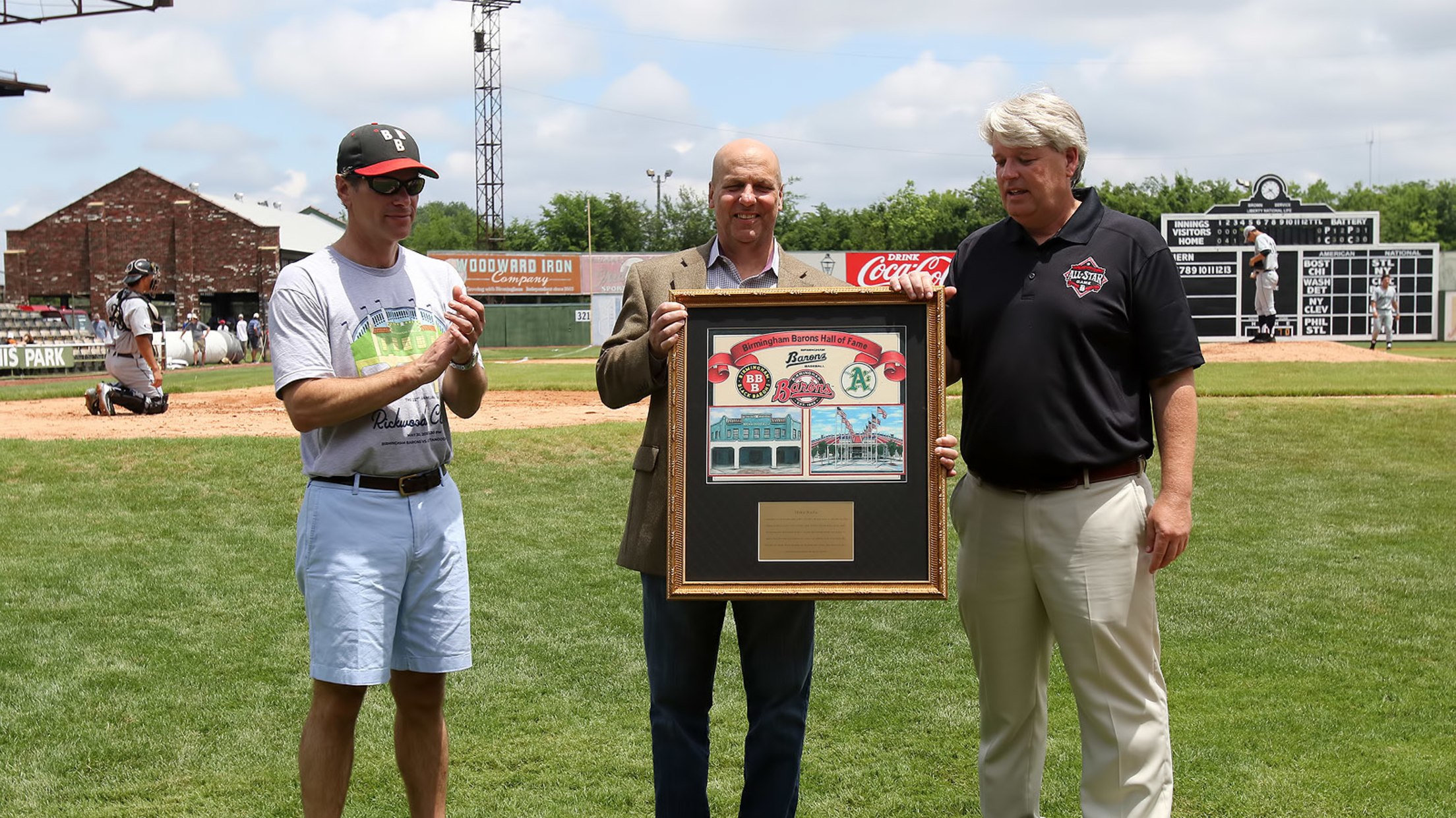 Mike Raita was inducted to the Barons Hall of Fame. (Michael Wade)
The Birmingham Barons are proud to announce the additions of Mike Raita and Billy Bancroft to the Barons Hall of Fame as the two members of the 2018 Class. The Barons will hold an induction ceremony during the Rickwood Classic on Wednesday, May 30.Mike Raita covered the Birmingham Barons for
The Birmingham Barons are proud to announce the additions of Mike Raita and Billy Bancroft to the Barons Hall of Fame as the two members of the 2018 Class. The Barons will hold an induction ceremony during the Rickwood Classic on Wednesday, May 30.

Mike Raita covered the Birmingham Barons for 28 seasons. His ability to capture the essence of Minor League Baseball with his creative storytelling twice earned him Southern League Broadcaster of the Year honors.

Mike won multiple Emmy Awards during his television broadcasting career, one for a story he did on fellow Barons Hall of Famer Bo Landreth. Mike also won numerous Associated Press Awards for his reporting including a series he produced and wrote in 1993 when he went on a road trip with the Barons.

The season of the Run Away Train in 1989 was Mike's first covering the ball club. After the season, the Southern League Champs commissioned Mike to produce and narrate a video to commemorate the accomplishment. Raita was a member of the television broadcast team for Michael Jordan's first home game as a Baron in 1994 and covered 6 current Barons Hall of Famers. Raita will present during the game.

Billy Bancroft played for the Barons as an infielder from 1930-1933. A native of Livingston, Alabama, Bancroft was an outstanding athlete at Woodlawn High School and Howard College. He coached football at Howard College from 1934-39, tying Alabama 7-7 in 1935. During his four seasons with the Barons, he played on two Dixie Series Championship teams: the 1931 Barons and the 1935 Oklahoma City Indians.

Bancroft managed Selma in 1940 and Gadsden in 1941, served in WWII, then coached at Anniston High School from 1946-58 and served as boys' advisor at Woodlawn until his retirement in 1970. He was elected to the Alabama Sports Hall of Fame in 1974.

The Barons will continue their home series against the Chattanooga Lookouts on Thursday with first pitch at 7:05 p.m.