Boise Hawks, Colorado Rockies Announce 2020 Field Staff
Cesar Galvez promoted to Manager; New faces (Nic Wilson and Dave Burba) join coaching staff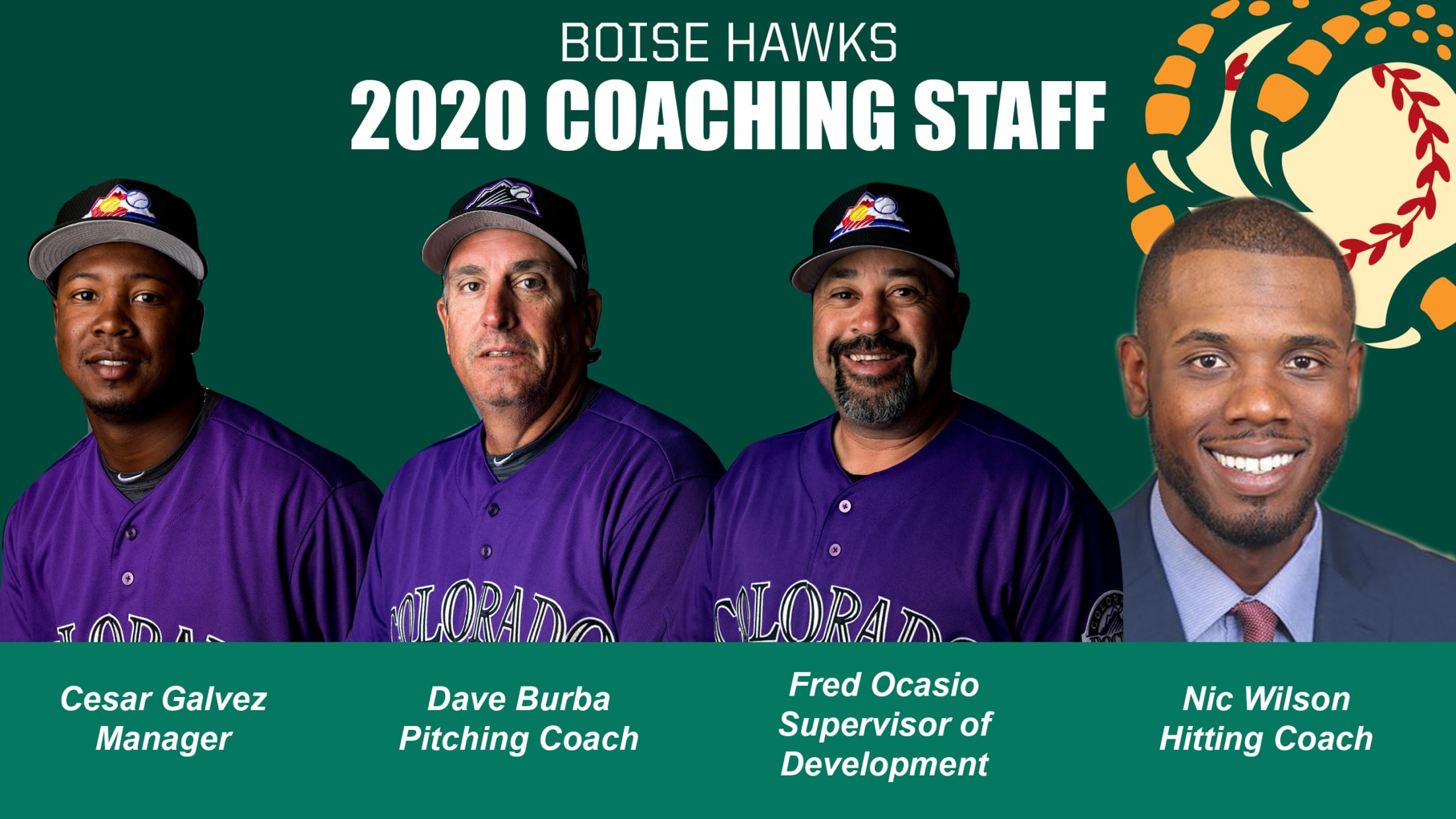 Boise Hawks, Colorado Rockies Announce 2020 Field StaffCesar Galvez promoted to Manager; New faces (Nic Wilson and Dave Burba) join coaching staff BOISE, ID: The Boise Hawks, Northwest League affiliate of the Colorado Rockies, in conjunction with the Colorado Rockies, have announced their 2020 Field Staff. Cesar Galvez, the Hawks' Hitting
Boise Hawks, Colorado Rockies Announce 2020 Field Staff
Cesar Galvez promoted to Manager; New faces (Nic Wilson and Dave Burba) join coaching staff

BOISE, ID: The Boise Hawks, Northwest League affiliate of the Colorado Rockies, in conjunction with the Colorado Rockies, have announced their 2020 Field Staff. Cesar Galvez, the Hawks' Hitting Coach for the past two seasons, has been promoted to Manager. Galvez's staff will be rounded out by Dave Burba (first season in Boise; Pitching Coach), Nic Wilson (first season; Hitting Coach), Fred Ocasio (second season; Supervisor of Development), Tyler Grisdale (first season; Physical Performance Coach) and Mickey Clarizio (sixth season; Athletic Trainer).

"With only 140 days until we kick off the 2020 season in Tri-City - and 145 until Opening Night at Memorial Stadium, we couldn't be happier to welcome back Cesar, Fred, and Mickey to Boise." said Hawks' General Manager, Mike Van Hise. "We look forward to showing Nic, Dave, and Tyler that Boise has the best fans in Minor League Baseball."

Cesar Galvez returns to the Treasure Valley as Manager (third season, first at Manager) after progressing through the Rockies' farm system, starting with the Grand Junction Rockies in 2013. In 2014, Galvez was voted as a Northwest League Mid-Season All-Star while with the Tri-City Dust Devils. Galvez signed as a free agent with the Rockies in 2016 and played 2017 with the Hartford Yard Goats, the Rockies' Double-A affiliate.

Dave Burba begins his first season with Boise (10th in the Rockies' organization) as Pitching Coach. Burba has spent the previous two seasons in Lancaster at the same position. In his fifteen-year professional playing career, Burba eclipsed 10 wins in 8 seasons (1993, 1995, 1996-2001). Before Lancaster, Burba had coached Rockies affiliates in Tri-City and Modesto.

Nic Wilson joins the Boise Hawks staff as Hitting Coach in his first season within the Rockies' organization. Wilson spent last season with Eastern Kentucky University, most recently as Assistant Coach. The Decatur, GA native played professionally from 2014 to 2018, leading the Princeton Rays (Appalachian League, Tampa Bay) in home runs in 2014.

Fred Ocasio enters his second season in Boise as Supervisor of Development, his 24th with the Rockies' organization. Ocasio spent the 2018 season (and the previous four) with the Lancaster JetHawks (Rockies, High-A) as Manager. From 2013-2014, Ocasio served as Manager of the Asheville Tourists (Rockies, Low-A). Before Asheville, he spent time in the Northwest League as Manager of the Tri-City Dust Devils (2006-2012).

Tyler Grisdale joins the Boise staff as a Physical Performance Coach. Last season, Grisdale served in the Rockies' organization as Lancaster's Physical Performance Coach.

Mickey Clarizio will also be returning to the Treasure Valley for his sixth season serving as Trainer. Clarizio was named Northwest League Athletic Trainer of the Year by the Professional Baseball Athletic Trainers Society for the past three seasons.
About the Boise Hawks
The Hawks are the Treasure Valley's top stop for affordable, family entertainment. Deposits are currently being taken for full and half-season seat plans for the 2020 Boise Hawks season. To stay up to date on all things Boise Hawks, follow us on Facebook or visit www.BoiseHawks.com.