From the Desk of Mike Van Hise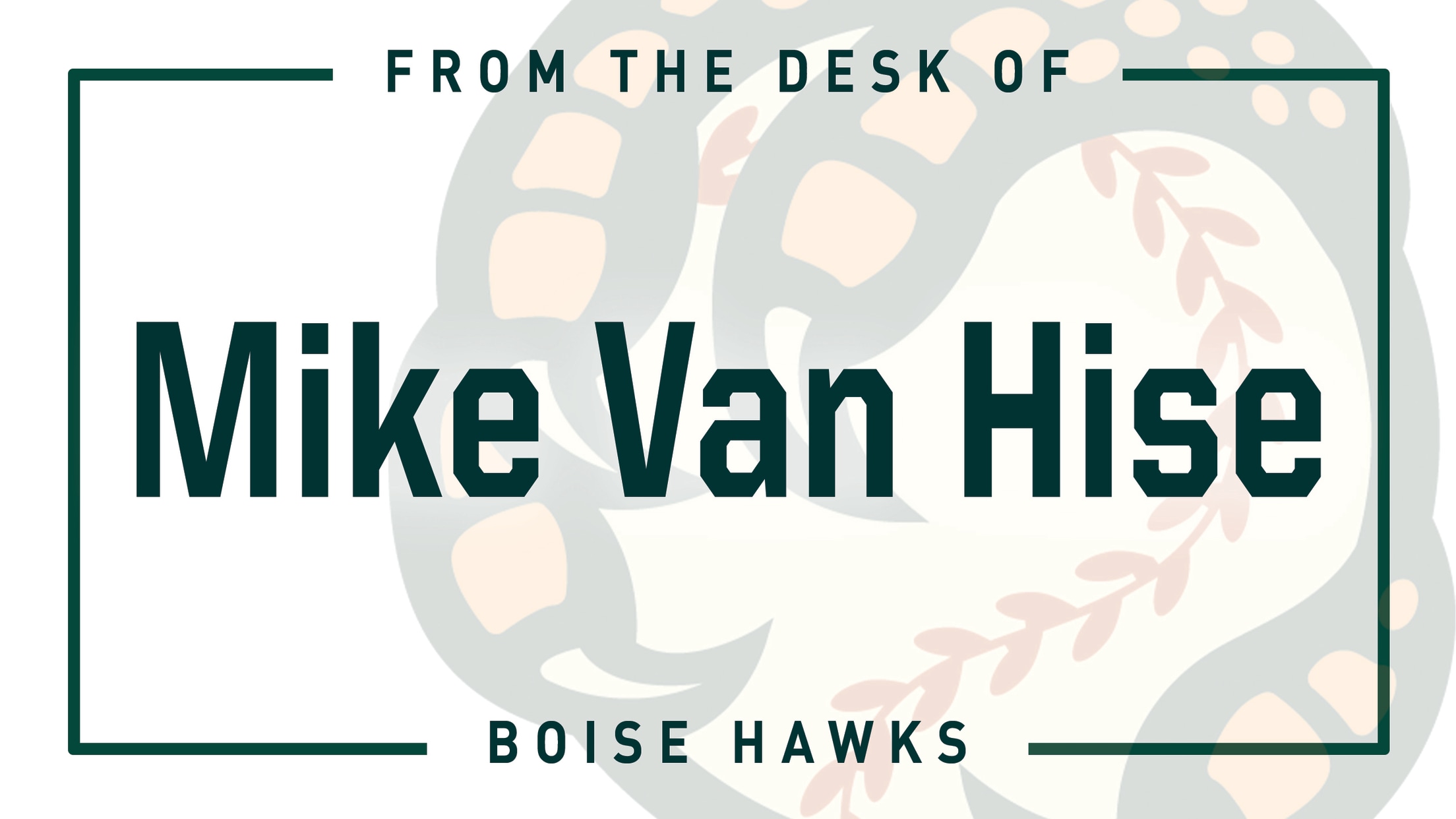 It's taken a few days for me to come down from the excitement (and anxiety, lots of anxiety) of the Championship Series and I can't help but take some time to share with you our thoughts on the 2021 season. For the first time, we were able to showcase home
It's taken a few days for me to come down from the excitement (and anxiety, lots of anxiety) of the Championship Series and I can't help but take some time to share with you our thoughts on the 2021 season.
For the first time, we were able to showcase home grown professional baseball talent to the Treasure Valley. This was and will continue to be "Boise's Team." And while we fell one game short of our ultimate goal – a PBL Championship – we hold our heads up quite high on what we were able to accomplish in the first year in this newest era of Boise Hawks baseball.
To on our field staff and players, we're so proud of you. While the season did not start how we had anticipated, I think I'm not out of line saying that at all. But the resiliency of this team - the ability to put those things behind them – is what put us in the post-season for the first time in seven years. As the great Ted Lasso said, "Be a goldfish." They embodied the characteristics of what is great about the Treasure Valley – tenacity, dedication to community, and pride of the name on the front of their jerseys.
To the critical members of our part-time staff, THANK YOU. We cannot do the great things at Memorial Stadium without you. As we're all seeing throughout the country, there is a shortage of workers and time and time again, you showed up and time and time again shared your enthusiasm for baseball with our young and old fans alike.
And, most importantly, to our corporate partners, season seat holders and fans; THANK YOU. You all stuck with us through this roller coaster of a season – and while we're there – roller coaster couple of years. The players and staff fed off your energy from day one and I cannot remember Memorial Stadium being louder than in those late innings of Game 2 of the Championship Series. We thank you for coming out, supporting our team, and showing the PBL what Boise is all about.
We still have some great events remaining this fall. We are bringing back Baseball-o-ween (presented by Idaho Transportation Department) on Friday, October 22. We'll be doing another safe trunk or treat in our parking lot, followed by a post-event fireworks show. More information will be coming on that event in early October.
Thanks again for an amazing, unforgettable 2021 season. I promise you, we are already hard at work getting ready to top it in 2022.
Go Hawks!