Baker Plates a Pair and Hot Rod's Staff Dazzles in Friday's Win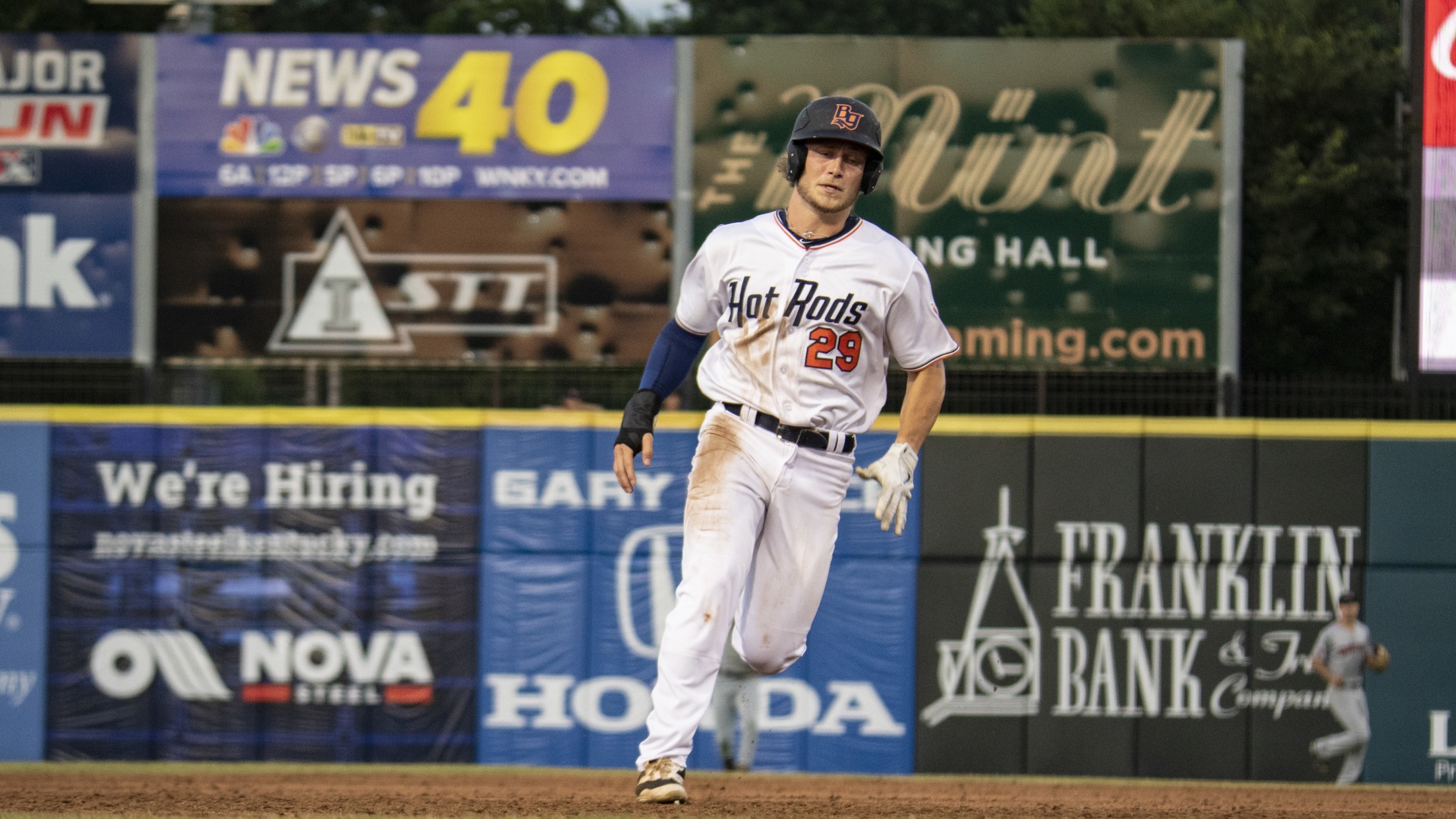 Bowling Green, Kentucky– Dru Baker drove in two of the four Bowling Green Hot Rods (36-24) runs and the bullpen threw 4.0 scoreless innings against the Winston-Salem Dash (32-29) in a 4-1 win on Friday at Bowling Green Ballpark. The Dash and the Hot Rods continue their series on Saturday
Bowling Green, Kentucky– Dru Baker drove in two of the four Bowling Green Hot Rods (36-24) runs and the bullpen threw 4.0 scoreless innings against the Winston-Salem Dash (32-29) in a 4-1 win on Friday at Bowling Green Ballpark. The Dash and the Hot Rods continue their series on Saturday with a 6:35 PM CT first pitch.
Bowling Green opened up the scoring in the third, which began on a walk issued by Dash starter Chase Solesky to Diego Infante. Infante tagged and went to second on a flyout by Beau Brundage and moved to third on a single from Logan Driscoll. Infante scored on a fielder's choice by Baker, after an errant throw by Moises Castillo. Infante scored easily to give BG a 1-0 lead. A leadoff homer for the Dash in the fourth tied it at one, but Bowling Green retook the lead in the home half of the inning.
Osleivis Basabe led off with a single and advanced to third on a single from Kyle Manzardo. Alexander Ovalles grounded into a double play, but Basabe scored from third to give Bowling Green the lead back at 2-1. BG added a run in the sixth, beginning with a leadoff walk to Baker with Everhett Hazelwood on the mound. He stole second base, but Adam Hackenberg's throw sailed into centerfield, and Baker moved to third on the error. Basabe drove him home on a groundout to grow the advantage to 3-1.
Baker put another run on the board for BG with a solo homer to right field in the eighth that gave the Hot Rods a 4-1 lead. A 1-2-3 ninth sealed the 4-1 victory for the Hot Rods.
Logan Workman (2-2) went 5.0 innings, allowing one run on five hits and striking out five en route to his second win. Graeme Stinson pitched a scoreless 2.0 frames and struck out two. Kyle Whitten earned his first save in 2.0 innings of work, striking out two batters and facing the minimum.
Notes: In his first game since June 14, Basabe extended his hit-streak to six consecutive games… Bowling Green did not allow a hit after the fifth inning for the second game this series… Whitten earned his first save in Bowling Green… He extended his scoreless streak to 5.0 innings… Whitten has thrown two outings without allowing a run in three appearances for the Hot Rods this season… Stinson has not allowed a run in his last three outings… He has thrown 5.1 consecutive scoreless innings… All but two Hot Rods hitters reached base… Williams had his first hit since May 28, and his first base hit in June after a stint on the IL… Baker recorded his first multi-RBI game with Bowling Green… He has hit all three of his home runs at Bowling Green Ballpark, all to right field… With Hickory's win the Hot Rods' magic number drops to five… Bowling Green maintains a 0.5-game division lead over the Crawdads… The Hot Rods and Dash continue their series at Bowling Green Ballpark on Saturday with first pitch set for 6:35 PM CT… RH Victor Muñoz (0-0, 0.00) will make his first start for the Hot Rods against Dash LH Luis Moncada (1-1, 10.45) … Fans can listen to the game on Talk 104.1 FM and 930 AM WKCT beginning with the Hot Rods Warmup Show at 6:20 PM CT… Fans can also watch live on MiLB.tv, listen via the MiLB First Pitch app on Android and IOS, or go to the Hot Rods website at www.bghotrods.com
###
Hot Rods Baseball