Cardenas Hits Grand Slam in 14-4 Hot Rods Win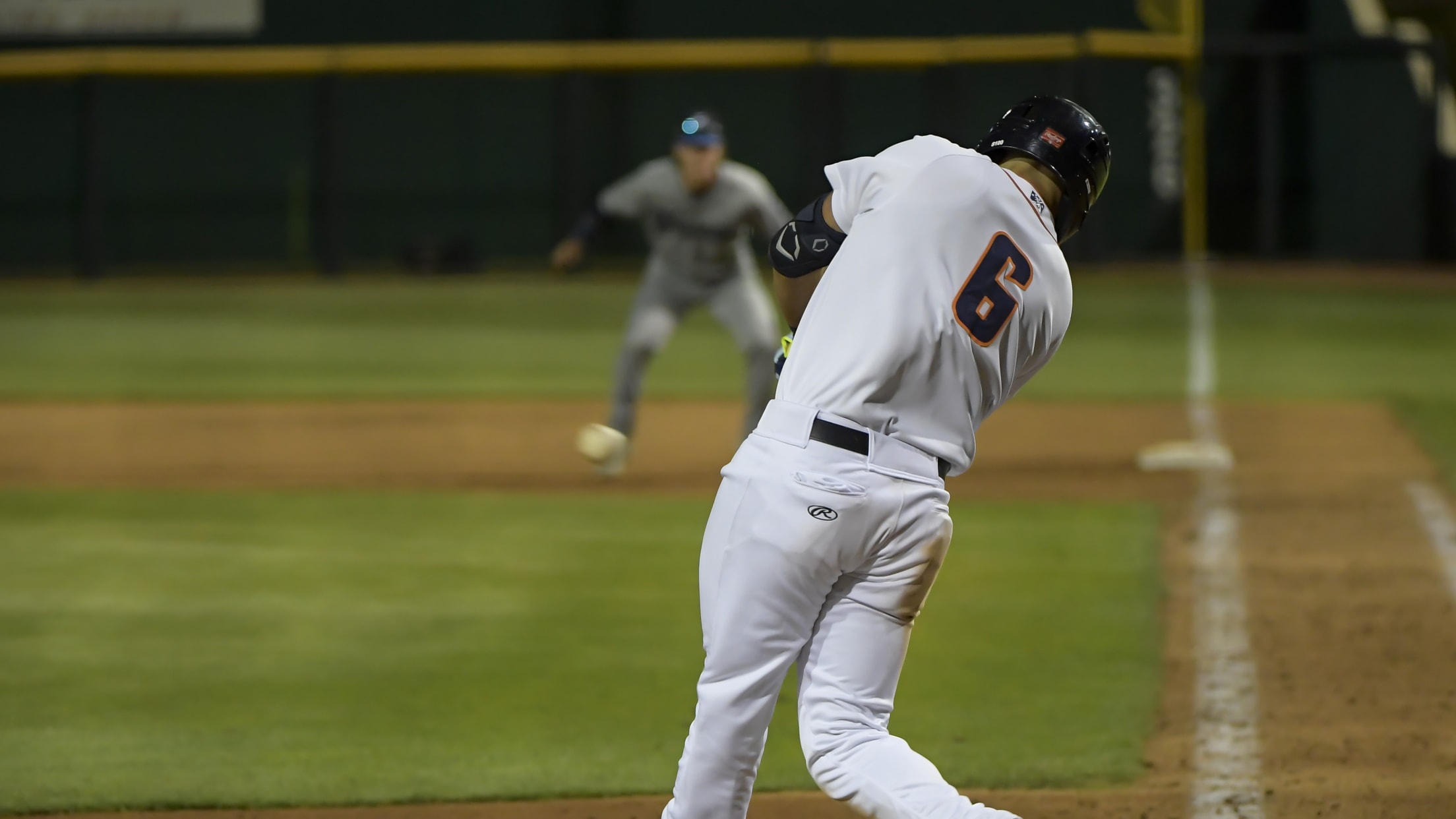 Bowling Green, Kentucky–Ruben Cardenas' grand slam helped lead the charge as the Bowling Green Hot Rods (15-11) put up two six-run innings in a 14-4 win over the Rome Braves (15-11) on Wednesday at Bowling Green Ballpark in Bowling Green, Kentucky. The Hot Rods and Braves play the third game
Bowling Green, Kentucky–Ruben Cardenas' grand slam helped lead the charge as the Bowling Green Hot Rods (15-11) put up two six-run innings in a 14-4 win over the Rome Braves (15-11) on Wednesday at Bowling Green Ballpark in Bowling Green, Kentucky. The Hot Rods and Braves play the third game of the six-game series Thursday with a 6:35 PM CT first pitch.
The Braves scored runs in the first and second innings against Hot Rods starter Michael Mercado. Bowling Green tied the game in the bottom of the third inning against Rome reliever Alan Rangel. With one out, Greg Jones walked and Blake Hunt homered, tying the game at 2-2.
The Hot Rods offense jumped on the Rome pitching staff in the bottom of the fourth, scoring six runs. After chasing Rangel out of the game, Mitch Stallings entered with the bases loaded. Cardenas hit a grand slam to give the Hot Rods an 8-2 lead. In the top of the fifth Kevin Josesphina hit a solo home run off Hot Rods pitcher Michael Costanzo to make it an 8-3 lead for Bowling Green.
Six more runs scored in the bottom of the sixth inning. Niko Hulsizer, Luis Trevino, and Jordan Qsar all worked bases-loaded walks. Jacson McGowan hit a two-run double, scoring Hulsizer and Trevino, and moving Qsar to third. Qsar scored on a wild pitch to increase the Hot Rods edge to 14-3. Beau Philip homered in the seventh off Carlos Garcia, but Bowling Green went on to win 14-4.
Mercado tossed 4.0 innings, allowing four hits, two runs, and one walk while striking out six in a no-decision. Costanzo (1-0) pitched 2.0 innings, giving up two hits and one run, striking out six and walking one in his first win of the season. Garcia hurled 2.0 innings while surrendering two hits, one run, one walk and striking out three. Cristofer Ogando pitched 1.0 perfect inning and struck out one.
Notes: Cardenas extended his on-base streak to 22 games… He also extended his hit streak to 12 games… Cardenas' grand slam was the fifth for the Hot Rods this season… This was his fourth multi-RBI game this season… McGowan had his third multi-RBI game this season… Gregorio collected his second multi-RBI game this season… Jones had his sixth multi-hit game… Hunt secured his seventh… This ties Cardenas for the team lead… Hunt also had his team-leading sixth multi-RBI game… Bowling Green's 10 walks at the plate tie a season-high… This is the third time they have recorded 10 walks… The six runs in the fourth and sixth innings are the most the Hot Rods have scored in an inning this season… BG's five walks in the sixth inning are the most they have recorded in an inning this season… The Hot Rods are 2-1 when having the same amount of hits as their opponents… This win brings them to 4-4 with the Braves this season… Bowling Green and Rome play game three of a six-game series with a 6:35 PM CT first pitch Thursday… Bowling Green sends RH Peyton Battenfield (1-0, 1.29) against Rome RH Bryce Elder (1-0, 3.51)… Fans can catch all of the action by watching on MiLB.tv or listening through the MiLB First Pitch app, tuning into WBGN 94.5 FM and 1340 AM, or visiting https://www.milb.com/bowling-green/fans/audio-listen-live.
###
Hot Rods Baseball is presented by MedCenter Health