Driscoll's Late Heroics Gives BG Series Lead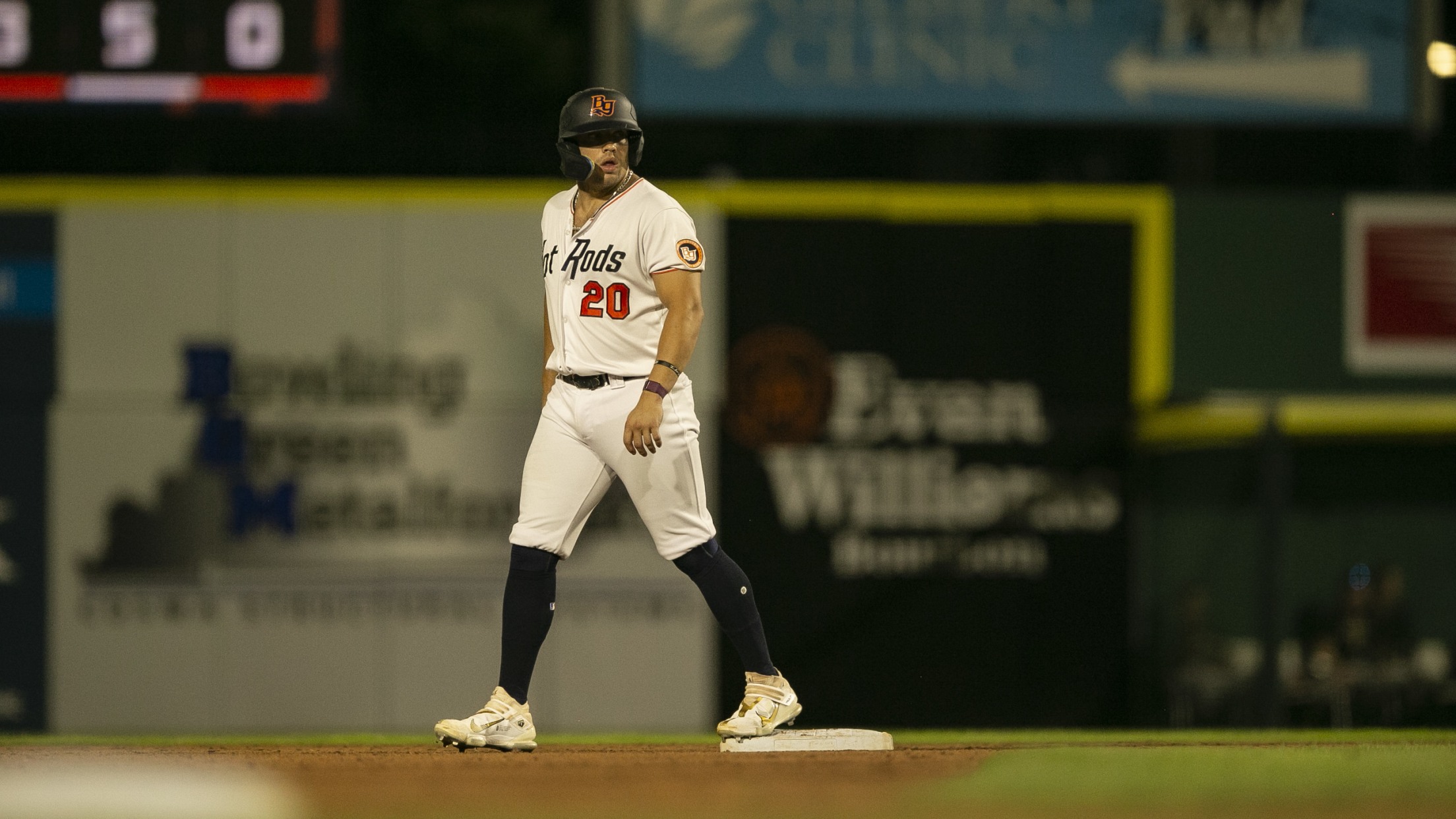 Bowling Green, Kentucky– Logan Driscoll had a clutch two-run single in the eighth inning of a tied game to boost the Bowling Green Hot Rods (1-0) to a 5-3 win over the Aberdeen IronBirds (0-1) in the first game of the South Atlantic League Championship Series at Bowling Green Ballpark
Bowling Green, Kentucky– Logan Driscoll had a clutch two-run single in the eighth inning of a tied game to boost the Bowling Green Hot Rods (1-0) to a 5-3 win over the Aberdeen IronBirds (0-1) in the first game of the South Atlantic League Championship Series at Bowling Green Ballpark on Sunday afternoon. The series continues in Aberdeen, Maryland on Tuesday with a 6:05 PM CT first pitch for game-two in the best-of-three series.
Dillon Paulson put the Hot Rods up in the first inning against Aberdeen starter Daniel Federman. Alexander Ovalles walked with one out and scored with two when Paulson battered his second long ball of the playoffs over the right-field wall. The two-run shot gave BG a 2-0 lead.
A wild pitch in the fourth extended the Bowling Green lead to 3-0, but in the top of the fifth Aberdeen tied the game. Billy Cook doubled to center, cutting the Hot Rods lead to 3-1 and Jud Fabian homered to tie the game. It stayed that way until the eighth.
Tanner Murray led off the frame against Daniel Lloyd with a double and Paulson walked. Gionti Turner came in to pinch run for Paulson at first and Johan Lopez laid down a sacrifice bunt, allowing each runner to move up a station. With the infield in, Driscoll rolled a ball passed the second baseman to plate both runners and give the Hot Rods a 5-3 lead. Antonio Menendez got a 1-2-3 ninth, giving the Hot Rods a 1-0 series lead.
Logan Workman threw 3.0 shutout innings while allowing two walks and three hits with three strikeouts in a no-decision. Patrick Wicklander allowed three unearned runs on two hits with a walk over 3.0 frames, striking out five. Menendez (1-0) threw 3.0 scoreless frames, allowing just one hit and a walk with four strikeouts.
Notes: Driscoll drove in his first two runs of the playoffs… It was also his first start of the postseason for BG… Murray had multiple hits in a game for the third-straight game… He's had at least one hit in every game this postseason… Paulson and Lopez are each tied for the team playoff lead with two homers… They're one behind the franchise record of three homers in a single postseason… The record is shared between Jordan Qsar and Grant Witherspoon from 2021 with three each… Workman has not allowed a run over 8.0 postseason innings… The home team has won every game in the SAL postseason this year… Fans can listen to the game on Talk 104.1 FM and 930 AM WKCT and listen via the MiLB First Pitch app on Android and IOS, or go to the Hot Rods website at www.bghotrods.com... Fans can get their tickets for the 2023 Hot Rods season by calling 270-901-2121, visiting the Bowling Green Ballpark box office, or visiting www.bghotrods.com.
**
**
*Hot Rods Baseball *