Hot Rods Lose Finale; Hulsizer, Witherspoon Homer in Third-Straight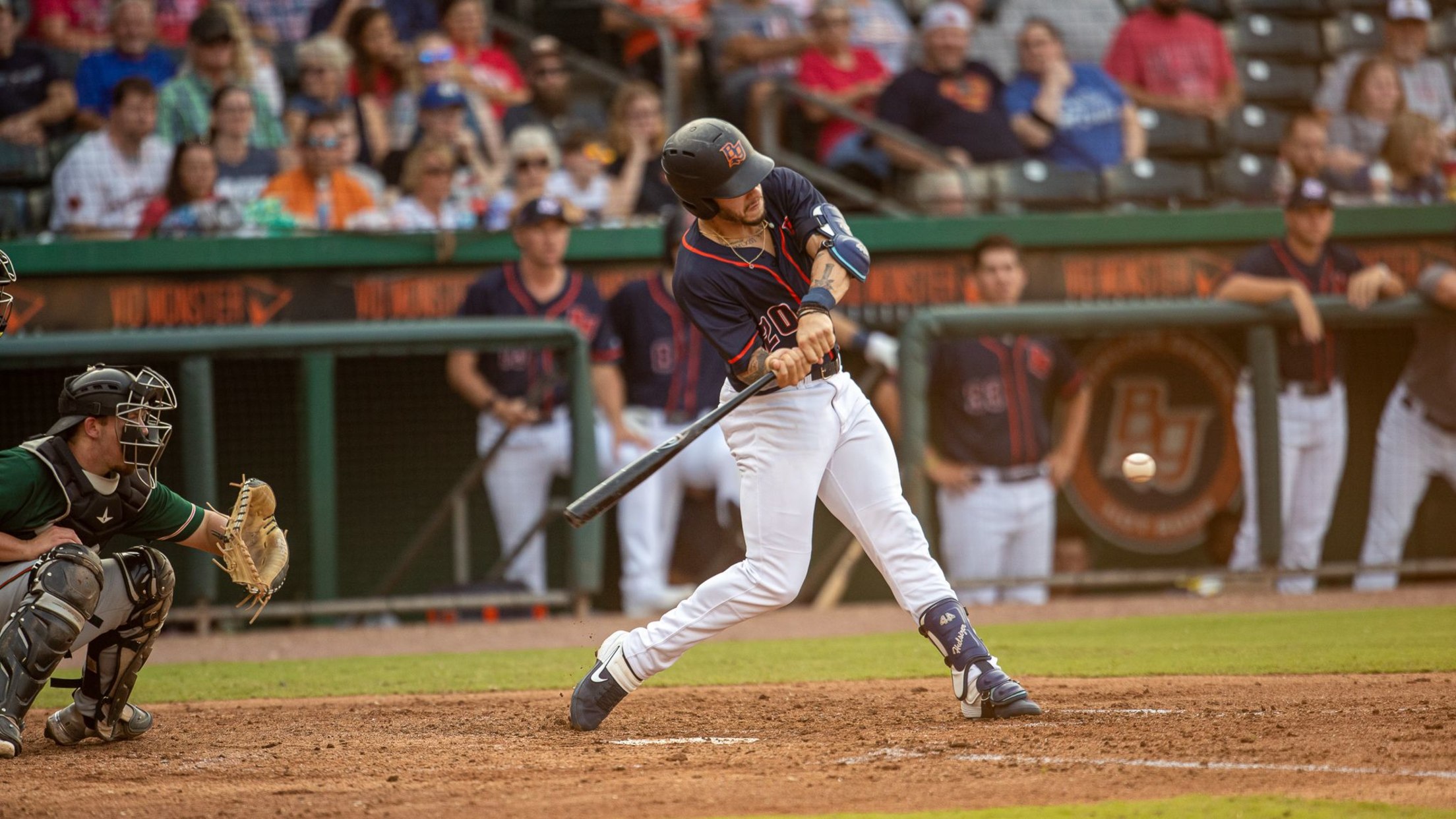 Bowling Green, Kentucky– Niko Hulsizer and Grant Witherspoon each homered in their third-straight games as the Bowling Green Hot Rods (34-18) lost the final game of the series 13-5 to the Greensboro Grasshoppers (31-23) on Sunday at Bowling Green Ballpark in Bowling Green, Kentucky. Monday is a league-wide off day
Bowling Green, Kentucky– Niko Hulsizer and Grant Witherspoon each homered in their third-straight games as the Bowling Green Hot Rods (34-18) lost the final game of the series 13-5 to the Greensboro Grasshoppers (31-23) on Sunday at Bowling Green Ballpark in Bowling Green, Kentucky. Monday is a league-wide off day before the Hot Rods travel to Rome, Georgia on Tuesday.
Greensboro scored early and often on Sunday night, plating six runs over the first three innings of play before the Hot Rods got on the board against Grasshoppers starter JC Flowers in the fourth inning. Erik Ostberg hammered a one-out homer to right-center to make it a 6-1 game. The long ball was Ostberg's fifth of the season and became Bowling Green's first hit of the game.
The offense ran dry again, with the visitors scoring six total runs between the fifth and seventh, before the Hot Rods plated another in the seventh against 'Hoppers reliever Alexander Manasa. Witherspoon doubled with one out and scored when Jacson McGowan singled to right, making it a 12-2 game.
Bowling Green plated three more runs in the eighth, with Hulsizer hitting his 13th long-ball of the season. The two-run shot was followed by Witherspoon's ninth homer of the year to make it a 12-5 game, but Greensboro added a run in the top of the ninth to extend their lead to 13-5. The Hot Rods went down in order in the bottom of the frame, losing the series finale 13-5.
Michael Mercado (0-4) went 2.1 innings while allowing five runs on seven hits with a walk and three strikeouts in a loss. Ezequiel Zabaleta allowed four runs (one earned) on three hits with a walk and two strikeouts in 2.0 innings of relief work. Joe La Sorsa allowed one earned run (three total) over his 2.1 innings out of the bullpen, allowing a walk with two hits and a strikeout. Michael Costanzo hurled the final 2.1 innings, letting up one run on one hit with a walk and two punch outs.
Notes: Witherspoon had his fourth multi-hit game of the season… McGowan collected his eighth multi-hit game of the year… Hulsizer captured his eighth multi-RBI game of 2021… Hulsizer and Witherspoon have homered in three consecutive games… Their back-to-back homers were the second of the series after Witherspoon and Qsar did it on Thursday… Ostberg's homer was his first since June 3rd… The loss gives Bowling Green their second series tie this season… The first tie was a series against the Rome Braves between May 18-23… The Hot Rods are 15-9 this season when their opponents score first… BG is 9-14 when being outhit… Bowling Green is 24-14 this year against right handed pitching… Monday is a league-wide off day and the Hot Rods resume play in Rome, Georgia, against the Braves with a 6:00 PM CT first pitch…
###
Hot Rods Baseball is presented by MedCenter Health