Hot Rods Pitching Tosses Second Straight Shutout in 8-0 Win
Offense stays hot while pitching extends shutout streak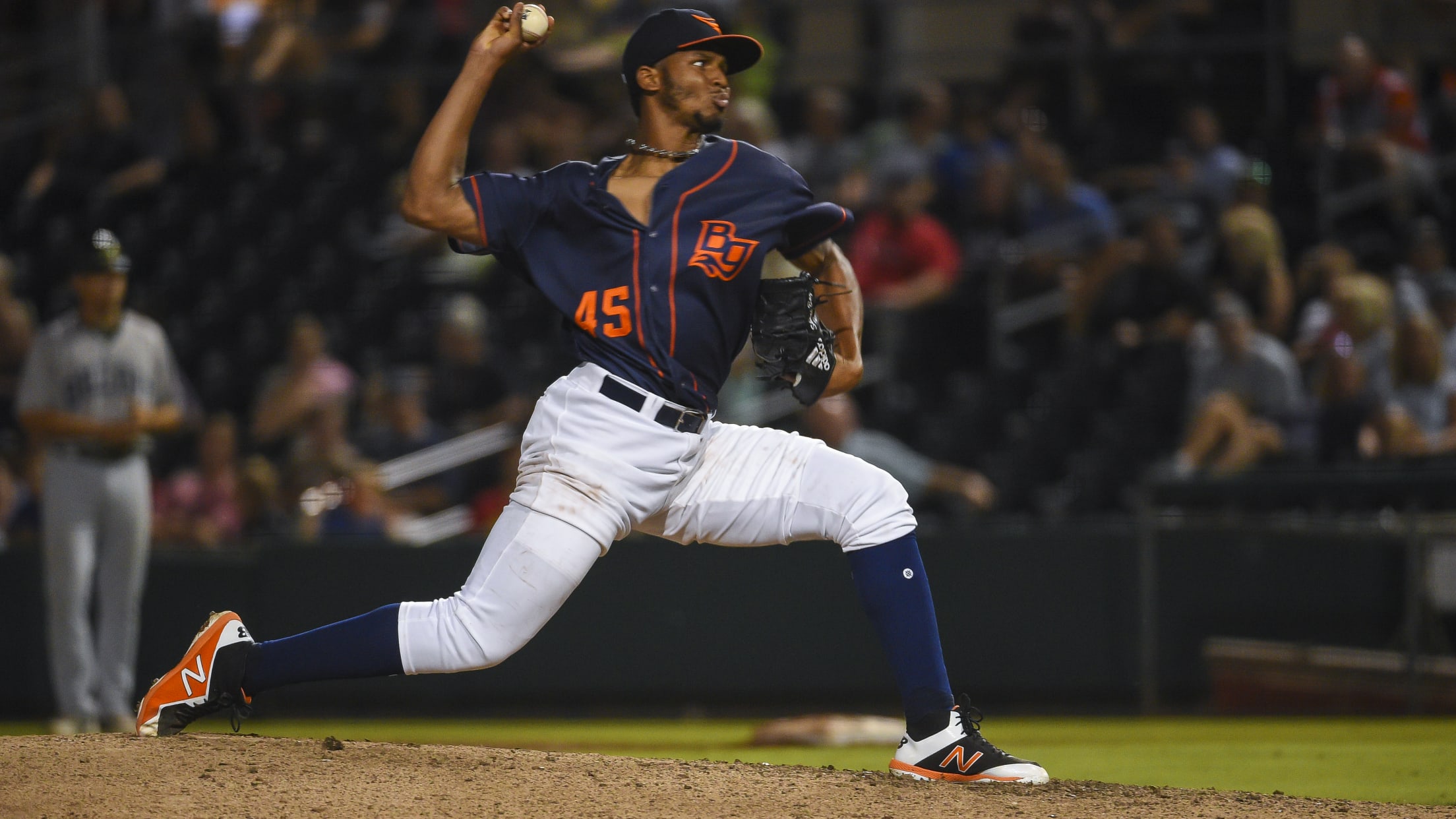 Cristofer Ogando pitching for the Bowling Green Hot Rods in 2019 (Steve Roberts)
Greenville, South Carolina– The Bowling Green Hot Rods (4-0) pitching staff extended their shutout streak to 20 innings while hurling their second straight shutout against the Greenville Drive (0-4) on Friday in an 8-0 win at Fluor Field. The two teams will play the fifth game of the series on
Greenville, South Carolina– The Bowling Green Hot Rods (4-0) pitching staff extended their shutout streak to 20 innings while hurling their second straight shutout against the Greenville Drive (0-4) on Friday in an 8-0 win at Fluor Field. The two teams will play the fifth game of the series on Saturday with a 6:05 PM CDT first pitch in Greenville.
Bowling Green took an early lead for the fourth-straight game against Drive starter Chris Murphy. Ruben Cardenas led off the second inning with a deep fly ball to left that landed on a porch attached to the brick buildings behind the fence. The homer was Cardenas' first of the season and gave Bowling Green a 1-0 lead.
The Hot Rods loaded the bases in the third with two outs against Murphy but couldn't plate a run. The southpaw struck out seven Hot Rods in the game, but BG extended their lead in the fourth against Murphy. Grant Witherspoon earned a one-out walk and stole second base. With two outs, Roberto Alvarez singled to right allowing Witherspoon to score while giving Bowling Green a 2-0 advantage.
The Drive dipped into their bullpen in the fifth and brought in reliever Brendan Nail, another left-hander, and Bowling Green got to him in his first inning of work. Connor Hollis led off the frame with a walk and stole second, going to third when Pedro Martinez grounded out to first. Blake Hunt walked and Cardenas lifted a sacrifice fly to left center, scoring Hollis to extend Bowling Green's lead to 3-0. Evan Edwards doubled to left center, moving Hunt to third and Witherspoon blasted his second home run of the season to dead center, clearing the batter's eye to score three more runs and give BG a commanding 6-0 lead.
Two more runs scored for BG in the sixth thanks to Hunt's first hit of the season against Nail. Alvarez walked to lead off and Hollis doubled to left with one out. Hunt singled home both men to make it an 8-0 game. The Hot Rods bullpen continued the pitching staff's shutout streak, extending it to 20 innings in their second straight shutout win.
Jayden Murray threw 4.0 innings of shutout baseball, allowing two hits with three strikeouts. Joe LaSorsa (1-0) pitched 3.2 shutout innings while allowing two hits with a walk, a hit batsman, and three strikeouts in his first win of the season. Cristofer Ogando threw the final 1.1 innings while striking out three and allowing a hit. Ogando also committed a throwing error on a pickoff attempt.
Notes: Hunt had his first hit of the season on Friday… He finished with two hits on the night… Three Hot Rods had multi-hit games: Hunt, Hollis, and Alvarez… Hollis has a three-game hit streak… Cardenas has reached base in all for games this season… BG has won three of their four games this season by 4+ runs… eight Hot Rods had hits… Bowling Green has hit at least one home run in every game this season… This is the third game of the year where they've hit more than one… Bowling Green is 10-7 against Greenville all-time… They're now 5-5 in Greenville… The Hot Rods and Drive will play the fifth game of the series at 6:05 PM CDT on Saturday… BG will send RH Michael Mercado to the mound to face RH Brayan Bello… Fans can catch all of the action through the MiLB First Pitch app, tuning into WBGN 94.5 FM and 1340 AM, or visiting https://www.milb.com/bowling-green/fans/audio-listen-live.
###
Hot Rods Baseball is presented by MedCenter Health