Three Hot Rods Homers Lead to a Victory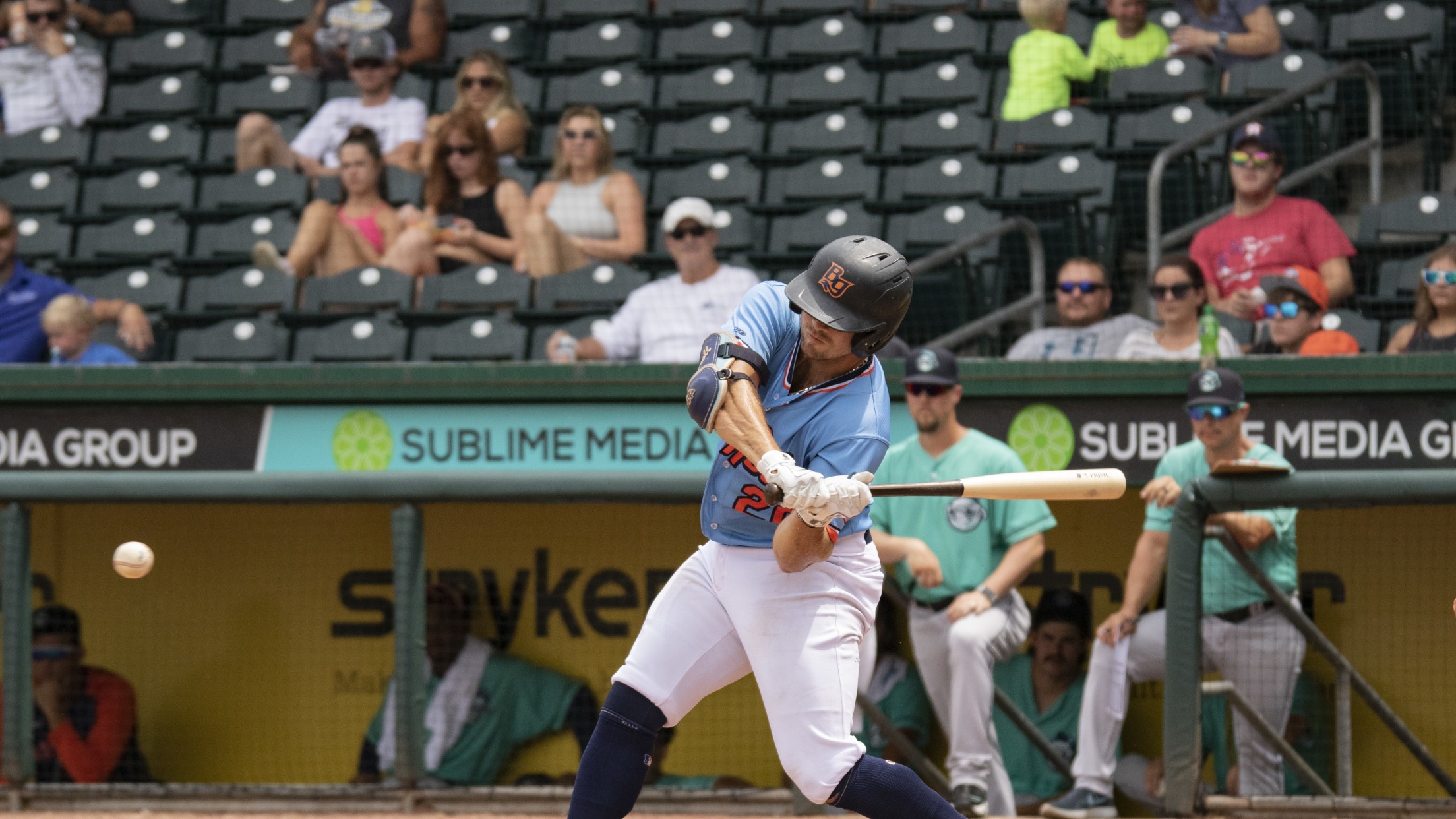 Bowling Green, Kentucky– Logan Driscoll and Heriberto Hernandez each drove in four runs to help the Bowling Green Hot Rods (19-11, 60-35), secure an 11-6 win over the Greensboro Grasshoppers (15-15, 42-53) at Bowling Green Ballpark on Tuesday. The Hot Rods and Grasshoppers will continue their six-game series on Wednesday
Bowling Green, Kentucky– Logan Driscoll and Heriberto Hernandez each drove in four runs to help the Bowling Green Hot Rods (19-11, 60-35), secure an 11-6 win over the Greensboro Grasshoppers (15-15, 42-53) at Bowling Green Ballpark on Tuesday. The Hot Rods and Grasshoppers will continue their six-game series on Wednesday with a 6:35 PM CT first pitch.
BG started off the scoring in the first, beginning the short rally with a one-out single from Alexander Ovalles. He moved to third on an error that allowed Hernandez to reach first, and was driven home by Driscoll to make it 1-0. Greensboro bounced back in the second, with a three-run homer by Hudson Head that gave the Grasshoppers a 3-1 lead. That lead evaporated in the third, when an error in foul territory with two outs allowed the inning to continue. Driscoll made Greensboro pay, smacking a three-run homer to give the lead back to Bowling Green, 4-3.
The Grasshoppers tied things up in the fifth, but BG stormed back in the bottom half, with a three-run inning thanks a three-run blast by Hernandez to take a 7-4 lead. After a run in the sixth for Greensboro, Alika Williams added a home run of his own to make it 9-5. The Hot Rods added two more in the eighth on a Mason Auer sacrifice fly and Hernandez's RBI single. Greensboro plated one in the ninth but couldn't overcome the deficit as BG took the opening game of the series 11-6.
Logan Workman (4-3) earned the victory in 5.0 innings, striking out four and allowing four runs on five hits with a walk. Audry Lugo earned his second hold of the year in 3.0 innings of work, allowing one run on three hits with a strikeout. Evan Reifert pitched the final frame, striking out three and allowing a run on two hits.
Notes: Reifert allowed his first run of the season in BG… His ERA is currently 0.79… Driscoll extended his hit streak to seven-straight games… It is the longest active streak and seventh-longest all season for the Hot Rods… He set a new career-high with four RBIs… Driscoll has reached base in 12-straight games for BG, reaching 23 times in that span… Lopez also reached base for the 10th consecutive game… Hernandez had his third four-RBI game of the season… He is tied with Ronny Simon for most games with four or more RBIs… Bowling Green and Greensboro will continue their series on Wednesday at Bowling Green Ballpark, with first pitch set for 6:35 PM CT… Hot Rods LH Ben Brecht (1-1, 1.42) gets the start against Grasshoppers RH Adrian Florencio (1-9, 8.35)… The game is available to watch on MiLB.tv… Fans can listen to the game on Talk 104.1 FM and 930 AM WKCT and listen via the MiLB First Pitch app on Android and IOS, or go to the Hot Rods website at www.bghotrods.com... Fans can get their tickets for upcoming Hot Rods home games by calling 270-901-2121, visiting the Bowling Green Ballpark box office, or visiting www.bghotrods.com.
###
Hot Rods Baseball