Wisely, Hot Rods Dash Winston-Salem Hopes in 15-4 Win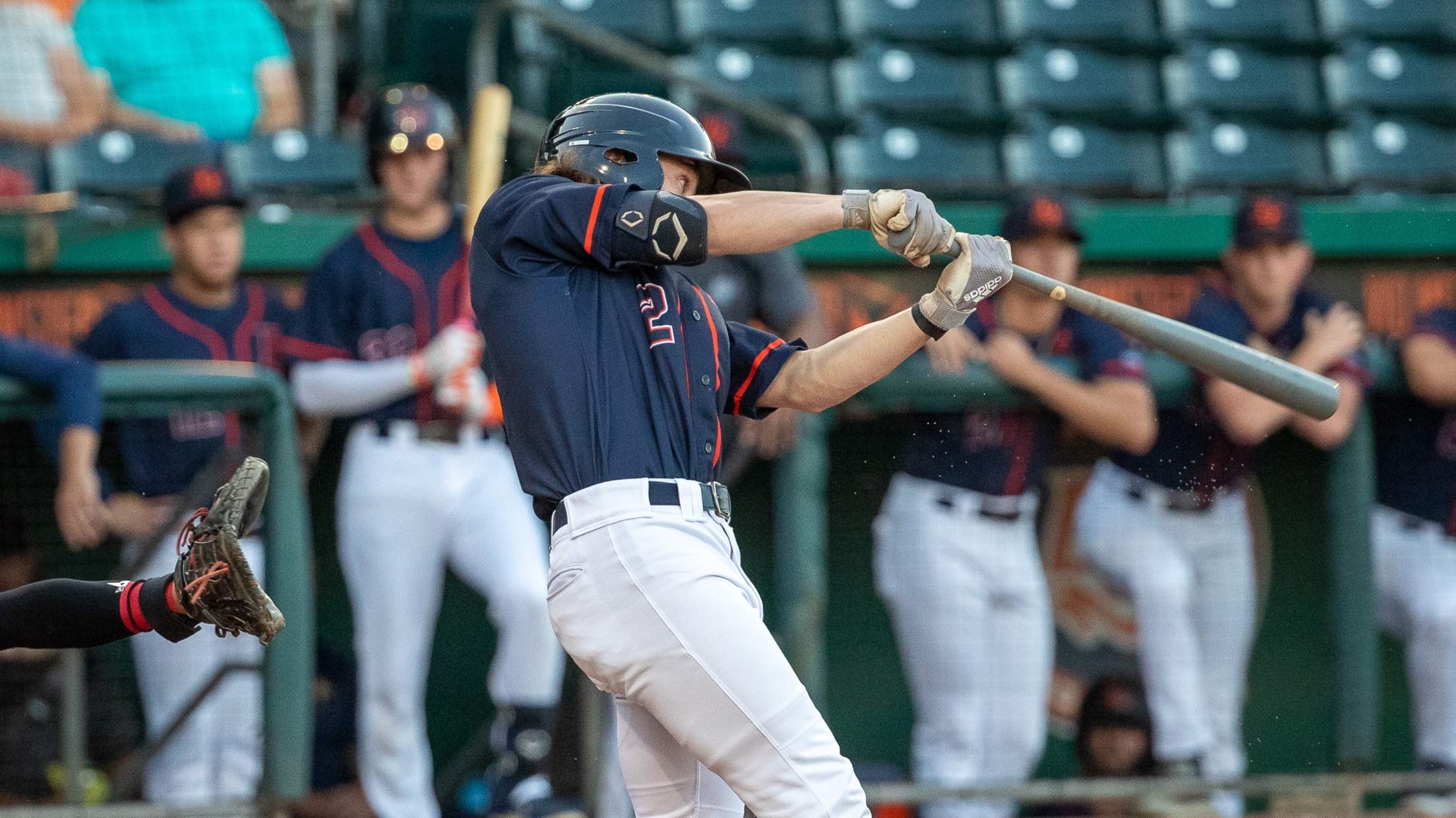 Winston-Salem, North Carolina– Brett Wisely led the Bowling Green Hot Rods (78-35) with four hits, including two homers, and five RBIs in Bowling Green's 15-4 win over the Winston-Salem Dash (41-71) on Saturday at Truist Stadium in Winston-Salem, North Carolina. The Hot Rods finish their 2021 road schedule with the
Winston-Salem, North Carolina– Brett Wisely led the Bowling Green Hot Rods (78-35) with four hits, including two homers, and five RBIs in Bowling Green's 15-4 win over the Winston-Salem Dash (41-71) on Saturday at Truist Stadium in Winston-Salem, North Carolina. The Hot Rods finish their 2021 road schedule with the series finale against the Dash on Sunday with a 1:00 PM CT first pitch. Bowling Green's magic number to clinch home-field advantage in the championship series is two.
Two long balls gave Bowling Green the lead in the top of the first inning against Dash starter Kevin Folman. Wisely led off by homering off the first pitch of the evening to give the Hot Rods a 1-0 lead. A one-out walk to Grant Witherspoon and a two-out free pass to Jordan Qsar put runners aboard for Hill Alexander, who swatted his 14th homer of the year to boost Bowling Green's edge to 4-0.
The Hot Rods struck via the homer again in the third, extending their lead. Evan Edwards led off with a single to left and Qsar hit his 21st home run of the season, giving the Hot Rods a 6-0 advantage. Jose Rodriguez got a run back in the bottom of the frame with a solo homer off Taj Bradley, making it a 6-1 game.
Wisely hit another homer, this time a two-run shot, in the fourth to make it an 8-1 game. It was Wisely's second two-homer game for the Hot Rods this season and his third of the year between Charleston and Bowling Green. Bowling Green scored two more in the sixth thanks to a single a sacrifice fly, making it a 10-1 game.
The Dash scored two runs in the bottom of the seventh and another in the eighth, but the Hot Rods piled on five runs between the eighth and the ninth innings, going on to win 15-4.
Bradley (3-0) earned the win after tossing 5.0 innings while holding the Dash to one run on four hits with two walks and six strikeouts. Addison Moss allowed two runs (one earned) on one hit with a walk. Zack Trageton threw 2.2 innings of relief while allowing one run on two hits with two walks and a pair of strikeouts.
*Notes: *Wisely sent a career-high with five RBIs… He tied his career-high of four hits… It's the second time he's reached the mark, with the other taking place on July 30 of this season… It had been exactly one month (August 11) since Wisely's last two-homer game… Wisely had his 6th multi-hit game with BG… It was the Hot Rods seventh four-hit game of the year… He also logged his 6th multi-RBI game of 2021… It was also the ninth game for a Hot Rods hitter with five or more RBIs… All nine games belong to different players… Witherspoon had his team-leading 25th multi-hit effort of the year… Qsar had his 15th… It was also his 15th multi-RBI game… Driscoll logged his fourth multi-hit game of the season… His two RBIs make Saturday his second multi-RBI game this season… This was Bowling Green's first game with more than 10 runs since August 17 in a 17-8 win over Greensboro… BG is 9-3 in September… They're 35-17 in games decided by four or more runs this season… The team is 9-2 against Winston-Salem this season… The Hot Rods and Dash play the series finale on Sunday with a 1:00 PM CT first pitch… The Hot Rods will send LH John Doxakis (5-1, 5.04) to the mound against Dash LH Dan Metzdorf (4-6, 5.74)… Fanscan catch all of the action by watching on MiLB.tv or listening through the MiLB First Pitch app, tuning into WBGN 94.5 FM and 1340 AM, or visiting https://www.milb.com/bowling-green/fans/audio-listen-live.
###
Hot Rods Baseball is presented by MedCenter Health