Cal notes: Potts paying attention to details
Only 19, Padres No. 23 prospect ranks among league leaders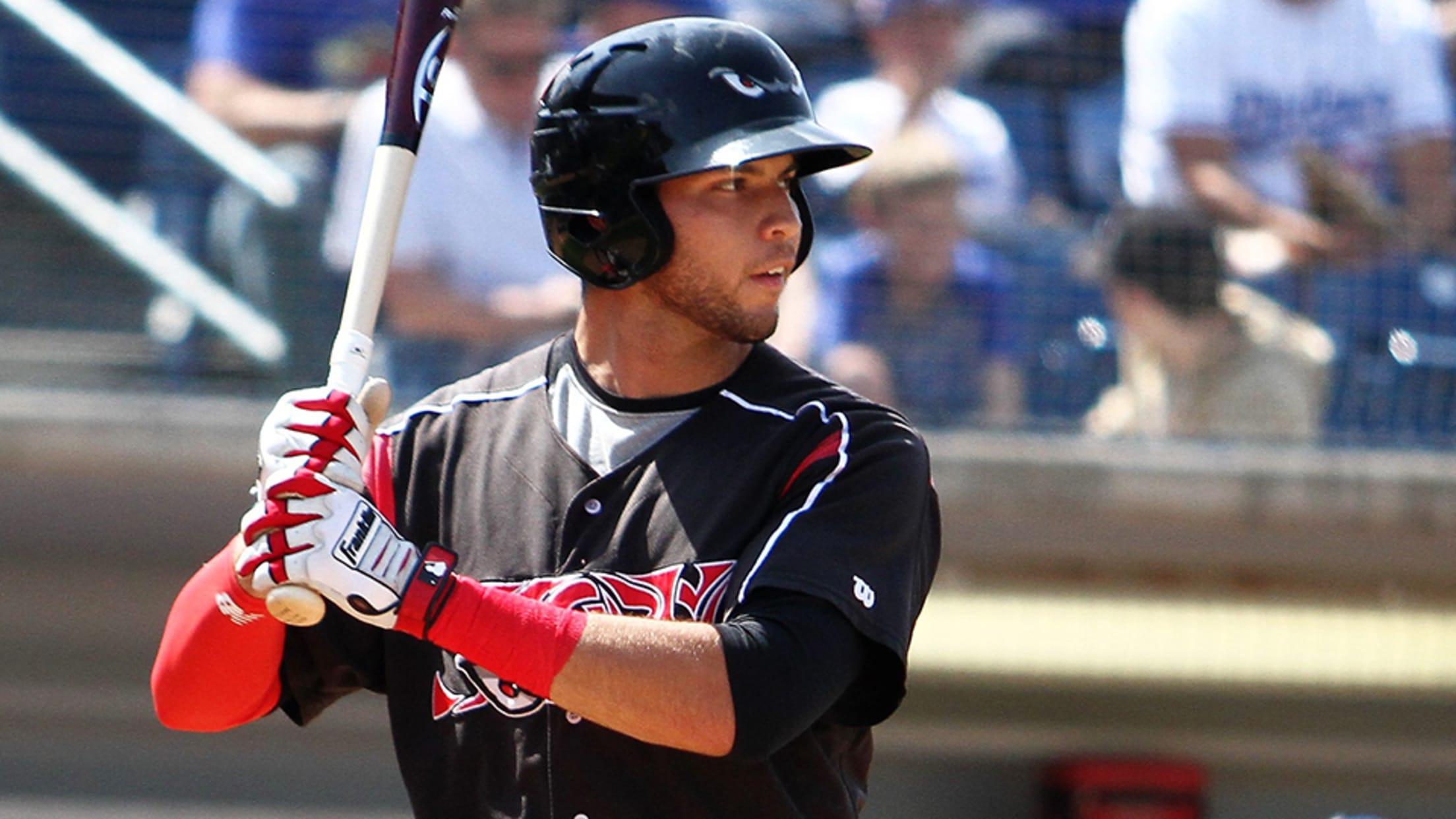 Hudson Potts ranks among the California League leaders in seven offensive categories. (Jerry Espinoza/MiLB.com)
It's a hot, wild night in Lancaster and Lake Elsinore Storm third baseman Hudson Potts strolls to the plate with an air of confidence.His team is down, 5-0, in the top of the fifth inning with two outs and runners on the corners. Potts takes three balls, then ropes a
It's a hot, wild night in Lancaster and Lake Elsinore Storm third baseman Hudson Potts strolls to the plate with an air of confidence.
His team is down, 5-0, in the top of the fifth inning with two outs and runners on the corners. Potts takes three balls, then ropes a single to left field to bring in his team's first run.
Potts has been showing more patience at the plate recently. He went 3-for-5 with a walk and a run scored in Wednesday's 17-11 loss to the JetHawks.
"I focus on getting my pitch and staying in my zone and not doing what the pitcher wants me to do," he said of his approach. "Stay within yourself and execute what you're trying to do."
Potts is winding down his second full season in the Minor Leagues, which is hard to comprehend since he's only 19 years old. The Padres' No. 23 prospect was taken in the first round of the 2016 Draft when he was 17. He won't turn 20 until Oct. 28.
The Texas native isn't even the youngest player on the Storm roster. Left-hander Adrian Morejon and infielder Eguy Rosario were born in 1999, the year after Potts.
"It definitely makes it a lot easier," Potts said. "It's cool to be able to have guys around your age to talk to. I think we all have a pretty good bond. A lot of us played together last year, too."
Potts doesn't let his youth show on the field. He leads the California League with 51 extra-base hits, which account for nearly half of his 108 hits. He also ranks first with 33 doubles and is tied for second with 17 homers, three shy of his total with Class A Fort Wayne last season.
"I don't ever think about hitting doubles or anything," he said. "I think that's just the result of hitting the ball hard and getting lucky where it goes."
Potts has a .288/.356/.517 slash line and is batting .364 in July. He's struck out 103 times but drawn 34 walks.
"I feel comfortable. I think I'm more disciplined," he said. "Every game, I think there's something that I'll pick out -- just little, small things that will help out -- and I'll remember them. Something might come up today and then a couple weeks later, I'll see the same team and just remembering little small stuff like that can give you a little bit of an edge."
Sticking to a routine in practice also helps.
"Learning how to pace yourself on different stuff, whether it's in practice, just getting in what you need, not too much, not too little," Potts said. "Just trying to stay consistent. … I think it's helping me out."
He's also adjusting better to his new position at third base. Potts was primarily a shortstop before sliding over to the hot corner last season. He admitted there was a bit of a learning curve, but he's getting the hang of it.
"Transition's been good," he said. "I'm more comfortable this year, for sure. Last year, there were a lot of firsts. Every game, there was something that would come up. This year, definitely a lot better."
He's also played seven games at first base this season.
"I'll play there every now and then," he said. "It's not bad. New position, I've never played there until this year."
For his efforts in the first half, he was chosen to start in the California League All-Star Game. It was his first career All-Star selection.
"So, that was cool," he said. "It was a cool experience getting to meet all the other guys on the other teams."
Potts is hoping he can maintain those All-Star numbers through the final month of the season. His main goals are staying healthy in hopes of helping the Storm reach the playoffs.
"I think if I stay healthy, just keep doing what I'm doing and help out the team, hopefully, we make the playoffs," he said. "I think we've been on a pretty good roll lately and [we need to] just get back to doing what we can do."

In brief
Hot 'Hawks:
Lancaster had several players on hot streaks last week.
Brian Serven
nearly tied the Cal League record for hits in consecutive at-bats. He came up to the plate in the eighth inning on Wednesday having hit safely in nine straight at-bats but struck out to end the streak one at-bat shy of the record (10).
Rockies No. 23 prospect
Vince Fernandez
homered in three straight games through Friday, the second time he's accomplished the feat this this season.
Luis Castro
, who was promoted from Class A Short Season Boise on July 21, made quite an impression in his first two games at The Hangar. He was 4-for-4 with a homer and two RBIs in his first game in the hitter-friendly ballpark and went 4-for-5 with a homer, double and three RBIs the following night.
"I heard so many stories about what it's like to hit in Lancaster," Castro said. "I have wanted to come here for two years and am so happy to be here now."
Intentional walk:
The Modesto Nuts have teamed up with a coalition of regional partners for the "Intentional Walk," a community walking program that kicked off on June 9 and runs through Aug. 18. The program encourages Stanislaus County families to get active by walking and track their distance through the Argus mobile app for the opportunity to win fun rewards. Prizes include healthy recipe cookbooks, meet-and-greet opportunities with Nuts players and the chance to throw out a first pitch. Modesto also has created a special walking route within John Thurman Field to support participation and physical activity before and during Nuts games.
Merisa Jensen is a contributor to MiLB.com.