Thomas, Quakes go home with 2-0 lead
Dodgers prospect belts grand slam in California League Finals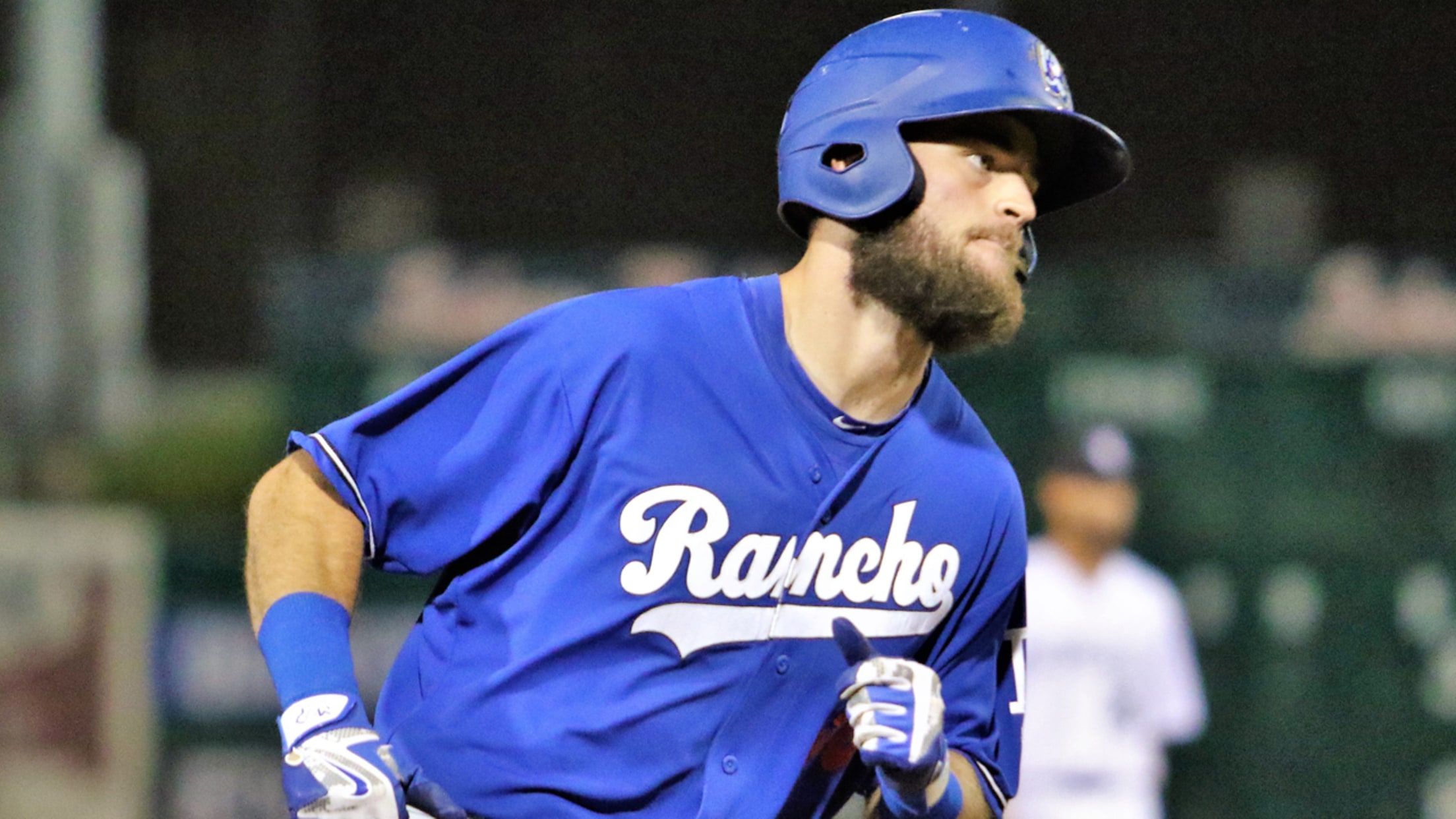 Cody Thomas is batting .385 with six extra-base hits and seven RBIs in six playoff games. (Jerry Espinoza/MiLB.com)
After a seesaw series opener turned into a thriller that gave Rancho Cucamonga a leg up in the California League Finals, the Quakes made things a little less stressful in Game 2.Cody Thomas belted a grand slam and tripled as Rancho Cucamonga rolled past Visalia, 9-3, on Wednesday to head
After a seesaw series opener turned into a thriller that gave Rancho Cucamonga a leg up in the California League Finals, the Quakes made things a little less stressful in Game 2.
Cody Thomas belted a grand slam and tripled as Rancho Cucamonga rolled past Visalia, 9-3, on Wednesday to head home with a 2-0 lead in the best-of-5 Championship Series.
Gameday box score
"Game 1 was a tight ballgame," Thomas said, referring to the Quakes' 5-4 win on Tuesday. "I think we might have played a little tight that first game, but we competed the whole way, stuck together, encouraged one another and came out with a victory. Today, we came out and attacked their guys. I think we did a great job executing our plan at the plate. We came up in big situations. Up and down the lineup, someone played their part, whether it was a walk here, a hit there. We played together and came out with another win."
Like Game 1, Rancho Cucamonga was held off the board through four innings Wednesday and trailed entering the fifth. Unlike Tuesday, the Quakes took the lead for good on one swing of Thomas' bat.
"I think we had to get warmed up into the game, get in the rhythm and flow of the game," he said. "The first game, someone said as soon as we get our first hit, we're rolling. That's what happened, and this game, too, we were slow and then started executing our game plan at the plate, not giving in to what the pitcher was throwing. We have guys up and down the order who can do big things and put together good ABs. When we do that, good things happen."
Nick Yarnall led off the fifth with a walk and Donovan Casey and Jeren Kendall reached on back-to-back errors on shortstop and D-backs No. 2 prospect Jazz Chisholm and third baseman and ninth-ranked Drew Ellis.
• Complete postseason coverage »
"I got to 3-0," Thomas said of his at-bat against reliever Cole Bartlett. "They threw me a fastball up, 3-0, that was honestly probably a ball, but I hacked at it. I was looking for one up in the zone again, 3-1, and told myself I wasn't going to be late for a fastball. Fortunately, he gave me another one, and I wasn't."
Thomas tattooed his grand slam to left-center to turn a 1-0 deficit into a 4-1 lead. Rancho Cucamonga piled on with a run in the sixth and four more in the seventh. Thomas tripled to right and scored in the seventh.
"I'm just trying to do my part," he said. "Here in the playoffs, all you're caring about is the scoreboard. When I was up to bat there was one out, we were down by one, I was just trying to put the ball in play and make something happen. The guys before me did a great job getting on. They put stuff together and put me in a position to be able to do something like that, put pressure on the defense and the pitcher, so hats off to our guys up and down the order."
Rancho Cucamonga relied on its bullpen early. With fifth-ranked Dodgers prospectDennis Santana limited to two innings -- he gave up a homer in the first to Chisholm -- the Quakes used four relievers. Wills Montgomerie, Logan Salow and Connor Strain kept the Rawhide off the board until the ninth, when they plated two runs off Austin Hamilton.
"We've called upon a bunch of guys throughout this series and the series before," Thomas said. "All of them have come out there and done a great job for us. Our roster doesn't look the same as it did the first half. We have a bunch of new guys and stuff like that and they've stepped up big-time for us. It's just great to see and it's easy to play defense behind these guys."
The Quakes head home for Game 3 on Friday, with a chance to clinch their second crown in four years.
"We're pumped," the outfielder said. "We got to celebrate the Southern Division championship at home. That was a lot of fun and we're looking forward to coming back and winning one more."
Tyler Maun is a contributor to MiLB.com. Follow him on Twitter @TylerMaun.