Padres teen Rosario rips pair of homers
Youngest player in Cal League powers Storm past Rawhide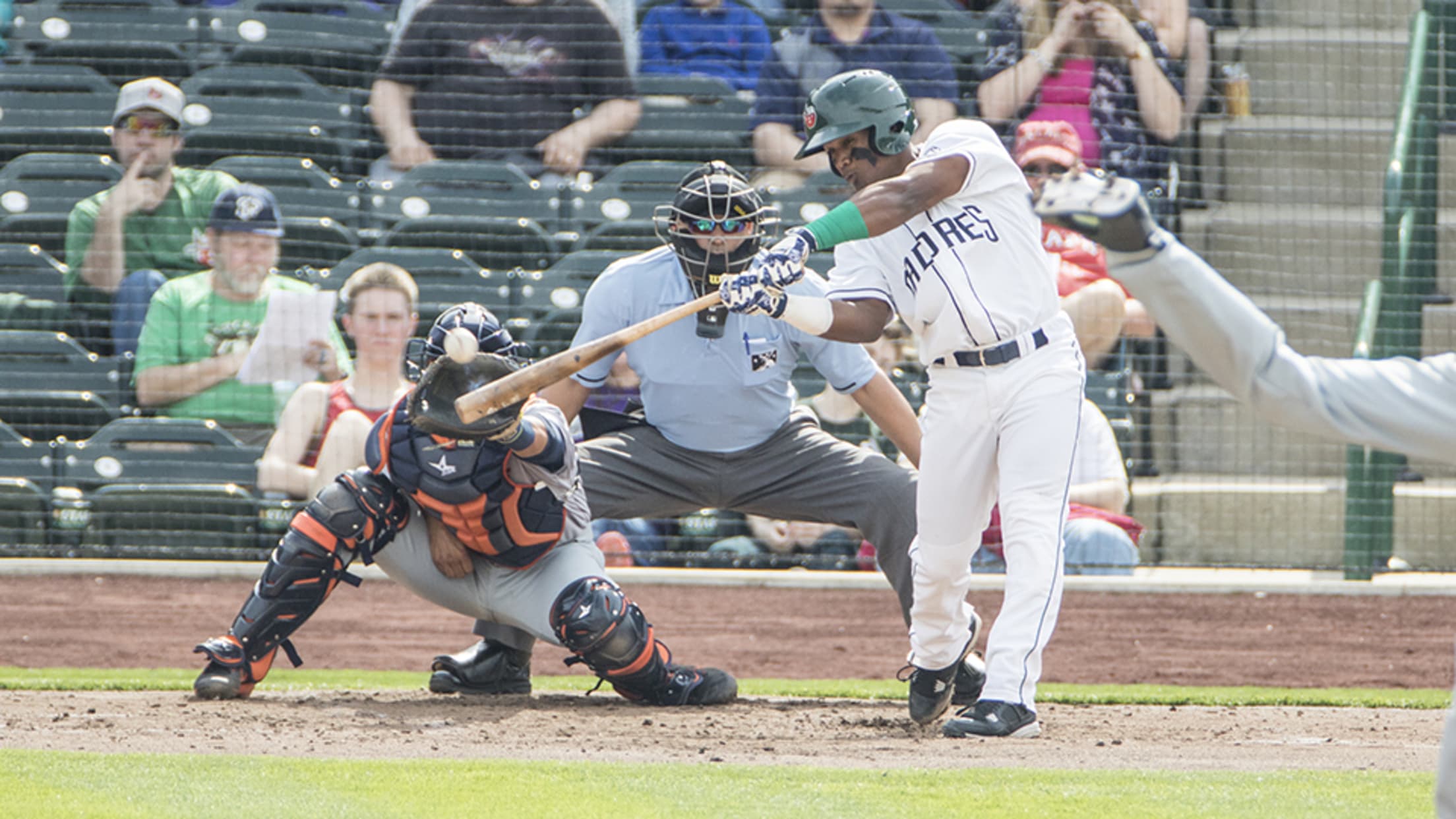 Eguy Rosario had two homers in his Minor League career before hitting two against Visalia. (Jeff Nycz/Fort Wayne TinCaps)
A year ago, Eguy Rosario -- just 17 years old -- was the youngest player on a full-season roster as he began 2017 with Class A Fort Wayne. He hit .206 but regained his footing in the Rookie-level Arizona League with a .282/.363/.422 slash line.Encouraged, the Padres kept moving Rosario
A year ago, Eguy Rosario -- just 17 years old -- was the youngest player on a full-season roster as he began 2017 with Class A Fort Wayne. He hit .206 but regained his footing in the Rookie-level Arizona League with a .282/.363/.422 slash line.
Encouraged, the Padres kept moving Rosario aggressively this year, sending him to Class A Advanced Lake Elsinore, where he's the youngest player in the California League at 18 years and six months. On Tuesday, he rewarded the team's faith.
Gameday box score
After hitting one home run in 386 at-bats last season, Rosario belted a pair of solo jacks on Tuesday as the Storm beat the Visalia Rawhide, 8-4, at Recreation Park.
The right-handed hitter cleared the left-center field wall in the sixth inning against rehabbing D-backs right-hander Randall Delgado and hit another long ball in the eighth off lefty reliever Miguel Aguilar.
Rosario stands 5-foot-9 and weighs 150 pounds and had only two homers in 686 plate appearances as a pro. But the native of the Dominican Republic uses a short right-handed stroke generated by above-average bat speed. He has a line drive approach and most of his power is to the gaps, but he showed the Rawhide he can occasionally pop the ball out of the yard.
Lake Elsinore hitting coach Doug Banks, who had Rosario at Fort Wayne and in the AZL, said Rosario has power that belies his size.
"He's very strong and compact and that gives him the ability to leverage the ball to both his pull side and the opposite field," Banks said. "He has good bat speed for his age and he's still growing. He's definitely gap-to-gap now, but he definitely has the ability to be an above-average hitter and above-average power.
"It's just a matter of him growing and adding strength."
Banks attributed Rosario's early struggles in 2017 to youth.
"I just think he was young and trying to impress people," Banks said. "There were a lot of things he felt he had to live up to, but he just had to learn to control the controllables."
Banks said nutrition and maturity, as well as an improved approach, are reasons Rosario has seen better results this month, and there's more in the tank.
"He has to prove he can handle velocity and not get himself out and stay on the fastball," Banks said. "But he works in [batting practice] and in the cage."
The Storm also got homers from No. 20 Padres prospectEdward Olivares, who hit a two-run roundtripper off Delgado in the sixth, and hulking first baseman Brad Zunica, who launched a two-run dinger off Visalia starter Sam McWilliams (1-1).
Banks also had high praise for Olivares, acquired from the Blue Jays for Yangervis Solarte.
"He destroyed [Fort Wayne] last year in [Class A] Lansing," Banks said. "He's the definition of a five-tool player. He can hit, he has the mental makeup to be a tremendous big leaguer. He's a great person, and a great teammate. He checks all the right boxes, and, more importantly, he has the right mindset to show up and play hard every day."
The offense boosted Emmanuel Ramirez (1-0), who allowed two hits -- a two-run homer to Ramon Hernandez in the first and a solo shot to Drew Ellis, the D-backs' No. 8 prospect, in the seventh.
The Storm rapped out 13 hits, including two apiece from Zunica, Olivares, No. 18 Padres prospect Jorge Oña, Rosario and Buddy Reed.
Vince Lara-Cinisomo is a contributor to MiLB.com. Follow him on Twitter @vincelara.