Modesto's Brigman proving a 'tough' out
Former youth hockey star leads Cal League with .380 average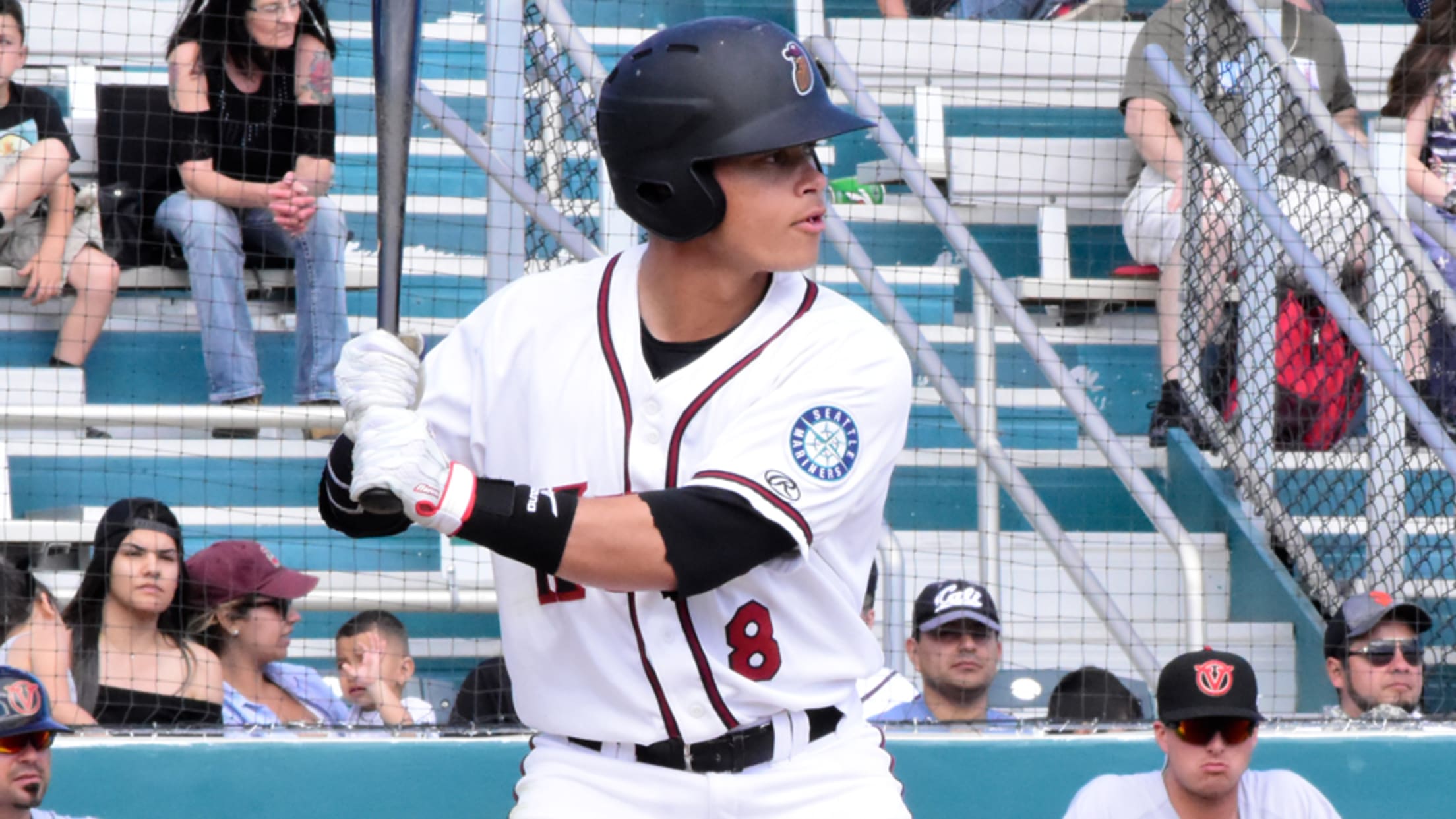 Bryson Brigman leads the California League with 118 hits this season (Natalie Winters/Modesto Nuts)
Bryson Brigman tried everything.Last season, playing for Class A Clinton in the Midwest League, he tinkered with his approach at the plate. He'd struggle, change something in his stance or his swing, find success, struggle again and then repeat the process all over."I was switching a bunch of things. Doing
Bryson Brigman tried everything.
Last season, playing for Class A Clinton in the Midwest League, he tinkered with his approach at the plate. He'd struggle, change something in his stance or his swing, find success, struggle again and then repeat the process all over.
"I was switching a bunch of things. Doing leg kicks, not doing leg kicks, trying different stuff every week," said Brigman.

This year with Class A Advanced Modesto, he's made a point of eschewing unrelenting tweaks to his approach. So far, it's paid dividends for the infielder.
The Mariners' No. 27 prospect and former youth hockey standout is leading the California League with a .380 batting average and .447 on-base percentage. He's third in on-base plus slugging percentage with a .954 mark.
"The season is very early, but he's showing all the things that our scouts saw in him," Seattle director of player development Andy McKay said. "Last year was an up-and-down year for him, but he showed he could really defend up the middle in Clinton, and now you're talking about a guy who's a premium defender that is also one of the top hitters in the Cal League.
"It's a long season, but we're excited about what's happening so far."
It's especially encouraging considering Brigman's struggles at the dish in his first two seasons. The University of San Diego product hit .260/.369/.291 in his first pro season with Class A Short-Season Everett in 2016 and batted .235/.306/.296 with the LumberKings last year.
"I check those box scores every day, and it's fun to see him and other guys have success in the Cal League," said David Flores, Brigman's hitting coach with Clinton last season. "His slugging percentage is a testament to the work he put in [over] the offseason, getting a lot stronger. He's just sticking to one consistent approach and it's turned out that way. It's been fun to watch him do that."
It speaks to his mental maturation as well.
"The Midwest League is hard, and it's certainly hard in April," McKay explained. "He's not the first player to go there and struggle. Hitting in snow is not easy. But he's grown mentally in terms of his ability to stick to his approach and not constantly tinker with things, and that's a testament to his growth as a player."
That toughness and resilience may come from Brigman's athletic background. The San Jose, California, native always dreamed of being a big leaguer, but he picked up hockey after discovering his affection for being on skates during a birthday party when he was eight. His father, Vince, soon bought season tickets for the San Jose Sharks, and his interest in the sport grew even more.
And as it turned out, it was more than a hobby that prevented him from burning out on baseball. He excelled at it.
Brigman was a forward for the Los Angeles Selects, an elite developmental team, during his early adolescent years and competed alongside future NHL players Adam Erne (Tampa Bay) and Chase de Leo (Winnipeg).
A slick fielder, he dropped hockey before his sophomore year of high school in favor of baseball, which proved to be a wise choice. Brigman starred at San Jose Valley Christian High for four years and competed with Team USA on three world championship teams -- the only player to ever hold that distinction -- and went on to become a two-year starter for USD. He was a coveted prospect with the Toreros and was selected in the third round by the Mariners in 2016.
His other sport still made a significant impact on him.
"Hockey definitely toughens you up a little bit," Brigman said. "I still say to this day, hockey shape is the best shape I've ever been in in my life. ... When you're out there skating every day, it's a different type of condition.
"I think there are a lot to do with snapshots and wrist shots that translates to hitting a little bit with your hips and how you approach the ball. It's definitely been beneficial, I feel."
Although it's not the most common crossover, Brigman is one of many notable baseball players to have excelled both on the ice and on the diamond. Most famously, Hall of Fame pitcher Tom Glavine was drafted by the Los Angeles Kings. Kirk McCaskill was selected in the fourth round by the Winnipeg Jets in 1981, and even played a season with the American Hockey League's Sherbrooke Jets after a standout hockey career at the University of Vermont.
McKay said Brigman's past on skates was a minor discussion point among executives and scouts when Seattle drafted him in 2016, and there are times when that hockey toughness shows up at the ballpark.
"I watched him play two or three weeks ago, and he was covering first on a play and he got run over, and it was a loud, violent contact, the kind where you watch and you say, 'Oh my God,'" McKay said. "But he takes pride in ... how quickly he can get up after getting knocked on the ground and show that [it] didn't hurt.
"There's a real toughness to him. Not just a physical toughness, but a mental toughness. I'm sure that's an element of the hockey player that's still in there."
Brigman remains an ardent supporter of the San Jose Sharks, but he wasn't able to watch much of the season due to his commitment to baseball.
He spends his offseason at home in San Jose, where his father built a batting cage in their garage. Brigman and his three younger brothers -- Keenan (who plays at UCSD), Dawson (who plays at Santa Clara) and Coleman (who is signed to join Dawson at SCU) -- train in the offseason with Vince, who was a third baseman at the University of the Pacific from 1983-1987.
As his de facto offseason swing coach, Vince pointed out to Brigman that he was too far away from the plate, which allowed opposing pitchers to miss his bat with outside offerings.
He's scooted closer to the plate and sustained a consistent approach, which he sees as a major factor in his increased success. He's laced seven doubles in 36 games after accruing 14 in 120 games last season, and he's already matched his 2017 total for triples, with four for the Nuts. Last year, his line-drive rate sat at 15.9 percent, according to FanGraphs. This season, it's shot up to 21.8 percent, proving that he's hitting the ball with more authority.
Brigman's success has been a boon for Modesto's offense, which also features the Mariners' top two prospects, Kyle Lewis and Evan White.
"Having a guy that's performing well helps everyone around them try and step their game up," Nuts manager Mitch Canham said. "If the guy gets on base all the time [and] prevents a pitcher from wanting a bury a breaking ball ... you'll probably get a lot fastballs. Being on base puts pressure on the defense, so he's helped out our offense a ton."

Josh Horton is a contributor to MiLB.com. Follow him on Twitter @joshhortonMiLB