ECU Night Ticket Package On Sale
ECU Night, featuring co-branded ECU & Mudcats souvenir hats, returns to Five County Stadium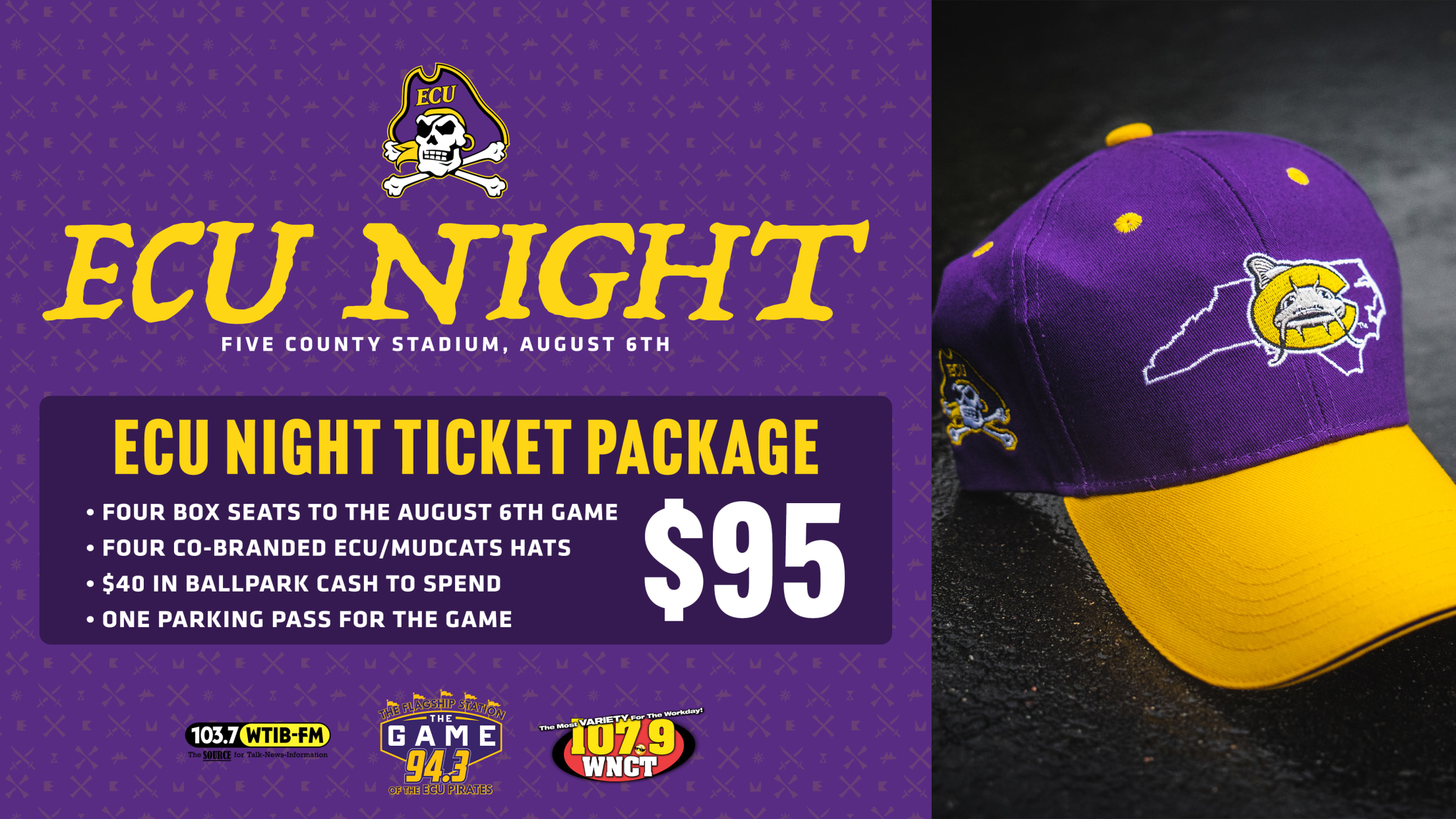 GET YOUR ECU HAT AND TICKET PACKAGE TODAY The Mudcats once again team with East Carolina Athletics to present ECU Night and a co-branded ECU and Mudcats souvenir hat giveaway on Friday, August 6 at Five County Stadium in Zebulon. The first 800 fans through the Five County Stadium gates
GET YOUR ECU HAT AND TICKET PACKAGE TODAY
The Mudcats once again team with East Carolina Athletics to present ECU Night and a co-branded ECU and Mudcats souvenir hat giveaway on Friday, August 6 at Five County Stadium in Zebulon. The first 800 fans through the Five County Stadium gates will received one of these unique ECU and Mudcats themed hats. Friday, August 6 will also feature post-game fireworks presented by CBS17 as part of the CBS17 Friday Night Fireworks series of games.
To celebrate, the Mudcats are offering a special ECU Night ticket package for fans looking to reserve their seats and souvenir hats today. For just $95, the ECU Night ticket and souvenir item package includes four box seat tickets, four ECU and Mudcats themed souvenir hats, $40.00 in Muddy Money and one parking pass. This package is the only way for fans to guarantee one of the limited quantity souvenir ECU and Mudcats co-branded hats set to be handed out for this season's ECU Night on Friday, August 6.
Orders can be placed online at carolinamudcats.com, by calling the Mudcats at (919) 269-CATS (2287), or by visiting the team front office in Zebulon.
The Mudcats will host the Kannapolis Cannon Ballers during ECU Night on Friday, August 6. ECU Night at Five County Stadium is presented by 103.7 WTIB-FM, The Game 94.3 FM and 107.9 WNCT.