Late Error Proves Costly in 2-1 Loss in Fayetteville
The Carolina offense struck out a combined 17 times in the 2-1 loss in Fayetteville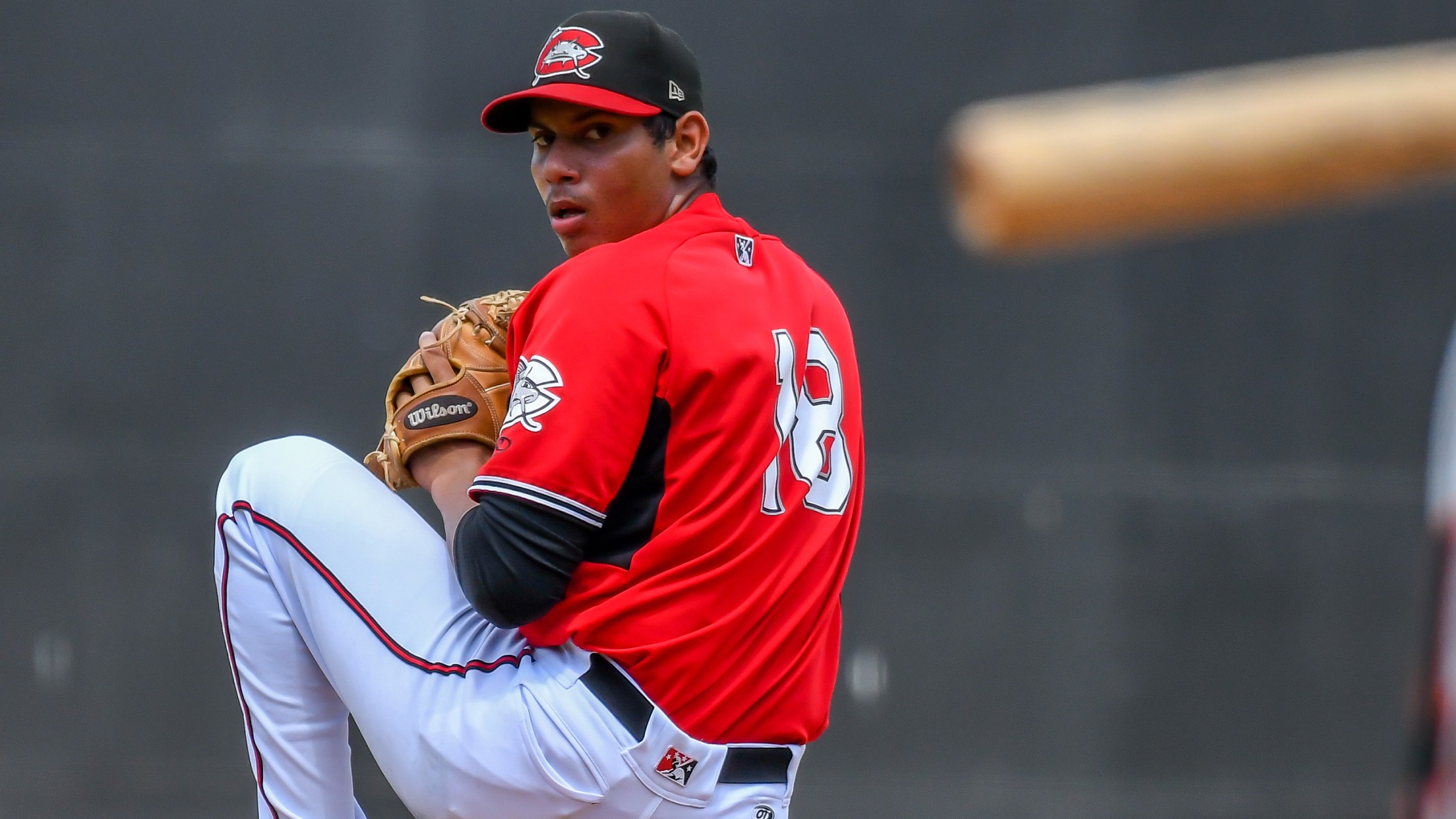 Miguel Segura - Carolina Mudcats (Neal Hock)
Carolina 1 @ Fayetteville 2 July 29, 2022 | Venue : SEGRA Stadium | First pitch : 7:53 PM | Att : 4,023 | T : 2:35 (:48 delay) CAR: 0 0 0 0 0 0 1 0 0 1 6 3 FAY: 0 0 0 0 1 0 1
Carolina 1 @ Fayetteville 2
July 29, 2022 | Venue : SEGRA Stadium | First pitch : 7:53 PM | Att : 4,023 | T : 2:35 (:48 delay)
CAR: 0 0 0 0 0 0 1 0 0 1 6 3
FAY: 0 0 0 0 1 0 1 0 x 2 6 3
WP: Miguel Ullola (2 - 0) LP: Edwin Jimenez (3 - 5) SV: Kasey Ford (1)
FAYETTEVILLE – Miguel Segura started and matched a season high with seven strikeouts, Zack Raabe went 2-for-3 with a double and a run scored, but a costly error from Raabe in the seventh helped allow the Fayetteville Woodpeckers to eke out a 2-1 victory versus the Carolina Mudcats on Friday night at SEGRA Stadium.
The game was scoreless through the fourth before Jose Alvarez connected on a solo home run off Segura in the fifth to give the Woodpeckers (9-18, 40-52) a 1-0 lead. The home run was the only run allowed by Segura in his start as he ended up going five complete with seven strikeouts, a walk and one run on four hits.
The Mudcats (13-15, 47-47) were down 1-0 from the fifth through the sixth before getting one across in the seventh to tie the game at 1-1. That run came in against reliever Miguel Ullola and scored after Carolina loaded the bases ahead of a RBI groundout from Hendry Mendez. Raabe doubled to start the seventh and later scored what ended up being Carolina's only run of the game.
Ullola (2-0) ended up allowing just that one run and would earn the victory as Fayetteville took the lead again in that same seventh inning on a failed double play attempt. That play saw second baseman Raabe miss first with a wide throw while attempting to turn what would have been an inning-ending double play.
Reliever Edwin Jimenez pitched the final three for Carolina was on the mound when the Woodpeckers scored their unearned run in the seventh. Jimenez (3-5) allowed just the one unearned run, but also walked five and struck out four in the loss.
Ullola pitched through four and 2/3 with an unearned run allowed, four hits and 10 strikeouts. Kasey Ford (1) inherited a runner from Ullola in the ninth, but recorded just one out while earning his first save of the season. Valente Bellozo started and pitched through four scoreless innings with six strikeouts.
Now tied at 2-2, the series continues on Saturday night at 5:05 p.m. with RHP Carlos Rodriguez starting for the Mudcats in Fayetteville.
NOTE: Jheremy Vargas took a pitch to his helmet in the seventh and was forced to leave the game. His helmet absorbed most of the contact and Vargas is reportedly doing well.
HOME RUNS:
Fayetteville: Alvarez, J (1, 5th inning off Segura, 0 on, 1 out).
TOP PERFORMERS - BATTERS:
Loperfido, J, DH (Fayetteville): 2-for-2, 0 R, 0 2B, 1 3B, 0 HR, 0 RBI
Alvarez, J, RF (Fayetteville): 2-for-3, 2 R, 0 2B, 0 3B, 1 HR, 1 RBI
Ramirez, Y, 2B (Fayetteville): 2-for-4, 0 R, 0 2B, 0 3B, 0 HR, 0 RBI
Raabe, 2B (Carolina): 2-for-3, 1 R, 1 2B, 0 3B, 0 HR, 0 RBI
Mendez, RF (Carolina): 1-for-5, 0 R, 0 2B, 0 3B, 0 HR, 1 RBI
TOP PERFORMERS - PITCHERS:
Segura (Carolina): 5 IP, 4 H, 1 R, 1 ER, 1 BB, 7 SO
Jimenez (L, 3-5) (Carolina): 3 IP, 2 H, 1 R, 0 ER, 5 BB, 4 SO
Bellozo (Fayetteville): 4 IP, 2 H, 0 R, 0 ER, 2 BB, 6 SO
Ullola (W, 2-0) (Fayetteville): 4.2 IP, 4 H, 1 R, 0 ER, 1 BB, 10 SO
Ford (S, 1) (Fayetteville): 0.1 IP, 0 H, 0 R, 0 ER, 0 BB, 1 SO
SCORING:
Woodpeckers 5th (Woodpeckers 1, Mudcats 0) -- Tyler Whitaker strikes out swinging. Jose Alvarez hits a home run to right field on a 3-2 pitch. Yeuris Ramirez singles through the hole at shortstop. Yeuris Ramirez caught stealing 2nd base, Jose Sibrian to Zack Raabe. Freddy Guilamo strikes out swinging.
(1 Runs, 2 Hits, 0 Errors, 0 LOB)
Mudcats 7th (Mudcats 1, Woodpeckers 1) -- Zack Raabe doubles through the hole at second base, Zack Raabe advances to 3rd on throwing error by Jose Alvarez. Oswal Leones reaches on fielding error by Yeuris Ramirez. Luis Silva strikes out swinging, Oswal Leones steals 2nd base. Jheremy Vargas hit by pitch. Offensive Substitution: Pinch runner Jesus Chirinos replaces Jheremy Vargas. Hendry Mendez grounds out, Freddy Guilamo to Justin Williams, Zack Raabe scores; Oswal Leones to 3rd; Jesus Chirinos to 2nd. Hedbert Perez strikes out swinging.
(1 Runs, 1 Hits, 2 Errors, 2 LOB)
Woodpeckers 7th (Woodpeckers 2, Mudcats 1) -- Defensive switch from 1st to 3rd for Luis Silva. Jesus Chirinos remains in the game as the first baseman. Jose Alvarez singles to left-center field. Yeuris Ramirez singles to center field, Jose Alvarez to 2nd. Freddy Guilamo strikes out swinging. Leosdany Molina grounds into a force out, Eduardo Garcia to Zack Raabe, Jose Alvarez scores; Yeuris Ramirez out at 2nd, throwing error by Zack Raabe. Passed ball by Jose Sibrian, Leosdany Molina to 2nd. Logan Cerny grounds out, Eduardo Garcia to Jesus Chirinos.
(1 Runs, 2 Hits, 1 Errors, 1 LOB)