Troy Stokes Jr. Makes MLB Debut
Stokes is the tenth player from the 2017 Mudcats to reach MLB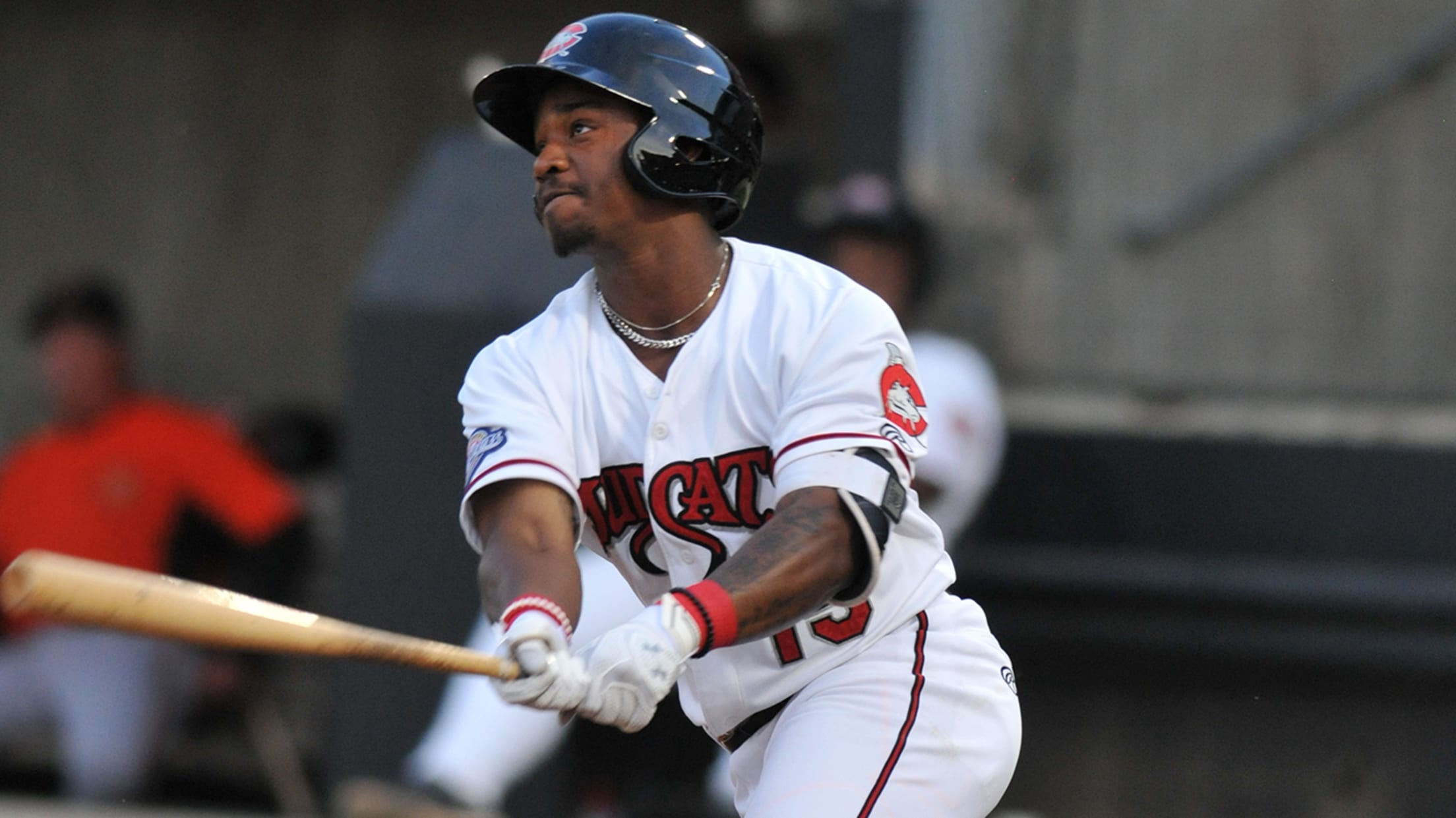 (NIKOLAUS)
ZEBULON - Former Mudcats outfielder Troy Stokes Jr. made his Major League Baseball debut with the Pittsburgh Pirates on Sunday, May 9 versus the Chicago Cubs at Wrigley Field. Stokes played for the Mudcats during the 2017 season and was most recently with Triple-A Indianapolis in the Pirates' system before
ZEBULON - Former Mudcats outfielder Troy Stokes Jr. made his Major League Baseball debut with the Pittsburgh Pirates on Sunday, May 9 versus the Chicago Cubs at Wrigley Field. Stokes played for the Mudcats during the 2017 season and was most recently with Triple-A Indianapolis in the Pirates' system before the promotion.
Stokes, 25, started in Sunday's game for the Pirates and went 0-for-4 at the plate, but also made a highlight reel sliding catch in right field in the sixth.
The then 21-year-old Stokes had a breakout season with the Mudcats in 2017. He totaled a .789 OPS and slashed .250/.344/.445 over 100 games with Carolina that season. He also totaled 14 home runs, 19 doubles, five triples, 56 RBI and 22 stolen bases. He was later promoted to Double-A Biloxi in July 2017 and eventually finished that same season with Triple-A Colorado Springs in early September where he appeared in two playoff games.
ICYMI: @Troy_Stokes15 hit a 2-run 💣 for the Mudcats tonight. Number 6 on the season for Stokes! #MudcatsFUN pic.twitter.com/Fl8ZKmS8G5

— Carolina Mudcats (@CarolinaMudcats) May 28, 2017
Overall, Stokes combined to hit .251/.341/.447 in 2017 with a .788 OPS, 28 doubles, 20 home runs and 30 stolen bases giving him a 20-20-20 season between High-A Carolina and Double-A Biloxi.
The Brewers originally selected Stokes in the fourth round of the 2014 MLB Draft out of Calvert Hall College High School in Baltimore, MD. Milwaukee later designated him for assignment in September of 2019, but Stokes went on to sign with the Detroit Tigers a few days later. The Pirates, meanwhile, claimed him off waivers in January 2021.
Stokes is the tenth player from the 2017 Mudcats to reach the Majors. He is also the fifth former Mudcats player to reach the big leagues this season.
Earlier this season, 2017 Mudcats outfielder Corey Ray debuted with the Brewers in his hometown of Chicago on April 24 versus the Cubs. Mario Feliciano, the 2019 Carolina League MVP, then made his MLB debut on May 1 where he walked and scored the game's winning run versus the Los Angeles Dodgers at American Family Field. Alec Bettinger from the 2018 Mudcats made his MLB debut with the Brewers on May 2 and 2019 Mudcats pitcher Anthony Bender debuted with the Miami Marlins on May 6.