First Round Picks Highlight Threshers Opening Day Roster
Haseley, Moniak Break Camp with Clearwater in 2018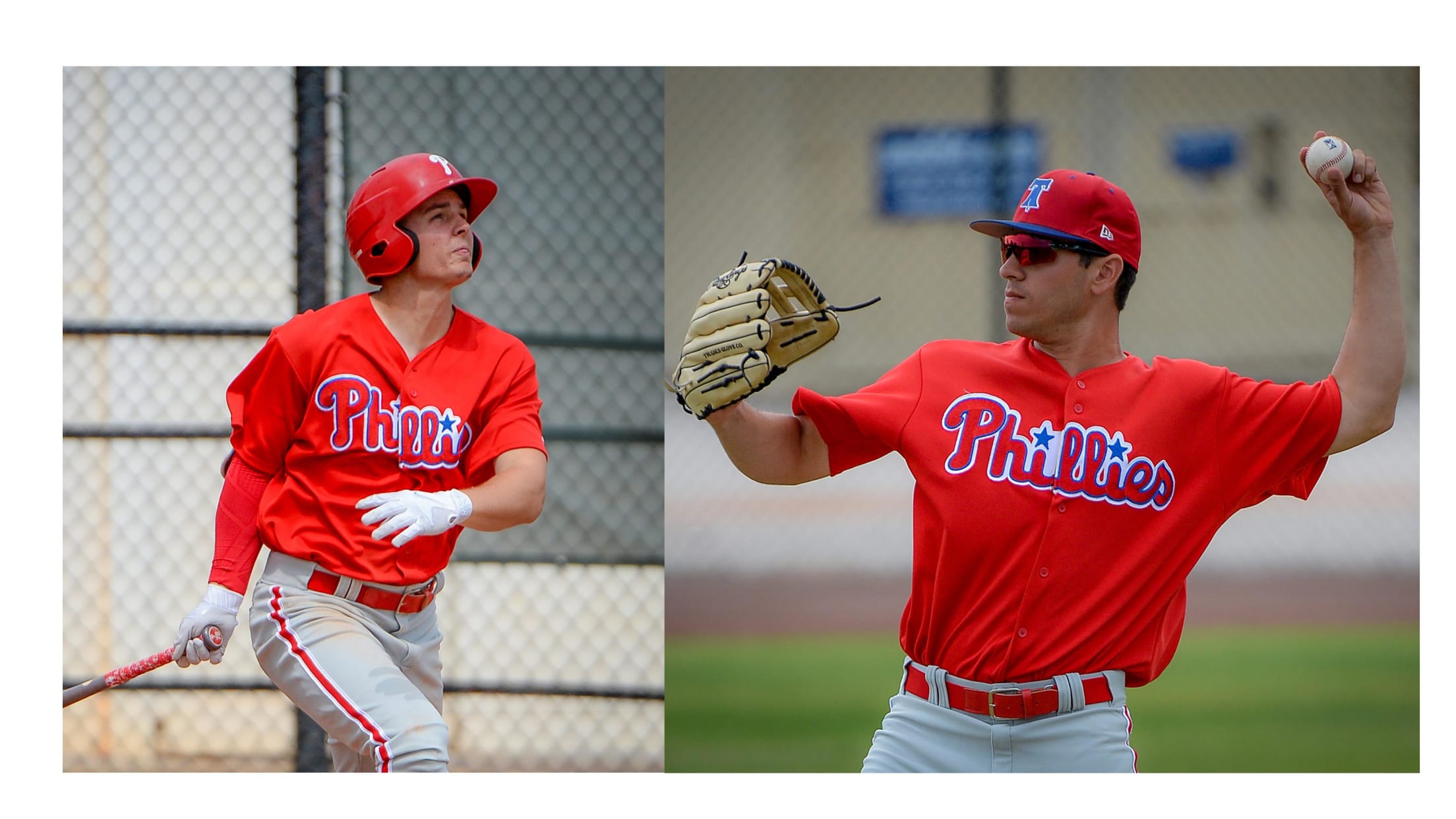 Moniak (L), Haseley (R)
CLEARWATER THRESHERS TICKETSCLEARWATER, Fla. - The Clearwater Threshers announced their preliminary 2018 Opening Day roster on Monday, featuring former first round draft picks Adam Haseley and Mickey Moniak . There are 28 players on the initial roster; transactions will be made to reach a 25-man roster prior to the Threshers
CLEARWATER THRESHERS TICKETS
CLEARWATER, Fla. - The Clearwater Threshers announced their preliminary 2018 Opening Day roster on Monday, featuring former first round draft picks Adam Haseley and Mickey Moniak . There are 28 players on the initial roster; transactions will be made to reach a 25-man roster prior to the Threshers Opening Weekend Blast-Off on April 5 and 6.
The 2018 roster includes five players ranked on Baseball America's Top 30 Phillies prospects list in pitcher Adonis Medina (4th), Haseley (5th), Moniak (9th), Arquimedes Gamboa (20th), and Mauricio Llovera (30th).
Haseley, 21, was drafted eighth overall last year out of the University of Virginia, where he ranked 11th nationally in hitting (.390) while also posting a 3.58 ERA last season as the team's Sunday starter. After the Phillies drafted him as an outfielder, Haseley played in 68 games between the Gulf Coast League, the Williamsport Crosscutters, and the Lakewood BlueClaws, hitting .284 combined.
Moniak, 19, was drafted first overall out of La Costa Canyon High School (CA) in 2016. Moniak hit .270 in the first half last year for the Lakewood BlueClaws, finishing at .236 overall, and swiped 11 bases in 18 attempts. The lefty-swinger played in 115 games in centerfield and six as the designated hitter.
The pitching staff will feature 2017 third round draft pick Connor Seabold , lefties McKenzie Mills and Bailey Falter and right-hander Alejandro Requena , in addition to top-30 prospects Medina and Llovera. The bullpen will be comprised of Aaron Brown , Ismael Cabrera , Jakob Hernandez , Felix Paulino , Blake Quinn , Alexis Rivero , and 2017 FSL saves leader Jeff Singer .
The Threshers will carry three catchers at the start of the year, with Edgar Cabral , Henri Lartigue , and Gabriel Lino .
The infield features returnees Jose Antequera , Wilson Garcia , Jose Gomez , and 2017 SAL home run leader Darick Hall , along with Gamboa, Austin Listi , Raul Rivas , and Luke Williams.
Joining Haseley and Moniak in the outfield are Kevin Markham and Jose Pujols.
The club will be led by manager Shawn Williams, who begins his second year at the helm for Clearwater. Pitching coach Aaron Fultz returns for his third year, while John Mizerock begins his second stint as hitting coach for Clearwater after serving in that role from 2011-2013. Ruben Gotay joins the Threshers as an assistant coach after concluding a 17-year playing career. Mike Hefta begins his second year as Clearwater's athletic trainer, while Kenny Matanane enters his first year as the Threshers strength and conditioning coach.
Opening Night by Regions Bank is on Thursday, April 5, when the Threshers host the Dunedin Blue Jays at 7 p.m. at Spectrum Field. Tickets are available now at the BayCare Box Office at Spectrum Field, by calling 727-467-4457, and online at ThreshersBaseball.com.