Defense Dominates in Shutout
Threshers Turn Double Plays in Four of Final Five Frames in 6-0 Win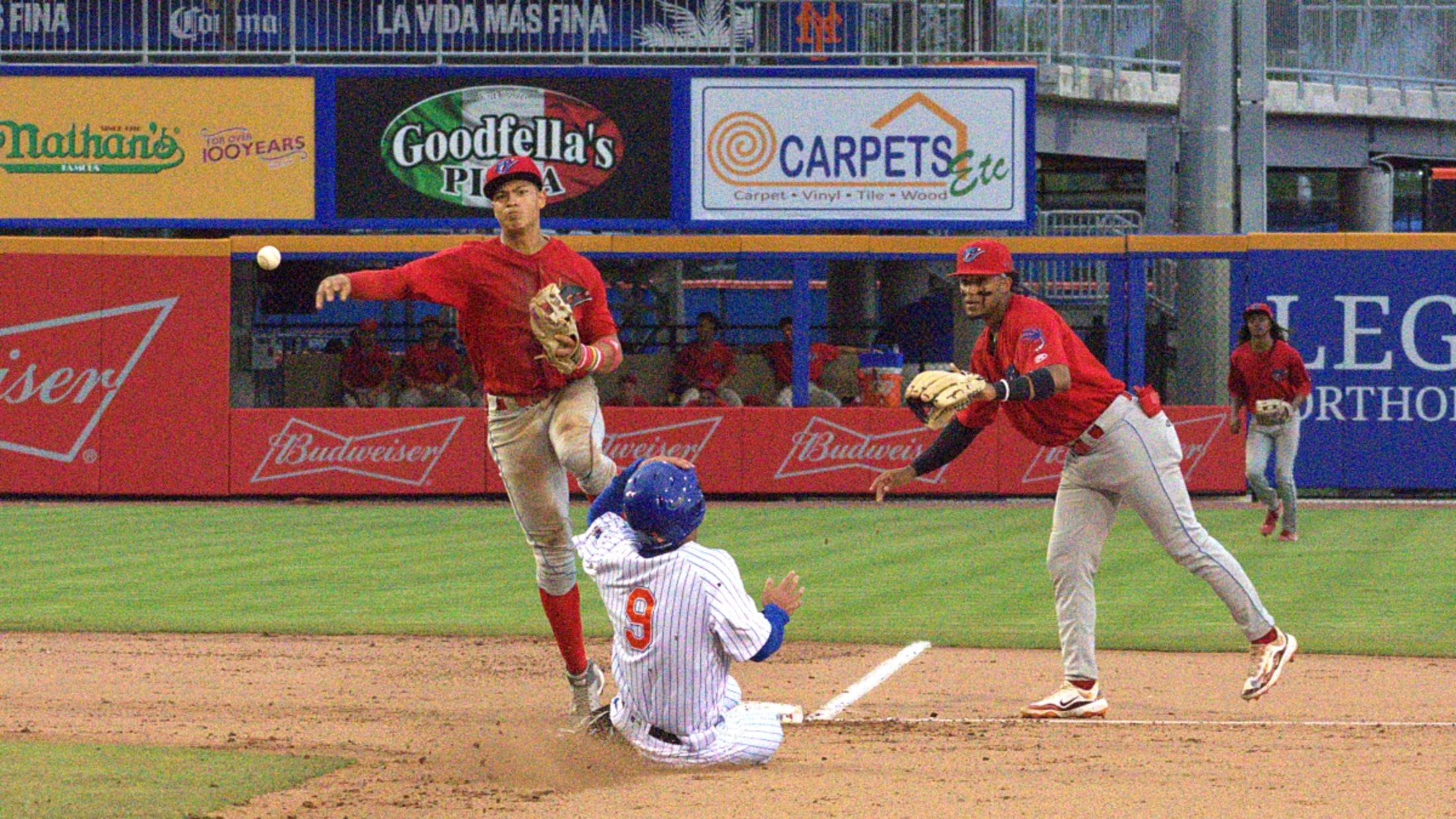 Bryan Rincon and Erick Brito turn one of the Threshers four double plays in a shutout win over St. Lucie. (Chuck King)
WP: Wen-Hui Pan (2-0, 1.19) LP: Felipe De La Cruz (1-4, 5.30) SV: Dallas (5) BOX SCORE: PORT ST. LUCIE, FL – The Clearwater Threshers (30-10) turned four double plays and put up four runs in the ninth to secure a 6-0 shutout win over the St. Lucie Mets (10-30)
WP: Wen-Hui Pan (2-0, 1.19)
LP: Felipe De La Cruz (1-4, 5.30)
SV: Dallas (5)
PORT ST. LUCIE, FL – The Clearwater Threshers (30-10) turned four double plays and put up four runs in the ninth to secure a 6-0 shutout win over the St. Lucie Mets (10-30) on Tuesday night at Clover Park. The Threshers and Mets go head-to-head again on Wednesday morning.
Gabriel Rincones Jr. sent the first pitch of the second inning off the wall in right field for a leadoff triple off of Mets' starter Felipe De La Cruz. Emaarion Boyd drove in Rincones on a two-out single to give the Threshers a 1-0 lead.
Boyd led off the fifth with a single to center. With two outs in the inning, Bryan Rincon doubled the Threshers lead with a triple to left center that made it 2-0.
Cade Fergus started a rally in the ninth with a single off Mets reliever Joey Lancelotti. Rincon walked and Justin Crawford plated them both with a double to make it 4-0. Otto Kemp drove in Crawford from second on the next pitch and advanced to second on a throwing error by Rhylan Thomas. Lancelotti committed a throwing error that allowed Kemp to score on a Jordan Dissin ground ball to make it 6-0.
Clearwater turned double plays in three of the previous four innings, and their final one ended the game as Rincon and Erick Brito combined to end the game on a double play to second in a 6-0 shutout victory.
Samuel Aldegheri tossed 4.1 shutout innings with five hits, one walk, and five strikeouts in a no-decision. Wen-Hui Pan (1-0) allowed one hit in 2.2 shutout innings to earn the win. Jack Dallas earned the save in a scoreless 2.0 frames, allowing two walks, two hits, and striking out one.
The Threshers pitching staff threw their third shutout win of the season... They became the second minor league team to reach 30 wins and did so in the fewest amount of games (40)… Rincon has driven in and scored a run in each of the last two... He has three multi-hit games on his six-game hit streak... Kemp became the second Threshers hitter to record a hit in ten-straight games... He has scored a run in each of the last five and moved his on-base streak to 28 games... Dallas has recorded a save in each of his last four outings... He leads the team with five saves... The Threshers take on the St. Lucie Mets (Single-A, New York Mets) in a Wednesday morning tilt… First pitch is at 11:00 AM on Wednesday, May 24th... You can purchase tickets for Threshers games at ThreshersBaseball.com/tickets or by calling 727-467-4457.