Gilbert, Bullpen Calm Miracle in 8-5 Win
Clearwater Takes Series, Remains 3.5 Back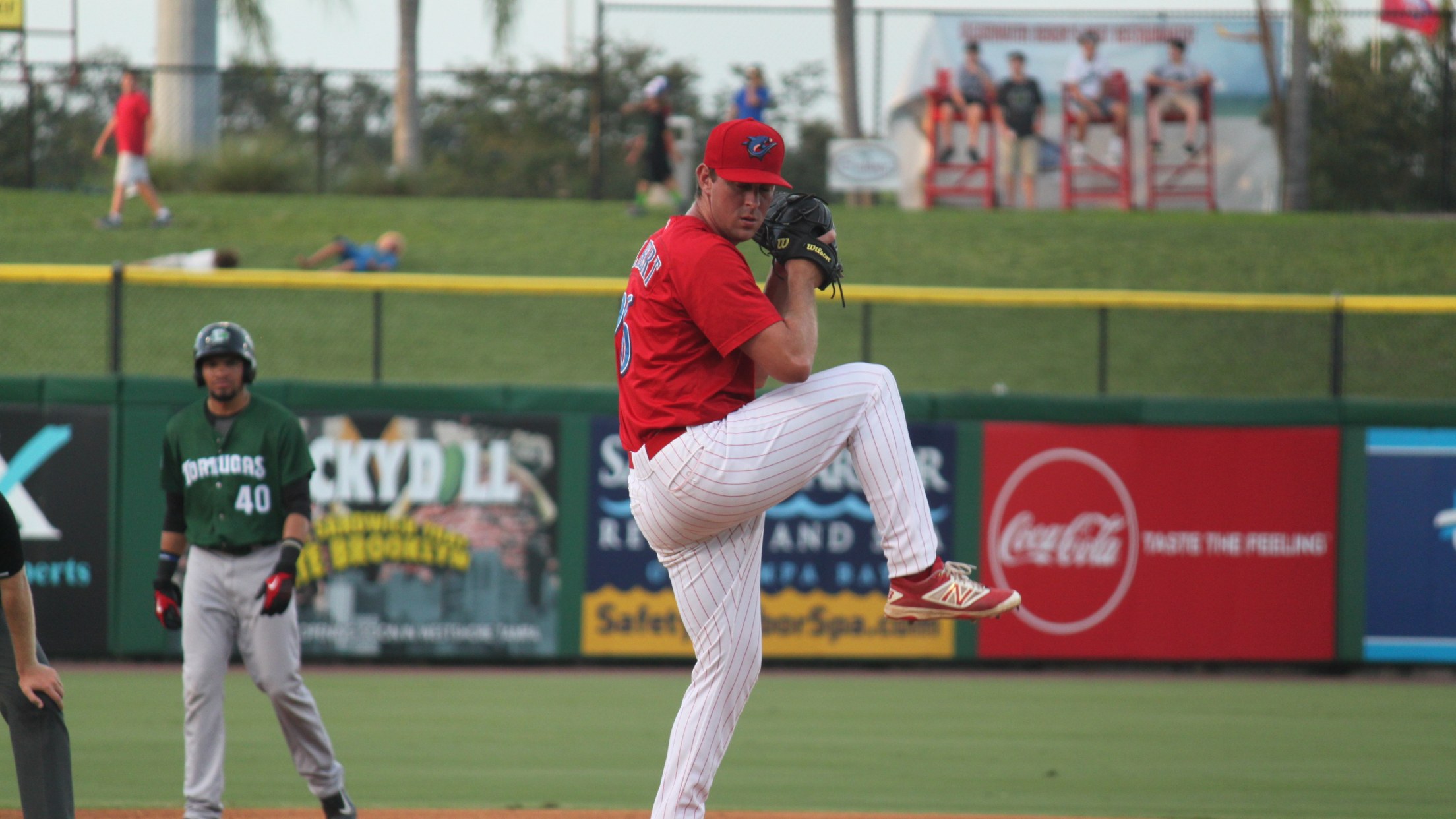 CLEARWATER, Fla. - Tyler Gilbert steadied the Threshers with three strong innings in relief, and Clearwater tallied 14 hits on the way to securing the series win with an 8-5 victory over the Fort Myers Miracle on Thursday night.The Threshers (65-65, 27-33) remain 3.5 games back of the Dunedin Blue
CLEARWATER, Fla. - Tyler Gilbert steadied the Threshers with three strong innings in relief, and Clearwater tallied 14 hits on the way to securing the series win with an 8-5 victory over the Fort Myers Miracle on Thursday night.
The Threshers (65-65, 27-33) remain 3.5 games back of the Dunedin Blue Jays with 10 left to play. Dunedin squandered a 6-1 advantage in the 9th, but came back with two in the bottom half to walk off over the Fire Frogs.
After an hour rain delay at the start, the Miracle (71-56, 38-21) got on the board with back-to-back doubles off Edgar Garcia to go up 1-0.
Clearwater responded in the bottom half, after Mark Laird jumped on the first pitch from Clark Beeker and tagged a triple to right-center. Jose Gomez brought him in with a single to the hole at short to tie the game.
Cornelius Randolph lined a single up the middle, and with two outs Jose Pujols' line drive to right put Clearwater up 2-1.
The Miracle tied it in the second on Nelson Molina's RBI double, and took the lead in the third when Brent Rooker launched a two-run homer.
Garcia hit Mitchell Kranson with the next offering, and was ejected from the ballgame. Gilbert (1-6) then took over and retired all three batters he faced to end the inning.
Down 4-2, Clearwater rallied to put up a five-spot in the bottom half.
Wilson Garcia started it by ripping a triple off the right-centerfield wall. Edgar Carbal sent a hard grounder to first and was robbed on a diving stop by Zander Wiel, but Garcia scored to make it 4-3. Pujols followed with a solo shot to left to tie the ballgame on his eighth home run.
Clearwater was far from finished, as Austin Bossart and Grenny Cumana each singled and Emmanuel Marrero walked to load the bases. Laird came through with a base hit to left to put the Threshers in front, and Gomez's knock to right scored Cumana to push it to 6-4.
With two outs, Garcia was hit by a pitch with the bases loaded to make it a 7-4 advantage.
Fort Myers managed an unearned run in three innings against Gilbert, who permitted just one hit and struck out three.
The Threshers filled the bases in the sixth and brought an insurance run home on a Bossart sacrifice fly to extend the lead to 8-5.
Luke Leftwich retired all nine he faced in relief, and Seth McGarry tossed a scoreless ninth to earn his 18th save.
The Threshers head to Lakeland on Friday to open up a three-game series at 6:30 p.m. Sixto Sanchez (0-2) will take the hill against Gregory Soto (1-1), and the game will be broadcast live on threshersbaseball.com starting at 6:15 p.m.