Dunedin Splits Doubleheader with Tarpons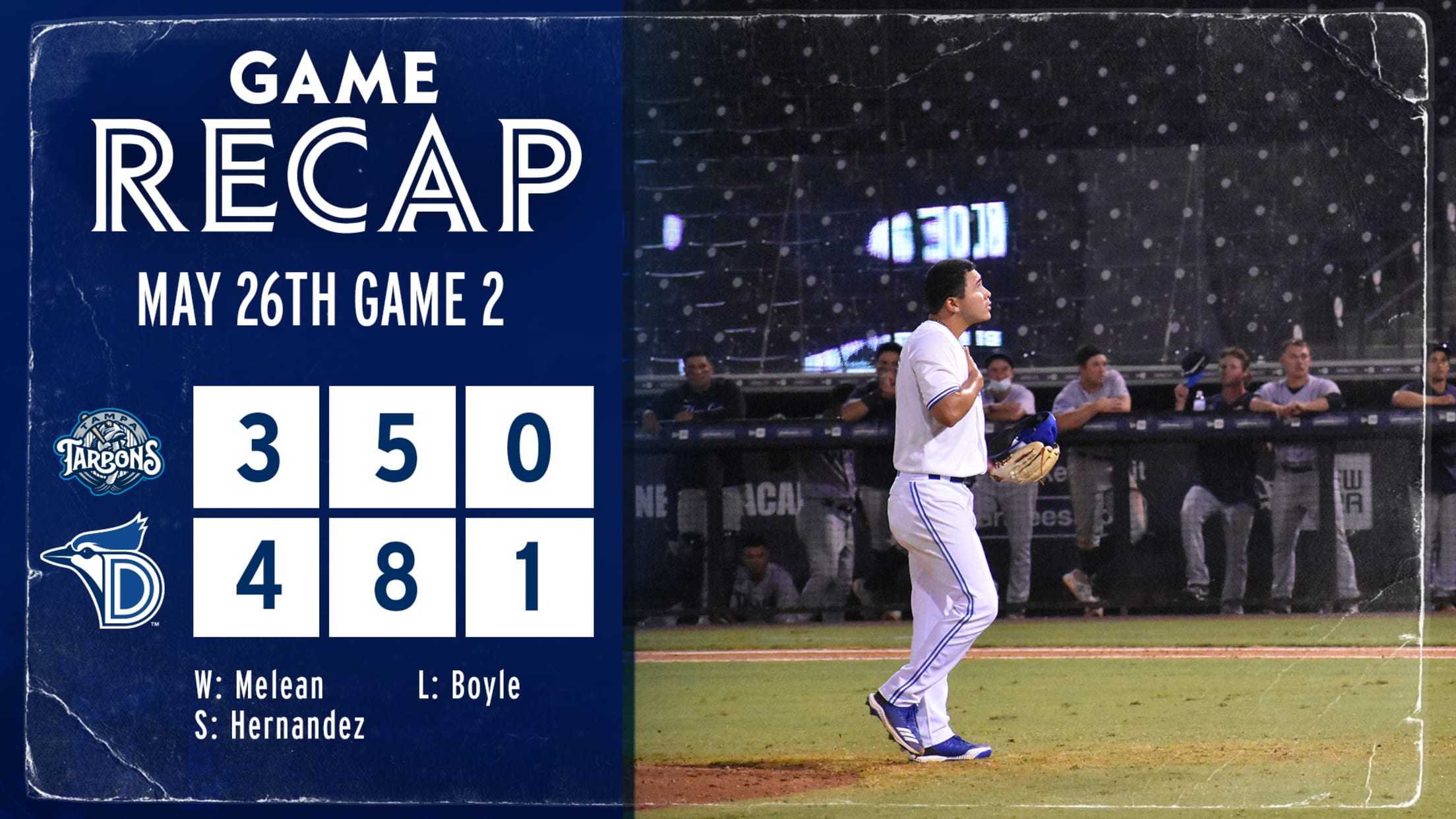 The Dunedin Blue Jays played their first doubleheader of the season splitting the games against the Tarpons on Wednesday. The doubleheader was scheduled with events occurring near Raymond James Stadium on Saturday. The offense sputtered in the first game collecting four hits and just one run. The lone run came
The Dunedin Blue Jays played their first doubleheader of the season splitting the games against the Tarpons on Wednesday. The doubleheader was scheduled with events occurring near Raymond James Stadium on Saturday.
The offense sputtered in the first game collecting four hits and just one run. The lone run came from a wild pitch to score Leo Jimenez in the 6th inning. Jol Concepcion started the game well after surrendering two runs with one earned in the first inning. He settled down to not allow a run over his final three innings of work. 2018 Florida State League Pitcher of the Year, Patrick Murphy came on in relief for his second rehab appearance of the season. He gave up one run on three hits, but he struck out three batters in the inning to finish the inning. Murphy will make one more appearance in Dunedin before waiting for another assignment.
Of the four hits by the offense, one went for extra-bases with a double from Addison Barger. The team did show patience at the plate walking eight times with Jhon Solarte and Leo Jimenez both doing so twice.
The Tarpons opened the game up in the final frame with three earned runs against Giorgeny Casimiri. The big blow was a Josh Smith home run to right-center field in the first pitch of his at-bat. Dunedin had a chance to bounce back in game two.
In game two, the offense came out firing after a clean first inning from Alejandro Melean. Miguel Hiraldo singled for one of his two hits in the game. After Orelvis Martinez flew out to center, Zach Britton hit a two-run home run for his third home run of the season. Addison Barger kept the inning alive with a double and Jhon Solarte drove him in with a single. In his first at-bat of his professional career, Jose Ferrer smacked a single over third base to bring home Jhon Solarte, but the inning ended as Jose tried to advance to second.
Alejandro Melean picked up his second win of the season after going three innings with three hits, no runs, and three strikeouts. Julian Valdez came on in the fourth where only one earned run came around, but an error by Miguel Hiraldo extended the inning to put the game to just a one run lead with three innings to play. Adrian Hernandez continued his closer type role, grabbing his third save going three innings. He did not allow a hit, and his struck out six batters with two walks. Over the final three innings, only two Tarpons reached base, and none got past first base.
After the win, the Blue Jays now sit at 7-14 to begin the season.