Burns gets more than he could ever ask for
Blue Jays prospect hits walk-off homer, then proposes to girlfriend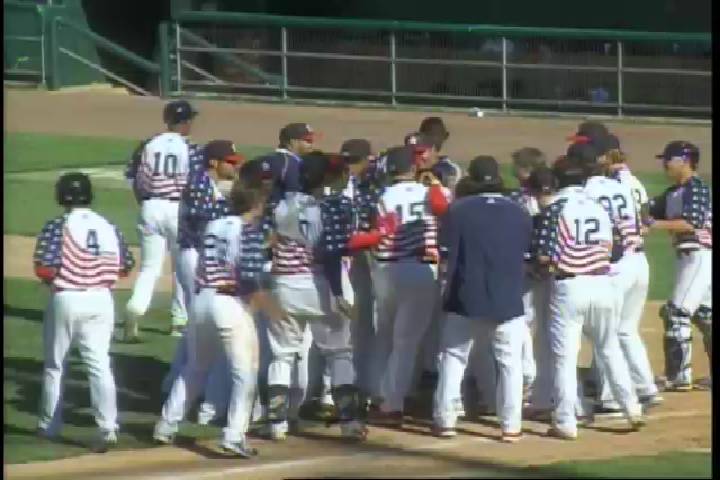 By Mark Emery / MiLB.com | July 7, 2014 2:08 AM
Hitting a walk-off home run is one of the best things that can happen to a ballplayer. Getting engaged to the love of your life is one of the best things that can happen to anybody.
Blue Jays prospect Andy Burns experienced both joys on the same day.
After his two-run homer in the 10th inning gave Double-A New Hampshire a 9-7 win over Trenton on Sunday, Burns proposed to his girlfriend, Kate Schmeling, on a beach about 45 minutes from Northeast Delta Dental Stadium. She agreed to marry him, providing a highlight for him after he provided one for everybody at the game -- his now fiancée included.
"It's really surreal," Burns said. "It couldn't happen any better."
The 2011 11th-round pick strode to the plate in the bottom of the 10th with a man on second and one out, after Dalton Pompey led off with a single and Jon Berti sacrificed him over. Burns sent the second pitch from reliever Taylor Garrison over the center-field fence, adding more magic to a day that already promised so much.
"Once I hit home plate, one of my buddies said, 'Now you've got to go propose.' That's 100 times bigger than any game could ever be," Burns said.
"It kind of got out on Twitter, it made it sound like I proposed right after the walk-off. But this was actually thought of well before even the game today. The walk-off was something unplanned. In the 10th inning, I thought to myself, 'You know what, I've got to get out of here. I have bigger things to do today.' I ended up getting a good pitch and hit it out. You really can't write a better story than that."
Sunday was Schmeling's 23rd birthday, and Burns tasked himself with making it special from beginning to end. Throughout the day, she received individual roses, 23 in all, some from him and some from others during the game.
"Each one had a reason why I loved her on it," he said.
Following the game's dramatic conclusion, Burns and Schmeling drove to Hampton Beach. He gave her the 23rd rose at dinner but did not propose right away, delaying until they were along the shore. A 24th rose awaited in his backpack, along with an engagement ring.
"The 24th one, it said: '23 reasons why I want to marry you,'" Burns said. "I gave her the 24th rose and got on one knee."
Teammates Matt Newman, Daniel Norris and Berti were on hand to celebrate the moment. Newman's wife also was present. There was a surprise party later in the evening, which the rest of the Fisher Cats attended.
"It was just, it's more than you could ever ask for," Burns said.
The couple met two years ago in Lansing, Michigan, where Burns was playing for the Class A Lugnuts and Schmeling was a junior at Michigan State. She stuck around to take classes during the summer, and by Spring Training last year they had begun dating.
"It's kind of funny because there was kind of this long run of Blue Jay guys who went to Lansing for the Low-A team and ended up finding wives," Burns said. "That was kind of the last thing I thought would happen to me. I was blessed and lucky enough for that to happen to me. Today has just kind of been, with baseball and life, it's just crazy how everything worked out.
"Everything has been as great as you could ever imagine. She's the girl I want to spend the rest of my life with. I couldn't be luckier. I'm so happy with her."
Mark Emery is a contributor to MiLB.com. Follow him on Twitter @Mark_Emery. This story was not subject to the approval of the National Association of Professional Baseball Leagues or its clubs.
View More