Cecchini brothers hit first 2015 dingers
Garin homers for Triple-A Pawtucket, Gavin for Double-A Binghamton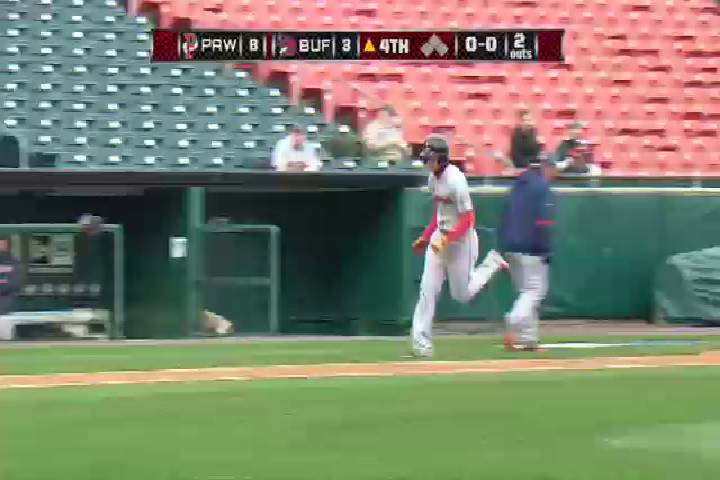 By Ashley Marshall / MiLB.com | April 14, 2015 11:54 PM
Garin Cecchini was almost 3 years old when baby brother Gavin was born three days before Christmas in 1993.
Consequently, the older sibling has always been a couple years ahead of his brother for everything from starting high school and learning to drive to being drafted and playing in the Minors.
But now the gap is starting to close, if not in age, then in talent.
Garin, a third baseman with Triple-A Pawtucket, is only one level ahead of Gavin, a shortstop with Double-A Binghamton. And Tuesday, less than 90 minutes and 100 miles apart along I-90 on the southeastern edge of Lake Erie, the brothers hit their first homers of the season.
Garin cracked a solo homer as part of a 2-for-5 effort that helped the Red Sox beat the host Buffalo Bisons, 9-6. The game started Monday, but was resumed Tuesday afternoon after rain halted play. Cecchini, the second player to bat once the game restarted, took Ryan Tepera deep for his 22nd Minor League dinger.
"It was good," said Garin, who played left field for the first time this year. "Obviously coming out of the rain delay, I was just trying to stay calm and get a good pitch to hit hard. It was a 2-1 fastball, I think. I wouldn't say it was a relief [to hit my first one], because I was just looking for quality at-bats and hard contact. The hits will fall."
A little more than an hour later, brother Gavin got in on the act. In the first game of a doubleheader also caused by a rainout Monday, the younger brother hit a solo homer as part of a two-hit, three-RBI afternoon in the B-Mets' 7-6 victory.
"It was nice," said 21-year-old Gavin, taken by the Mets 12th overall in the 2012 Draft. "I wasn't feeling stressed about it because it was going to come. I wasn't pressing. You just have to stay with your approach and the results will come."
Where have you heard that before?
It marked the second time in their pro careers that they went yard on the same day. Garin cracked a solo homer for Pawtucket in a 4-3 loss to host Gwinnett on Aug. 12, 2014. That same day, Gavin slugged a grand slam for Class A Advanced St. Lucie in a 6-5 win over Fort Myers.
Garin, who appeared in 11 Major League games with Boston last year, is hitting .241 with three extra-base hits and two RBIs in five International League games. Gavin is batting .400 with six RBIs in the five Eastern League appearances for Binghamton.
There's no real rivalry between one another, both brothers insist. Both say they're rooting for the other to succeed and Garin says the only time bragging rights will ever be an issue is if the Mets and Red Sox meet in the Fall Classic one day. Until that time, they're more concerned with supporting the other one and helping them reach their shared goals.
"I check up on him every single day," said Garin, 23, selected by Boston in the fourth round of the 2010 Draft. "I follow him and I saw that he hit a home run. When he does something like he did today, that's pretty cool. He calls me if he needs advice and I call him.
"We're both on the same page of trying to get to the big leagues. We're each trying to create an opportunity to get to the big leagues and help our team win. Hopefully we'll play a World Series against each other, then there will be bragging rights."
For now, each brother is trying to navigate his way to the Majors, and trying not to be confused for the other.
"It's not just other people, but our parents too," said Gavin of being called the wrong name. "In the offseason when we're both at home, they'll call me Garin or they'll mix them up and call me Garvin. You can't get mad about it. It's all fun."
Added Garin: "My teammates give me a hard time about it all the time. I'll go to bat and I'll hear, 'Now batting, No. 7, Gavin Cecchini.' I live in my younger brother's shadow, but I'm so happy for his success. He's way better than me man. Have you seen him play? He's trying to show me up, but that's fine. I hope he gets to the big leagues quickly."
Tuesday was also special for Gavin for another family reason -- he got to play against older cousin Josh Prince, a Tigers prospect who played second base for Erie in the first game and pinch-ran in the second. That will be another topic for the brothers to discuss when they catch up over the phone later in the week.
"You don't get to play against someone on the other team who's the same blood, so that was pretty cool," he said about playing against his mom's brother's son. "It's the first time I've ever played against a family member. I've never played against Garin [in pro ball].
"I wouldn't say I talk with [Garin] every single day, but we talk a few times a week. He texted me tonight and congratulated me and then there were a few group texts that I saw from family members after the game that said we both homered and doubled in our games, so that's cool. Garin's three years older than me, so a lot of the leagues I play in, he's played in. He's experienced that and experience is a big thing. When you can know what to expect before you ever go there, that's a big advantage. I can't thank him enough."
Ashley Marshall is a contributor to MiLB.com. Follow him on Twitter @AshMarshallMLB. This story was not subject to the approval of the National Association of Professional Baseball Leagues or its clubs.
View More