Fightins' Thompson finishes on high note
Phillies No. 2 prospect strikes out seven in career-high 11th victory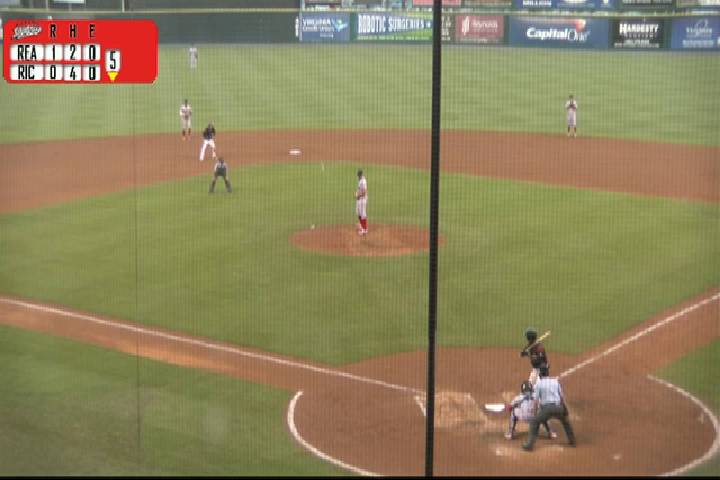 By Robert Emrich / MiLB.com | September 5, 2015 10:26 PM
In a year where he's found himself changing addresses again, Jake Thompson has discovered what kind of pitcher he is.
The Phillies' No. 2 prospect recorded seven strikeouts over six innings in his final start of the regular season Saturday as Double-A Reading blanked Richmond, 2-0.
Thompson (5-1) allowed four hits -- all singles -- and did not issue a walk in his seventh start for the Fightin Phils. He faced four batters over the minimum and threw 56 of 83 pitches for strikes.
"I was throwing a lot of strikes, I was around the zone, that was part of the reason for my success," Thompson said. "In two-strike counts, I relied on my slider. I had good command of it and it had good bite on it tonight."
With the season ending Monday, the 21-year-old right-hander used this outing to pick up his career-high 11th win and fifth since coming over from the Rangers on July 31 in the blockbuster Cole Hamels trade.
"I've had some ups and downs," the Texas native said. "I had a stretch in Frisco that was really, really good, and I've hit a stretch here that's been really, really good. For me, next year, I want to find somewhere in between the two where I can be consistent and not hit any points in the road where I'm struggling. I've done a lot of good things this year and I'm excited heading into the offseason."
Thompson has the entire season at the Double-A level, first in the Texas League and now the Eastern League, compiling a 3.74 ERA and 112 strikeouts over 132 2/3 innings. Having pitched well at what some consider the most challenging level for young pitchers, he said he's learned more about who he is.
"The level doesn't have a whole lot to do with it because baseball is baseball," MLB.com's No. 55 overall prospect said. "For me, it's not necessarily the level but battling against myself, really trying to figure myself out as a pitcher and understand how my body works."
Thompson also said he's excited about the opportunities at the big league level in the Phillies organization.
"This is kind of coming into a situation with the Phillies where they're rebuilding and they're going to give younger players a chance," he said. "It's an exciting time for a young player with the Phillies."
Jimmy Cordero relieved Thompson and struck out six over three one-hit frames to notch his second save.
Rene Garcia staked Thompson to a quick lead with an RBI single in the first and Art Charles provided insurance with a run-scoring groundout in the seventh.
Flying Squirrels starter Joe Biagini -- the Giants' 27th-ranked prospect -- fell to 10-7 after giving up a run on three hits and two walks while striking out four over six innings.
Robert Emrich is a contributor to MiLB.com. Follow him on Twitter @RobertEmrich.nic This story was not subject to the approval of the National Association of Professional Baseball Leagues or its clubs.
View More