Beavan takes advantage of opportunity
R-Ponies' righty hurls 7 1/3 scoreless innings in best start of '17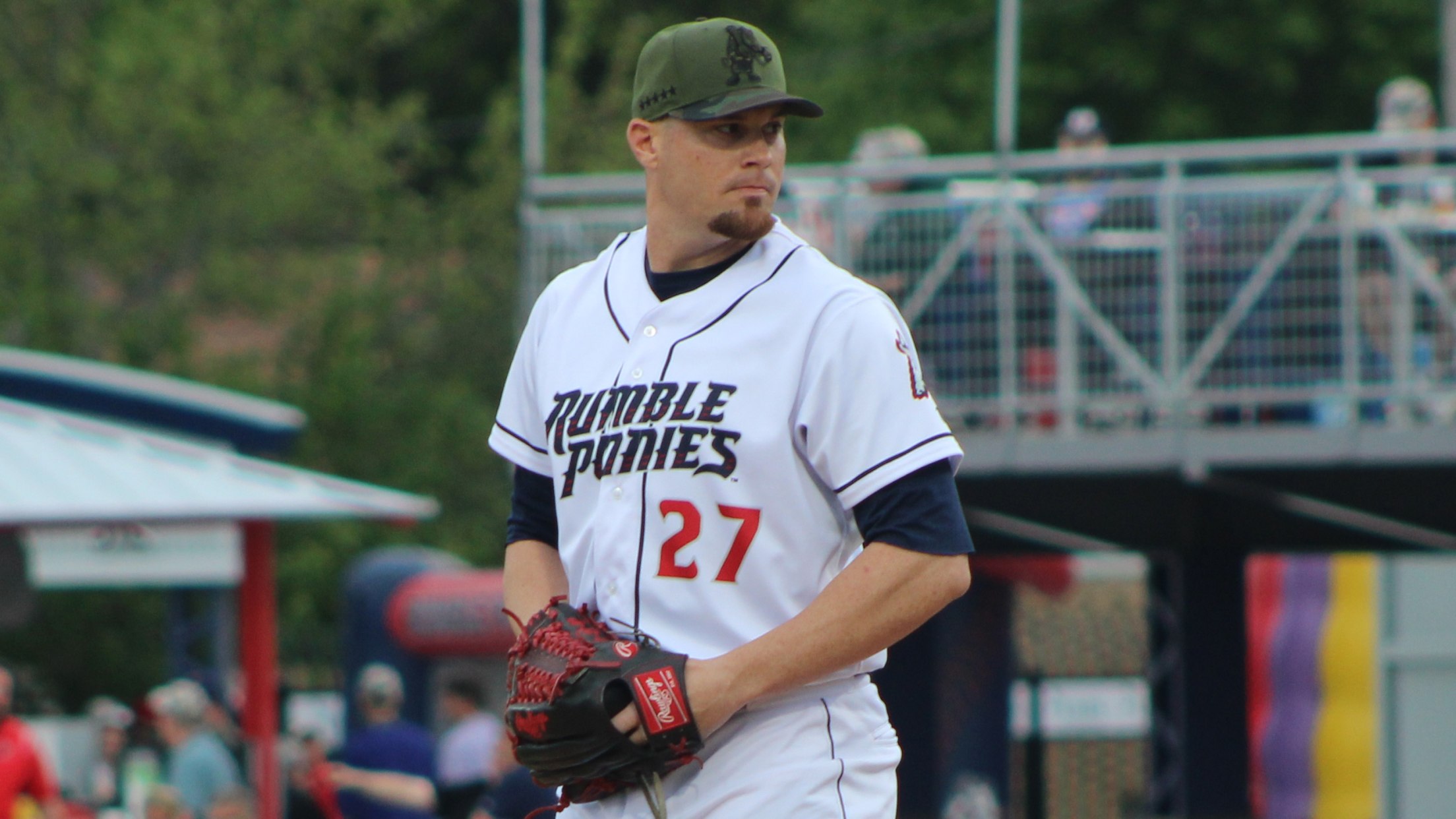 After beginning the season in the Mexican League, Blake Beavan was signed by the Mets on May 4. (Binghamton Rumble Ponies)
A year ago, Blake Beavan was an independent league pitcher. A month ago, he was in the Mexican League.Now, he's trying to take advantage of what could be his last crack to make it back to the Major Leagues. The right-hander allowed four baserunners in 7 1/3 innings as Double-A Binghamton
A year ago, Blake Beavan was an independent league pitcher. A month ago, he was in the Mexican League.
Now, he's trying to take advantage of what could be his last crack to make it back to the Major Leagues.
The right-hander allowed four baserunners in 7 1/3 innings as Double-A Binghamton topped Hartford, 1-0, on Saturday night at NYSEG Stadium.
The Mets signed Beavan, who has a 4.61 ERA and 1.27 WHIP in 54 Major League appearances, to a Minor League deal on May 4. Prior to joining the organization, Beavan posted a 3.79 ERA and 1.26 WHIP in 35 2/3 innings for the Pericos de Puebla. Last year, he was 5-4 with a 4.60 ERA in 18 games for Bridgeport of the Atlantic League.
"He's excited to be back in organized ball and has nothing to lose," Binghamton pitching coach Glenn Abbott said. "This is an opportunity for him to pitch and he's got an idea of what he wants to do out there. We're hurting for starting pitchers on the big-league level right now. So, it comes down to consistency and the quality of his pitches. If he can show some consistency and execute his pitches, who knows what will happen for him?"
Gameday box score
Beavan hurled a 1-2-3 first then worked around a hit batter in the second before putting together another clean frame in the third.
After Rockies No. 6 prospectRyan McMahon one-out hit in the fourth, Beavan sat down the next 12 hitters he saw.
"This was a good matchup for him," Abbott added. "They are an aggressive team. He used all of his pitches and threw them for strikes. He was very efficient for the entire time he was out there. His slider was very good tonight, and he was able to use it outside and inside. I could tell warming up he was feeling good and he took that into the game."
The 2007 first-round pick, who was once traded for ace Cliff Lee, was economical throughout his outing. Beavan only faced a trio of three-ball counts and threw 69 of 95 pitches for strikes.
Beavan also used some veteran craftsmanship to give the Yard Goats a couple of different looks and keep them off-balance.
"He uses a little bit of a pause in his delivery," Abbott said. "This is only the second start he's had for us, so I hadn't seen too much of it, but this start he was doing some things. He told us he uses it as a distraction. He also used a quick-pitch out of his windup, it was the first time I'd seen anything like that, but everything he did tonight was working."
Beavan recorded one out in the eighth before issuing a walk and allowing a double. He handed the ball to Corey Taylor, who got out of the jam and worked a scoreless ninth to complete the shutout.
After the Mets inked Beavan to a Minor League deal, they assigned him to Triple-A Las Vegas where he made three appearances, including two starts. The outings didn't go well for the 28-year-old, who produced a 9.00 ERA in 14 innings.
Despite struggling through his first few appearances, Abbott said that what Beavan brings into the organization goes beyond what happens between the lines.
"It's definitely a positive thing to have someone like Blake and Donovan Hand in our clubhouse. They are going to help lead a young staff and be stabilizing forces for us," Abbott said.
Rockies' No. 13 prospect Yency Almonte (2-1) allowed a run on three hits and struck out five over four innings. The 22-year-old righthander has logged a 1.48 ERA and 1.02 WHIP in 30 1/3 innings for Hartford this year.
Michael Leboff is a contributor to MiLB.com.