EL notes: Romero harnessing his arsenal
Phillies prospect learning to execute six-pitch mix with Reading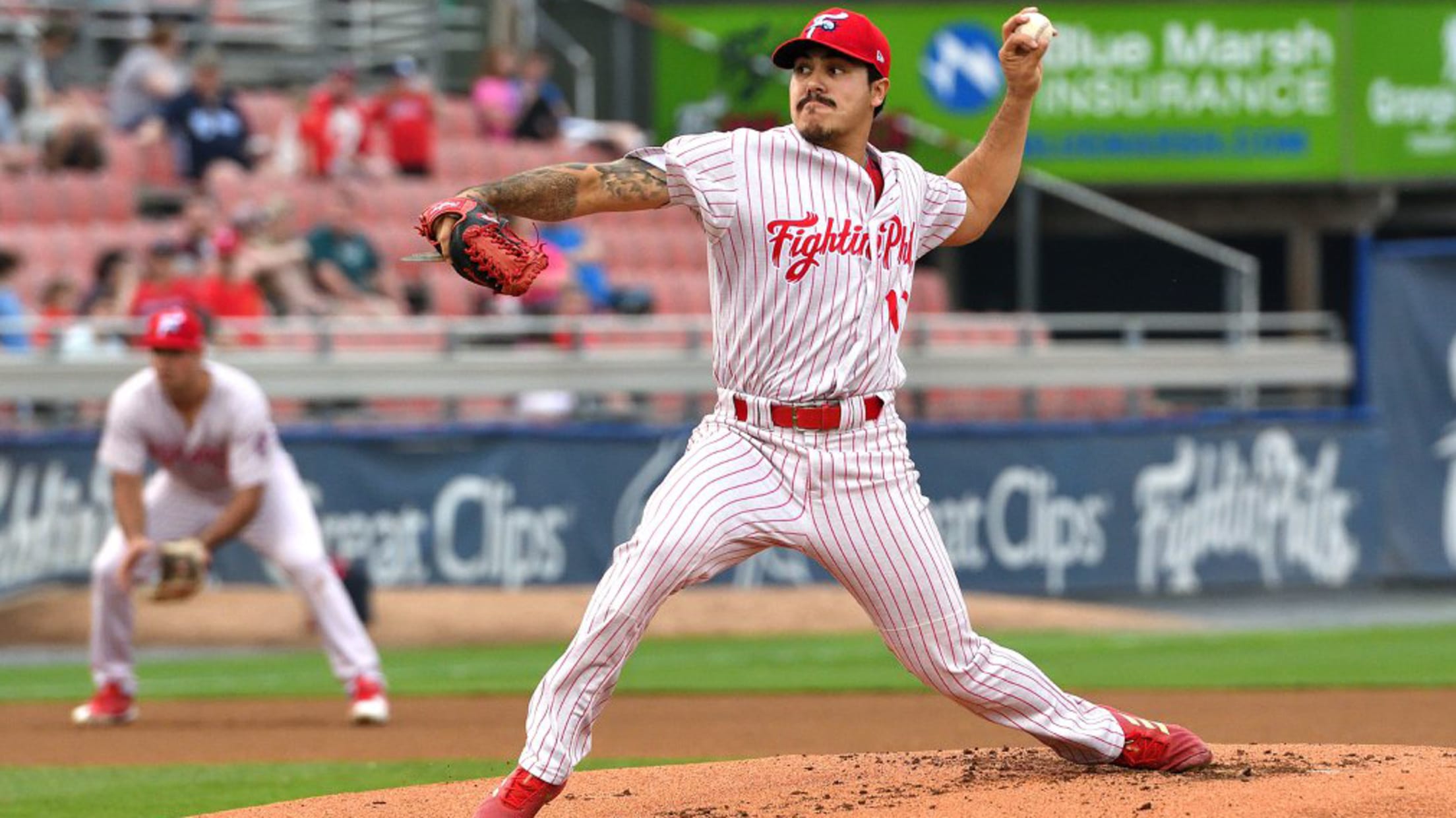 JoJo Romero has struck out 26 and allowed nine earned runs over his last four Double-A starts. (Reading Fightin Phils)
Having too much of something, no matter how good it may be, can sometimes be a burden.JoJo Romero, a six-foot left-hander for the Reading Fightin' Phils, found out the hard way that having a massive arsenal can sometimes cause issues.
Having too much of something, no matter how good it may be, can sometimes be a burden.
JoJo Romero, a six-foot left-hander for the Reading Fightin' Phils, found out the hard way that having a massive arsenal can sometimes cause issues.
In making his Double-A debut to open this season, the Phillies No. 6 prospect was eager to flash his six-pitch bag of goods, only to find that it wasn't easy to rein them all in at once.
"That's was probably his biggest enemy, that he had so many weapons," said Reading pitching coach Steve Schrenk. "You can't get them all in a game -- it's almost impossible to do. So you've got to take your best two and then if you have a third, you're going to work off it. I think he was trying to get them all into a game, he wasn't throwing enough strikes, fell into hitters counts, was walking guys and in Reading you can't do that, it's a small ballpark."
After going 10-3 with a 2.16 ERA between two levels in his first full season a year ago, Romero stumbled out of the gate this season, going 0-3 with a 7.18 ERA in five starts while opposing lineups hit .314 against him.
"I think it was more of a sense of trying to do too much, with too many pitches, instead of just getting the fastball over and establishing that," said Romero, the Phillies fourth-round selection in 2016. "That's something I've made a priority. Over the last two starts, my fastball command has been a lot better. That's been the difference in those two results than the prior two results."
Being able to stay mentally balanced despite the rough start, Romero has pinpointed his problems with the fastball command and has worked hard in establishing that first and foremost.
The results have proved the need for this as he is 2-0 in his last two starts, and stretching things out he has struck out 26 and allowed just nine earned runs over last four starts, spanning 22 1/3 innings.
"It all starts with your preparation leading up to every start," Romero said. "I think my last three or four starts the preparation has been a lot better and a lot more focused on simplicity. That's taken results into the games."
"His work ethic is off the charts," added Schrenk. "He works hard and goes about it mentally and physically every day. He's had a rough stretch. Starting out at Double-A probably hasn't gone as well as what he would have liked. That's OK. We want guys to struggle a little bit to see how they're going to bounce back. But as far as the work in between starts, it's been outstanding. He's probably pushed on the gas pedal a little bit more to try to get where he needs to be."
In his bag of tricks, Romero has a four-seamer, sinker, cutter, slider, curve and change.
The former Yavapai College standout is very comfortable with all his offerings, but knows now that to maintain success at this level, he must take only two or three of those into any given outing, with a high premium on locating that four-seamer.
"Last year my fastball command was really good," said Romero. "Coming in, you kind of expect the same thing. Mentality-wise you're trying to establish everything else. Better league, better hitters. It all goes back to the basics with the fastball command. Once you have that, you can establish everything else."
"He's making improvements. He's a young pitcher, it's his second full season really and he's in Double-A," said Schrenk. "He's on a quicker learning curve than some of the other guys, but I think that he's able to do it. There's a lot of positives for JoJo and we're putting them together now, making him a complete package."

In brief
Sit 'em down:
With 10 strikeouts in his last outing, Bowie right-hander
Keegan Akin
took a commanding lead in the category with 63, 10 more than any other pitcher in the Eastern League. The Orioles No. 7 prospect also sits sixth overall in the Minors. In 10 starts this season, Akin, Baltimore's second-round selection in 2016, has already faced seven different teams and has lasted five or more innings in all but one of those outings.
Get 'em while he's hot:
Fisher Cats phenom
Vladimir Guerrero Jr.
continues to light the Minor League world ablaze, leading all of baseball with a .433 batting average. In his last 37 games there have been only three games in which he did not collect a hit, but the 19-year-old did reach base via walk to maintain his extended on-base game streak. MLB.com's No. 2 prospect also leads Minor League Baseball in sacrifice flies (6), intentional walks (5) and total bases (127).
Round 'em all:
The Binghamton Rumble Ponies have slugged their way to the top of the leaderboard with 56 home runs as a team. Mets No. 4 prospect Peter Alonso still leads the individual race with 14, followed closely by teammate
Jeff McNeil
, who is tied for second with 12. The long ball surge is a drastic change from the past two seasons -- the Rumble Ponies hit just 66 in 2017 and 69 in 2016. The last time Binghamton captured the home run crown for an entire season was 2010, when they homered 150 times in 142 games.
Craig Forde is a contributor to MiLB.com.