Rewards Points Game Schedule

Rewards Program Available Prizes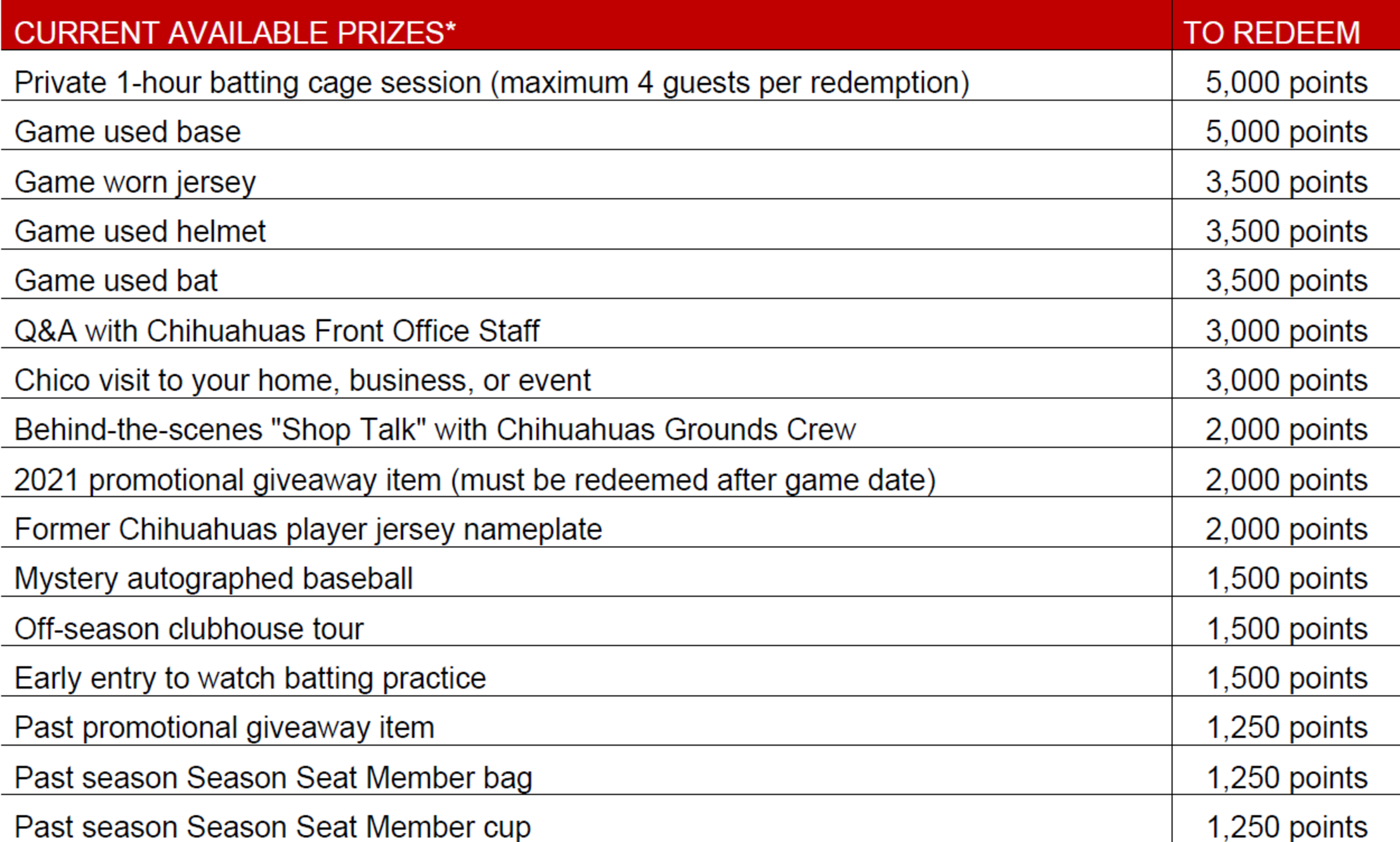 Chihuahuas Rewards Program Frequently Asked Questions
What are Rewards Points and how do I earn Rewards Points?
As a Chihuahuas Season Seat Member, you have the exclusive opportunity to earn Rewards Points throughout the 2021 Season! Rewards Points can be redeemed for exciting prizes and experiences that are available to you as a Season Seat Member. You will earn points by simply doing what you love to do - attend Chihuahuas games! Every time you scan a ticket from your Season Seat Membership into the corresponding game at Southwest University Park, you automatically earn Rewards Points based on the schedule found at the top of this page.
How do I use my Rewards Points?
Throughout the season, you can use Rewards Points that you've accrued for exciting prizes and exclusive opportunities. All you have to do is notify your Account Executive when you would like to redeem Rewards Points for a prize or experience, and we will complete this process for you! Please note, all prize availability is based on availability and prizes may rotate or be added or removed during the season.
How do I know how many Rewards Points I have?
To ensure that you are always in the know of exactly how many Rewards Points you have, starting in 2021, you can view your Rewards Points balance directly in your Online Ticket Account Manager. Once you login to your Online Ticket Account Manager, your Rewards Points balance will appear in the upper left-hand corner. Additionally, If you would like to know your Rewards Points total at any time you can call, email, or text your Account Executive, or visit us at the Ticket Information Table at Section 112 on the concourse during games!
Do you have other questions about the Chihuahuas Rewards Program?
If you have any questions about the Chihuahuas Rewards Program, we are here to help! In addition to contacting your Account Executive via call, text, or email, or visiting us at the Ticket Information Table at Section 112 during games there is another option. Simply text 'REWARDS' to (915) 533-BASE (2273) and we will contact you as soon as possible to answer all of your questions.
Rewards Points are accrued by scanning a ticket from your Season Seat Membership into the corresponding game
Rewards Points balances will be available in game at the Ticket Information Table located at Section 112
Rewards Points are non-transferable to any other Season Seat Member account or non-Season Seat Member
Rewards Points are redeemed through your Account Executive from the Chihuahuas Ticket Sales & Service Department
Rewards Points do not rollover to subsequent seasons and 2021 Season Rewards Points expire on September 21, 2021
Transferred, forwarded, or gifted tickets will accrue Rewards Points for the original owner of the Season Seat tickets
Ticket exchanges do not accrue Rewards Points
Rewards Points redemption is first come first serve and based on availability
Prize offerings and point requirements for redemption are based on a per person (or item) basis
All prize offerings are first come first serve, limited in availability, based on availability, and subject to change at any time
Rules, regulations, and policies related to the Chihuahuas Rewards Program are subject to change at any time