Fayetteville Suffers Unprecedented Tenth Walk-Off Loss
Banks' Blast Gives Potomac the Series-Opening Win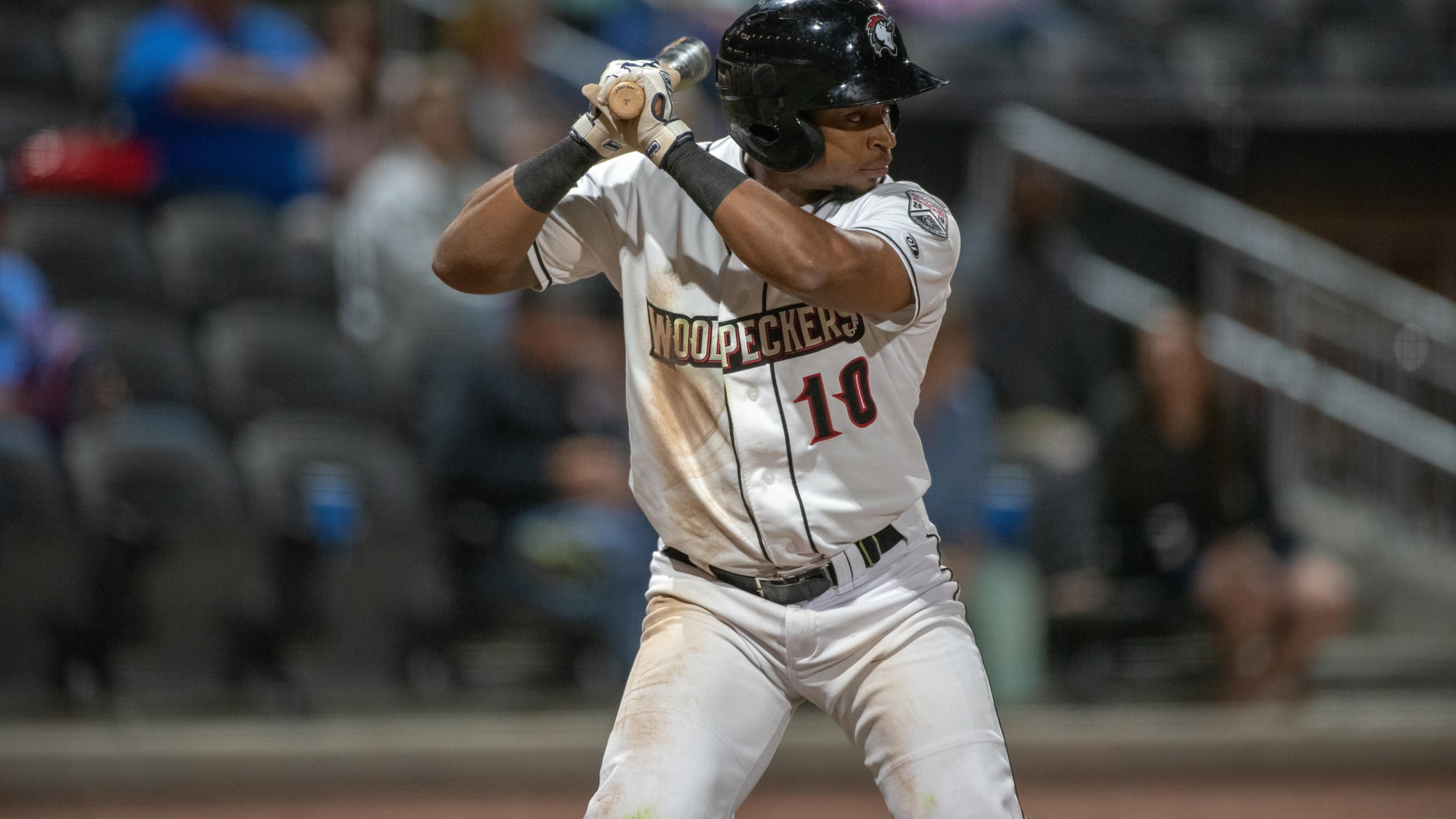 (Joseph Dwyer)
For an almost unimaginable tenth time this season, the Fayetteville Woodpeckers suffered a walk-off loss. Opening their three-game series in Woodbridge against the Potomac Nationals, the two sides traded blows through the night, before Nick Banks launched a solo home run to right-center field to break a 3-3 deadlock in
For an almost unimaginable tenth time this season, the Fayetteville Woodpeckers suffered a walk-off loss. Opening their three-game series in Woodbridge against the Potomac Nationals, the two sides traded blows through the night, before Nick Banks launched a solo home run to right-center field to break a 3-3 deadlock in the ninth inning. It was the second time this season that Fayetteville has been walked-off by Potomac.
Fayetteville pounced on Potomac starter Kyle Johnston almost immediately, hoping to match their 15-0 performance when they faced Johnston at Pfitzner Stadium in April. Jeremy Pena led of the game with a triple to right field, and eventually trotted across home plate when Chandler Taylor singled to center field.
Luis Garcia made a strong turn in the right direction after a poor performance the last time he took the mound, but he was still unable to hold the slim lead given to him, as Garcia allowed a leadoff double to Telmito Agustin, threw a wild pitch to advance the runner, and surrendered a sacrifice fly to give Potomac the tying run.
In the following half inning, Fayetteville strung together a pair of singles around a walk to load the bases, and then collected their own sacrifice fly from Jonathan Arauz to push the Woodpeckers ahead once again.
After a scoreless fourth inning from Garcia, the right-hander for Fayetteville was still unable to hold the slim lead. Garcia walked two batters around a flyout, and, following a groundout to advance the runners, threw a pitch low that skipped away from the catcher, allowing another tying run to score. Lifted after the fifth inning, Garcia was replaced by Humberto Castellanos for the sixth inning, but after a throwing error by Pena at shortstop, Castellanos allowed an unearned run to score on an Osvaldo Abreu double.
Trailing for the first time on their road trip, the Woodpeckers quickly knocked back to tie it up in the seventh inning. On a rehab assignment, Kyle Barraclough took over for a scheduled inning of work, but the big leaguer ran in to Ross Adolph. The newest Woodpecker launched a solo home run to center field to tie the game at three. While Barraclough logged three strikeouts in the frame, Fayetteville would not manage a baserunner for the remainder of the game, going quietly against Jeremy McKinney and Jhonathan German (W, 1-1)
Dancing around danger in the eighth inning by stranding a pair of leadoff singles in scoring position, Castellanos (L, 0-1) was tasked to try for a fourth inning of relief, and he looked strong to start with a backwards strikeout. However, Nick Banks found a good piece of a hanging breaking ball, and he sent a line drive over the right-center field wall to end the game.
As Fayetteville drops the series opener, they will still have two more opportunities to win the road trip after the sweep of Winston-Salem. While the Woodpeckers have suffered at least one walk-off loss during every road trip they've been on this season, they can still even the three-game series on Monday, when Shawn Dubin climbs the hill for Fayetteville at 7:05PM.
The Fayetteville Woodpeckers are the Advanced Single-A affiliate of the 2017 World Champion Houston Astros and play in their Inaugural Season at beautiful Segra Stadium in downtown Fayetteville. Segra Stadium, a $40 million state-of-the-art sports and entertainment venue, features space for over 5,200 fans, natural grass, a 25x70 LED video scoreboard, six luxury suites, four field boxes, the premium AEVEX Veterans Club level, Healy's Bar and outdoor party deck, a kid's zone, and more. With a rich history of baseball in the city of Fayetteville and Cumberland County, the Woodpeckers are thrilled to write a new chapter with their inaugural campaign on Hay Street. Fans are encouraged to visit FayettevilleWoodpeckers.com to purchase tickets, learn more about the team, and find out about upcoming events and promotions at the ballpark. Fans may also reach the Woodpeckers by visiting the BB&T Box Office in front of Segra Stadium, calling (910) 339-1989, or emailing [email protected].