Bryan Abreu, Cristian Javier, and Enoli Paredes Crack Astros Opening Day Roster
Former Fayetteville fireballers figure to play key roles in Houston's pen in 2020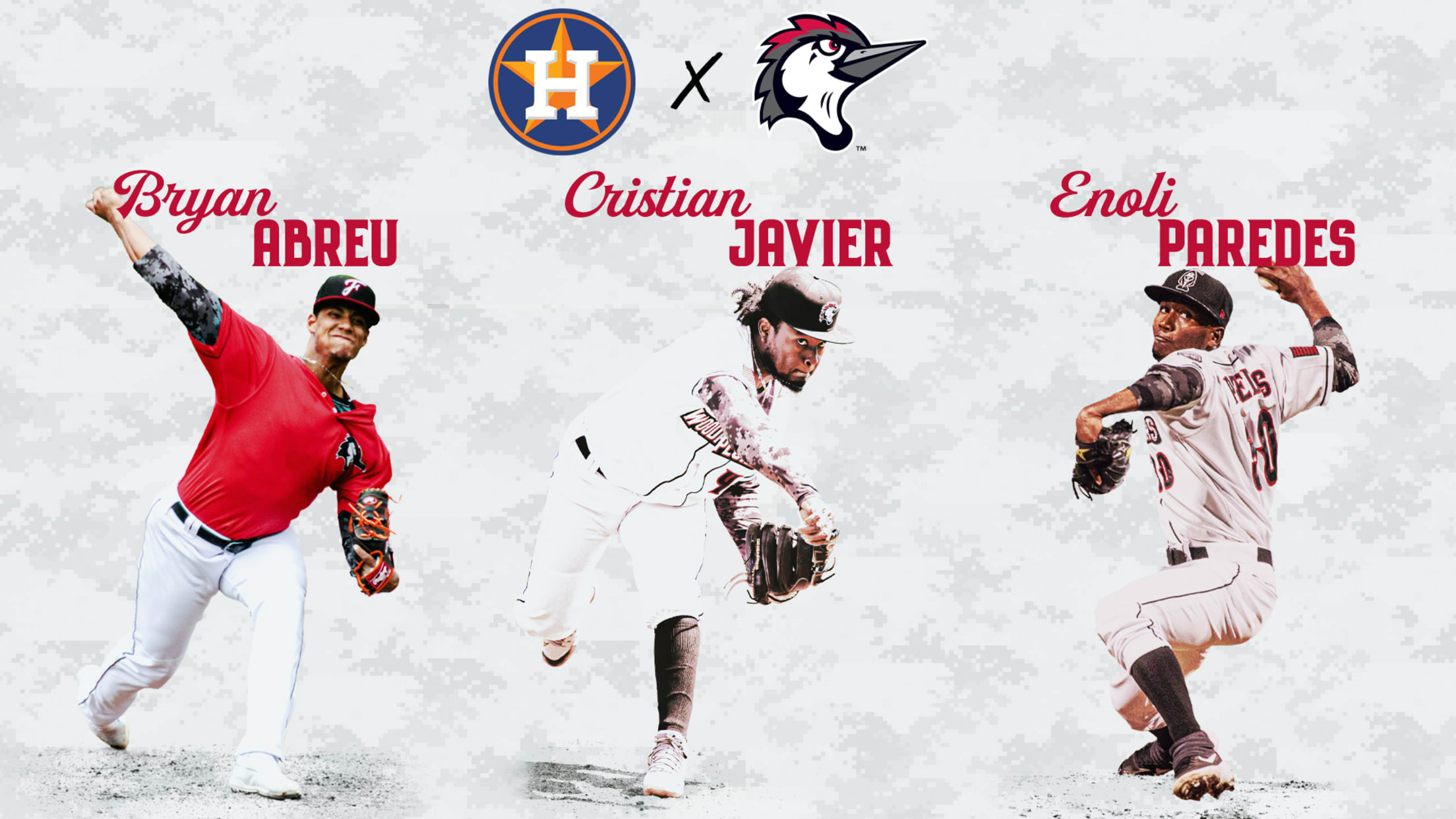 FAYETTEVILLE, N.C. – Three former Fayetteville Woodpeckers hurlers are represented on the Houston Astros Opening Day roster. Right-handers Bryan Abreu, Cristian Javier, and Enoli Paredes were each named among the 15 pitchers to open the season on the 30-man squad in advance of Friday's opener. Among the Woodpeckers staff that
FAYETTEVILLE, N.C. – Three former Fayetteville Woodpeckers hurlers are represented on the Houston Astros Opening Day roster. Right-handers Bryan Abreu, Cristian Javier, and Enoli Paredes were each named among the 15 pitchers to open the season on the 30-man squad in advance of Friday's opener.
Among the Woodpeckers staff that fanned a Carolina League record 1,476 batters last season, Abreu is the lone member of the trio with previous big league experience having made seven appearances as a September call up along with an outing in the postseason last year. Entering the 2020 season, the 23-year-old was rated the Astros No. 5 prospect according to the MLB Pipeline, after whiffing 126 batters in 91 1/3 minor league innings last year, including three starts with Fayetteville.
Another 23-year-old from the Dominican Republic, Javier rose quickly through Houston's system last year, using seven appearances in a Woodpeckers uniform as a springboard to an eye-popping season that had him named Astros Minor League Pitcher of the Year. He entered 2020 as Houston's No. 6 prospect after making two appearances for Triple-A Round Rock to close 2019, a year in which he averaged 13.5 strikeouts per nine innings and a 1.74 ERA across 113 2/3 frames. He led the Astros minor league system in ERA and strikeouts (170) in 2019.
Paredes, 24, has been an uncovered gem this pre-season and might play an important role in the Astros bullpen with the absences of Jose Urquidy and Joe Smith to start the season. He was up to 97 mph in Wednesday's exhibition game in Kansas City, and struck out the side on 11 pitches as part of an electric two-inning outing in his final tune up before the season. Last year, he was a mid-season All-Star for the Woodpeckers, posting a 1.64 ERA in 10 games with Fayetteville. He entered the year as the Astros No. 13 prospect per the MLB Pipeline.
The Astros begin their American League title defense and open their 60-game schedule on Friday evening against the Seattle Mariners at Minute Maid Park. Reigning Cy Young Award winner Justin Verlander will make his third consecutive Opening Day start for the Astros and his 12th in the last 13 seasons going back to his time with Detroit. The Astros have won three consecutive AL West division titles, all by a margin of at least 6.0 games.
Ten other former Woodpeckers will begin the season on the Astros taxi squad, working out at Whataburger Field, the ballpark for the Double-A affiliate Corpus Christi Hooks. Pitchers Cionel Perez and Nivaldo Rodriguez each reside on the Houston 40-man roster and are currently eligible to be called up to the Majors. Pitchers Brett Conine, Shawn Dubin, Luis Garcia, Jojanse Torres and Forrest Whitley along with position players Michael Papierski, Colton Shaver, and Jake Meyers will all work out at the taxi squad camp as non-roster players.