Perfect Gamboa reaches base five times
No. 8 Phillies prospect goes 3-for-3, draws pair of walks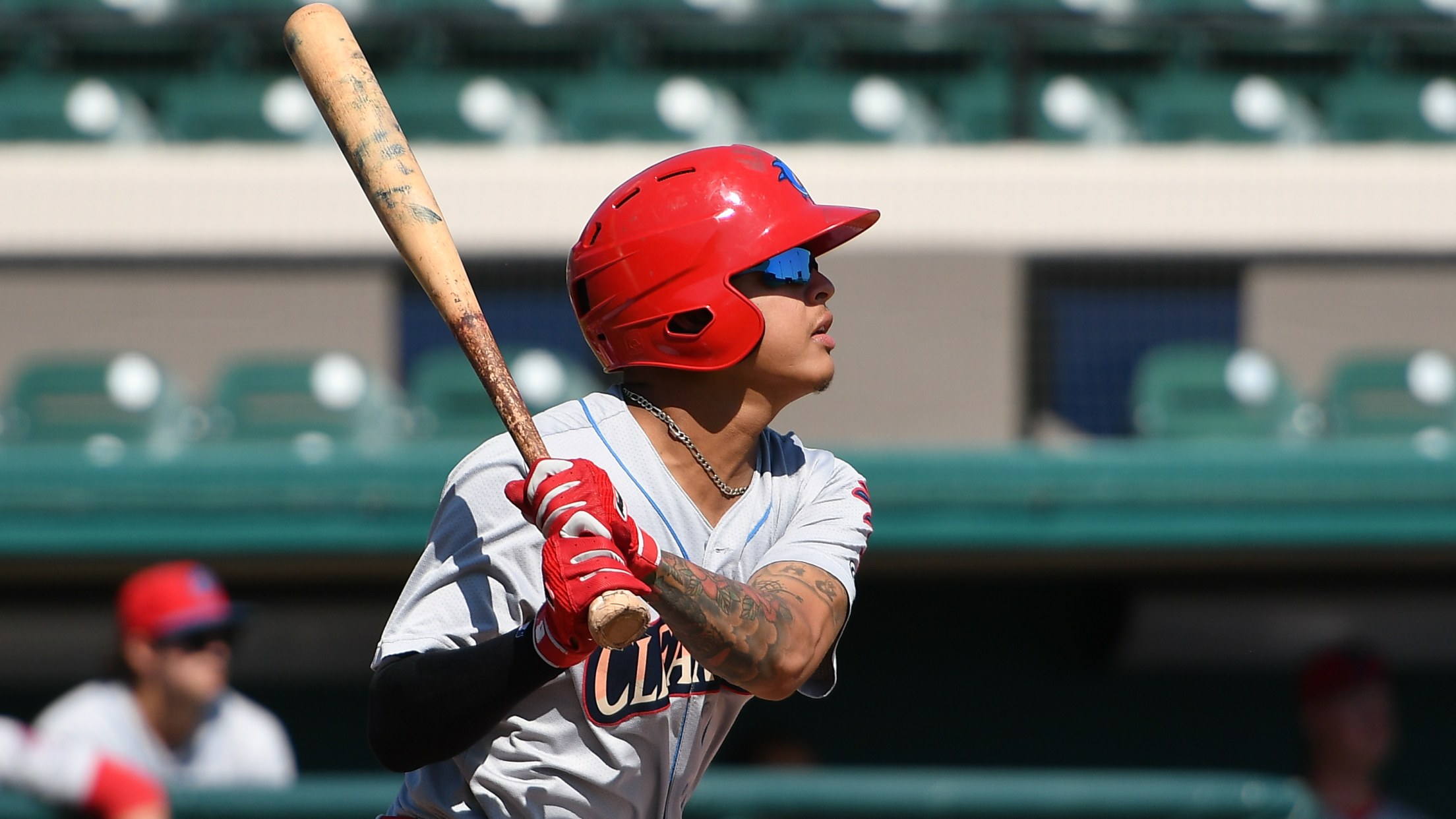 Arquimedes Gamboa has reached safely in seven straight plate appearances over two games. (Tom Hagerty/MiLB.com)
Patience is a virtue.It's also the foundation of the new approach at the plate by Arquimedes Gamboa that helped the 20-year-old extend his on-base streak to seven straight plate appearances Monday.After singling in his last two at-bats Sunday, Philadelphia's No. 8 prospect came to the dish five times and went
Patience is a virtue.
It's also the foundation of the new approach at the plate by Arquimedes Gamboa that helped the 20-year-old extend his on-base streak to seven straight plate appearances Monday.
After singling in his last two at-bats Sunday, Philadelphia's No. 8 prospect came to the dish five times and went 3-for-3 with a double, two walks and a run scored in Class A Advanced Clearwater's 5-3 loss to Daytona at Jackie Robinson Ballpark. He also stole two bases.
Gameday box score
"I feel really good right now. My confidence is high," Gamboa said. "I've been working really hard in the cages to focus on being patient and seeing more pitches, and to see the results now is great. I'm getting better and better at-bats and I'm taking more pitches and swinging at strikes. It's working."
Reaching in seven straight plate appearances enabled the shortstop to raise his average 17 points over two days to .277, the highest it's been in three weeks.
"I'm not trying to rush anymore when I get up there," he said. "I'm just taking each at-bat pitch by pitch and seeing everything all the way through. If I get a good pitch to hit, just try to put a good swing on it. I'm just trying to stay with that approach."
Leading off, Gamboa lined the sixth pitch he saw from southpaw Wennington Romero (6-1) back up the middle for a single. In the third inning, the Venezuela native led off again and battled Romero through a seven-pitch at-bat, pulling a fastball into left field for another knock. He swiped second and scored on a single to center by Austin Listi.
Gamboa worked the count full against Romero again in the fifth, then hammered a double down the right-field line. He stole third with two outs but was stranded.
"I have been working on my hitting [from the right side] to shorten my swing and try to hit the ball back up the middle," he said. "And since I started doing it, there have been good results, so I just need to keep working on it. Nothing is done yet, there's still a long way to go."
Left-hander Kevin Canelon was careful with Gamboa in the sixth, walking him on five pitches. In the eighth, righty Aaron Fossas kept everything away from the switch-hitter, who never took the bat off his shoulder as walked on five pitches again.
Gamboa saw 29 pitches total and he has reached base safely in 13 straight games. He also has five stolen bases in 49 games.
"I need to be able to use all parts of the field from both sides of the plate, so that's my focus when I get in the cages," he said. "So it's about staying close, not swinging at bad pitches and just keeping things simple. So far that has worked pretty good for me, so I just have to stick with it."
No. 17 Phillies prospect Jose Gomez collected two hits and drove in a run and Jose Pujols added three hits, an RBI and a run.
Bailey Falter (4-2) suffered his second straight loss, giving up four runs on six hits and four walks while fanning five over 5 1/3 innings.
Bruce Yari tied the game for Daytona in the fourth with a two-RBI double and Brantley Bell put the Tortugas ahead for good by plating Yari with a single later in the inning.
Rob Terranova is a contributor to MiLB.com. Follow him on Twitter @RobTnova24.