Lewis homers as Miracle make a statement
Fort Myers crushes Daytona to jump to 2-0 lead in FSL Finals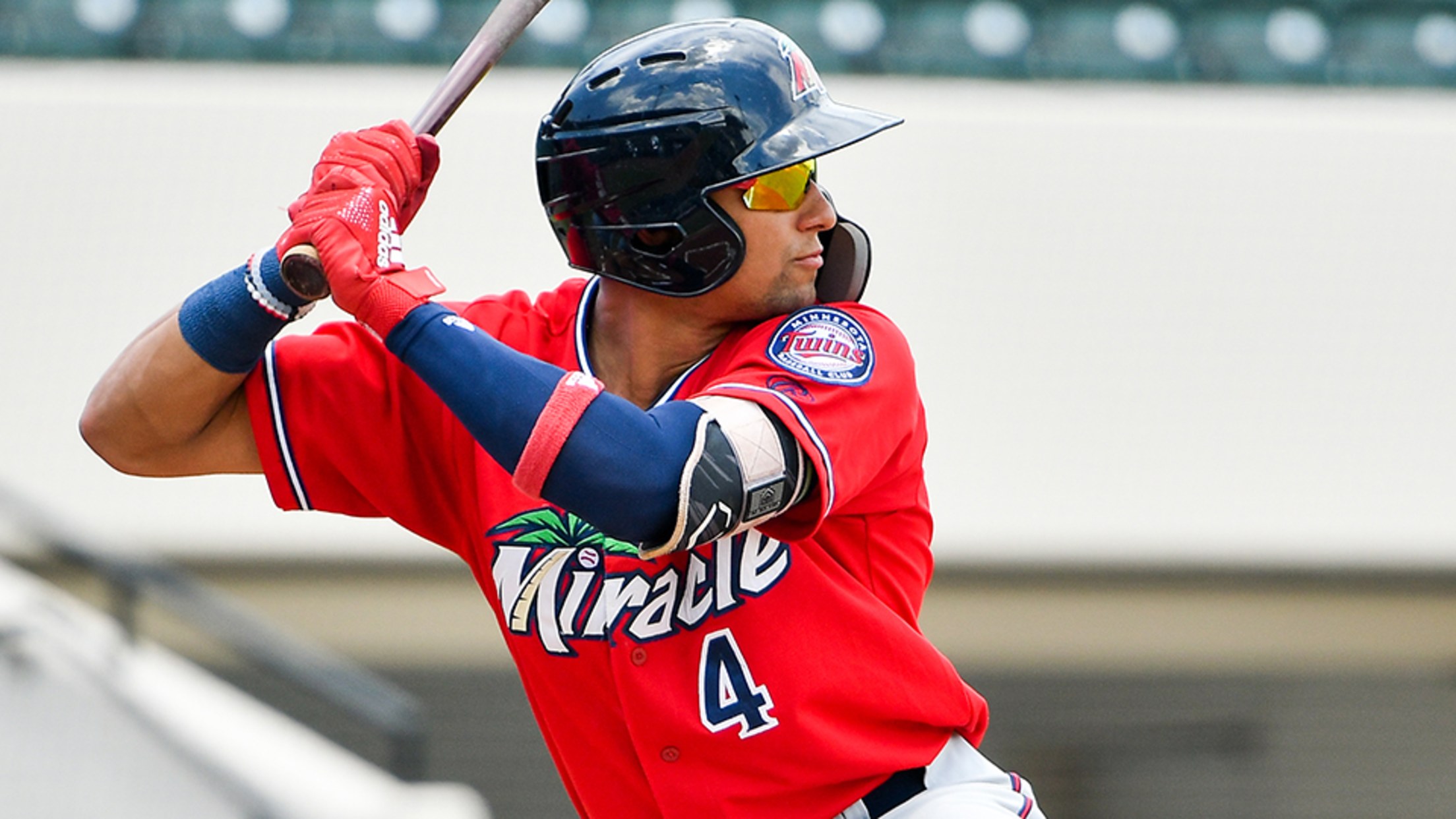 Royce Lewis had a .352 OBP, 28 steals and 14 homers in 121 games across two Minor League levels. (Tom Hagerty/MiLB.com)
FORT MYERS, Fla. - Royce Lewis put the exclamation mark on a colossal first inning for Fort Myers on Saturday night.With two down and five runs already home in the bottom of the opening frame, the 2017 No. 1 overall Draft pick crushed a 3-2 pitch from Aaron Fossas 380
FORT MYERS, Fla. - Royce Lewis put the exclamation mark on a colossal first inning for Fort Myers on Saturday night.
With two down and five runs already home in the bottom of the opening frame, the 2017 No. 1 overall Draft pick crushed a 3-2 pitch from Aaron Fossas 380 feet into the night to cap an eight-run outburst. The Miracle never looked back, rolling past the Daytona Tortugas, 12-2.
"He started me out with a slider -- I get a lot of sliders to start out with -- and sometimes being in the leadoff spot, you get some more fastballs," Lewis said. "So my plan today was to try to jump on a fastball, and he gave me one in my spot."
Gameday box score
The Twins' No. 1 prospect finished 1-for-5, scoring twice and knocking in his first three runs of the playoffs to help put the Miracle on the verge of the Florida State League Championship.
"It was big. ... We felt like if we stepped on their throats tonight, we'd kind of just put the series in our hands and just take care of business tomorrow," Lewis said. "We have Brusdar Graterol starting for us tomorrow, so we have a lot of confidence in ourselves to win and finish it."
The Miracle have a 2-0 lead in the best-of-5 Championship Series, a rematch of the 2014 FSL Finals that saw the Miracle defeat the then-Daytona Cubs, 3-1.
Alex Kirilloff, ranked directly behind Lewis, doubled and scored twice in a 2-for-5 showing. No. 18 Twins prospect Travis Blankenhorn drove in two and finished 3-for-4 with a walk, a double, and three runs scored to make him 6-for-7 with three RBIs in the series.
Jose Miranda, who lined a two-run single to center in the bottom of the first, has driven in seven runs in four postseason games. His first of two knocks Saturday helped the Miracle sprint to a 4-0 lead before the first out was recorded, bumping Daytona starter Kevin Canelon.
Fort Myers continued to surge after the Tortugas called on Fossas in relief, not letting up until Lewis launched his three-run dinger beyond the wall in left. The Miracle added two in the second on Blankenhorn's RBI double and Caleb Hamilton's run-scoring single.
• Complete postseason coverage »
Miracle right-hander Griffin Jax was the beneficiary of the offensive outpouring.
The highest ever Draft pick out of the Air Force Academy held up his end as well, holding the Tortugas to two runs on six hits and a walk while striking out six over 6 2/3 innings en route to the win.
"It definitely makes things easier coming into the second with an 8-0 lead," Jax said. "It just gave me more confidence to go out there and keep throwing strikes.
"I wanted to be more aggressive, because the more aggressive I am, the faster I can get out of these innings and give my team a chance to score some more runs."
Fort Myers rode dominant pitching to a sweep of the Palm Beach Cardinals in the South Division finals, and has posted a 1.00 ERA through four postseason games.
"Our pitching has been great all postseason," Blankenhorn said. "Just for us to give them a little breathing room, for them to just go out there and relax -- knowing that we put an eight-spot up in the first inning, I think that gave [Jax] a little time to relax."
Jax held the Tortugas off the board until the seventh, when No. 6 Reds prospectTyler Stephenson belted a two-run homer to left. Stephenson went 2-for-3 with a walk.
Game 3 is Sunday in Daytona, with first pitch at 5:35 p.m. ET.
Kirsten Karbach is a contributor to MiLB.com.