Nimmo's hot start leads to perfect night
No. 6 Mets prospect batting .407 after 4-for-4 outing against Crabs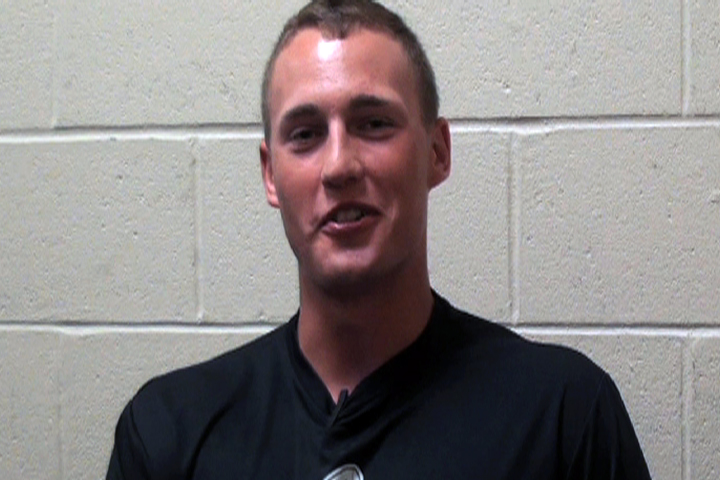 By Danny Wild / MiLB.com | April 28, 2014 11:45 PM
Brandon Nimmo spent his winter in a high-tech Florida training center. A Futures Game All-Star in 2013, the Mets prospect was on a mission to improve ahead of his second full season.
"They attach you to all kinds of monitors there to figure out what you need to work on," Nimmo said. "It's very scientific. They tell me what to do to get better and I control the workload. It's been nice to see the results of that be put into play now."
Nimmo is a walking, talking testimonial to an offseason of hard work, and Monday night was another chance to show that. The Mets' No. 6 prospect went 4-for-4 with a homer and two RBIs to lead Class A Advanced St. Lucie past Charlotte, 7-3.
Nimmo singled in the first inning, doubled home Dilson Herrera in the third, singled again in the fifth and hit a leadoff home run off reliever Ryan Garton to start the seventh. It was his second long ball of the year.
"It's just been fun so far," he said. "I felt good up at the plate, just swinging and having fun and happened to get into a few balls. It's just one of those nights you look back and think, thank God for that one. I'm kind of going through it all, and at the end of the night, I thought, 'That was a pretty dang good night.' I'm glad we got the win, the team played well as a whole. We'll just hopefully keep this going."
Nimmo was the Mets' first-round pick in 2011 despite not playing baseball in high school or college. He hit .273 with two homers, 40 RBIs, 10 steals and a .397 on-base percentage in 110 games as a South Atlantic League All-Star last season after spending 2012 and 2011 with the Mets' short-season and Rookie-level affiliates. His two homers this month, as he pointed out, are as many as he hit in 395 at-bats last season.
"I definitely feel better about the power this year," he said. "Last year, Savannah was a hard ballpark to hit for a lefty. Last year is what it is. I'm glad I've improved power-wise, I was thinking about that today, I was like, 'Wow, I hit as many in one month as I did the whole season.' So that's been nice to see some result. I worked hard this offseason putting in time away from the family."
Nimmo went to the IMG Academy in Bradenton, Florida, to figure out a new approach for 2014.
"I took it very seriously, to get stronger and gain bat speed," he said. "I'm glad to see that paying off, I'm very happy."
How good is he this year? Nimmo's four hits raised his average from .379 to .407, a mark that has him tied atop the Florida State League with teammate T.J. Rivera, a second baseman who finished 2-for-4 with a double, an RBI and a run scored Monday. The top of the lineup for St. Lucie is stacked, with leadoff man Herrera, the Mets' No. 10 prospect, batting .288, and cleanup hitter Jairo Perez batting .371. Perez hit his first homer, and teammates Aderlin Rodriguez and Eudy Pina also went yard.
"It's really a privilege to hit around these guys," Nimmo said. "Everyone brings something to the table that you can use in your game. All these guys are smart hitters. If they pick up on anything, they let you know about it. They pay attention to all the details of the game and they keep things really simple at the plate. They're very nice to be around."
The 21-year-old entered the game with 13 hits in his last nine games, although he hadn't homered since April 10. It took Nimmo until Aug. 5 last season to hit his second homer.
While some hitters tend to be oblivious to statistical milestones, Nimmo was well aware of what Monday could have been.
"I was just a triple away from the cycle, that's the third time I've been one hit shy," he said. "Hopefully I'll do it a few more times, the triple always seems to elude me."
Nimmo again participated in Major League Spring Training this year, going 3-for-9 with three walks, two runs and an RBI in 10 games. The native of Cheyenne, Wyoming, has appeared in at least one big league Spring Training game each of the past three years.
It was his power, though, that had him up all winter in Bradenton. He became more athletic and quicker on the field and at the plate.
"It was really strength-wise in my legs, just working on real explosive movements, baseball-specific movements, really sport-specific," he said. "At IMG, we worked on rotational power, we'd do high-weight dead lifts and stuff to supplement that along with flexibility. It's funny how being more flexible can help out with some power. Really, I was getting stronger and maintaining flexibility. Being able to go through your natural swing with more fluidity and powerfully, that's the biggest thing."
Monday's homer in the seventh left Tradition Field despite a breeze coming into the park, another thing Nimmo took notice of.
"It was a changeup that I hit well, kind of golfed it out, I was happy with the swing, even hit it into the wind. So I was happy with the power and how this year has been going," he said. "It's been pretty good, nothing to complain about, and I'm seeing the results after the work I've put in this offseason."
Danny Wild is an editor for MiLB.com. Follow his MLBlog column, Minoring in Twitter. This story was not subject to the approval of the National Association of Professional Baseball Leagues or its clubs.
View More