A.J. Reed breaks Fresno Grizzlies single-season home run record in 2017 finale
In 9-7 win at Salt Lake, Reed crushes 34th homer at the wire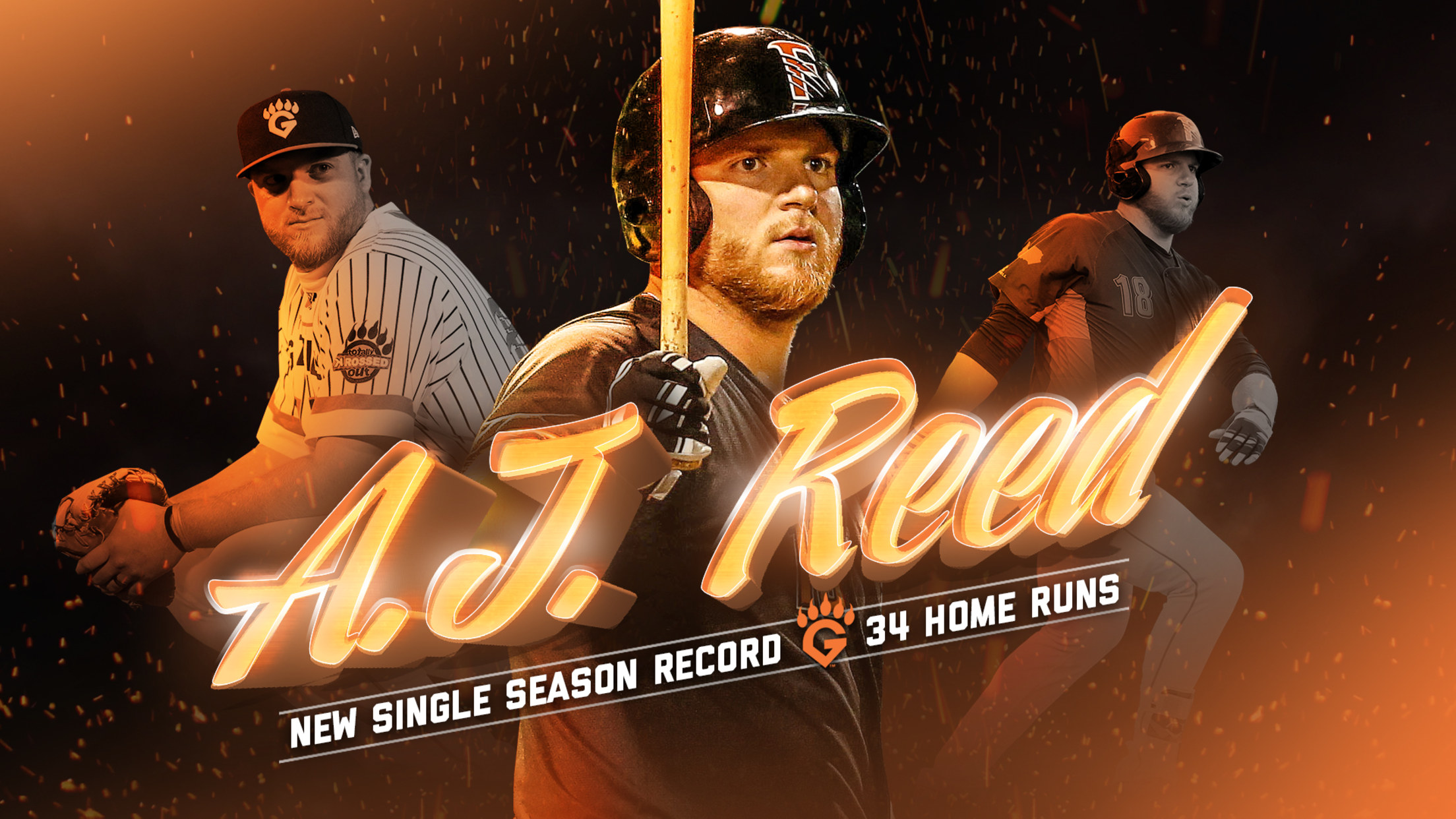 Despite valiant runs at their respective division titles which fell just short, the 2017 season finale on Labor Day between the Fresno Grizzlies (77-65) and Salt Lake Bees was not without drama. While Salt Lake (72-70) put the finishing touches on their first winning season since 2013, Fresno concluded their
Despite valiant runs at their respective division titles which fell just short, the 2017 season finale on Labor Day between the Fresno Grizzlies (77-65) and Salt Lake Bees was not without drama. While Salt Lake (72-70) put the finishing touches on their first winning season since 2013, Fresno concluded their third consecutive winning campaign, and saw an 18-year-old franchise record fall. A.J. Reed smashed his 34th home run of the season in the fifth inning, eclipsing Pedro Feliz's 33 in 2000, when the Grizzlies played at Beiden Field at Fresno State. The best offense in franchise history finished 2017 with a club record 853 runs, 805 RBI and 200 home runs.
The Grizzlies started fast, scoring twice in the first inning for a second straight game. Rico Noel and Colin Walsh (2-for-4) led off with lined singles to right, before Reed (3-for-5) doubled to the wall to the same field, scoring Noel. For Reed, it was his 101st RBI of the season, which placed him eighth on the Grizzlies' single-season list, for the time being. Preston Tucker made it 2-0 with his 96th RBI on a sac fly, scoring Walsh.
Salt Lake struck back with three hits and two runs of their own in the home half, making the score 2-2 after an inning. Rey Navarro (single) and Zach Houchins (double) had the RBI knocks.
With Fresno trailing 4-2 in the third, a Reed RBI groundout gave the Grizz first baseman 102 runs driven in for the 2017 campaign. Navarro (2-for-4) led the home half of the inning with a base hit however, and scored on a Houchins (3-for-4) triple to center. Houchins would score on a Dustin Ackley (2-for-4) single to right, for a 6-3 Salt Lake lead.
Fresno starter Cy Sneed lasted three innings, allowing six (earned) runs on seven hits. Sneed walked two and struck out two. In a spot start, Salt Lake starter Alex Klonowski went four innings, allowing three (earned) runs on six hits, with a walk and three strikeouts. Neither starter would factor into the decision thanks to a back and forth affair.
Walsh led off the visitor half of the fifth with a walk, setting the table for Reed's record-breaking moment. The left-hander drilled his 34th home run of the season to right field off Bees' reliever Mike Morin, a mammoth shot cutting the Bees' lead to 6-5. Reed, who also led all of Minor League Baseball in homers (all leagues, all levels), smashed the 200th of the season for Fresno, further extending a franchise record. The 2017 Grizzlies obliterated the previous franchise record of 184 home runs by the inaugural 1998 Fresno club.
With four RBI on the day and 104 for the season, Reed surged to tie Matt Duffy for fifth-most in a Grizzlies single-season. Duffy did it in his Pacific Coast League MVP season of 2015, as the duo now share the Fresno RBI record for an Astros-affiliated player.
The Grizzlies roared back to take the lead in the seventh. Reed continued his big day by starting a two-out, bases empty rally with a single, the first of five straight batters that would reach for Fresno, plating four runs for a 9-6 lead. Reed scored after a Tucker walk and a Drew Ferguson RBI single, before two scored on a Trent Woodward triple. Alejandro Garcia capped the big inning with a single of his own, scoring the Fresno State alum Woodward.
The four-run seventh gave the Grizzlies 853 runs on the season (142 games), an average of 6.01 per game. It's a new club record in runs, passing the 849 scored in 1999. A season ago, the Grizzlies scored just 659 runs in 144 games, an average of 4.58.
Ackley tightened things up with an RBI double in the eighth, before Salt Lake stranded the bases loaded. A scoreless ninth finished a 9-7 Fresno victory, as Brendan McCurry retired the side in order with a strikeout for his sixth save. Jacob Dorris (3-0) tossed three scoreless, hitless innings beginning in the fourth to pick up the win. Greg Mahle (4-4) allowed all four Grizzly runs on four hits in the seventh to take the loss for the Bees.
2017 was the 23rd season as a minor league manager for Grizz skipper Tony DeFrancesco, between the Oakland Athletics and Houston Astros organizations. In his seventh season as Astros Triple-A manager, De Francesco completed his sixth consecutive winning season in that role (four seasons with Oklahoma City, three with Fresno). The Grizzlies finished their third consecutive winning season, and have yet to have a losing campaign in three years with Houston; the three straight winning seasons is a first in Fresno's Triple-A baseball history. Fresno will begin the 2018 season, their 21st in Fresno, on Thursday, April 5 at Reno. The home opener will be April 10 against Tacoma.