Bees sting Grizzlies 7-5 with two late homers
Kyle Tucker (3-for-5) goes deep twice, scores three runs; Jake Marisnick (2-for-4, MLB rehab) also leaves yard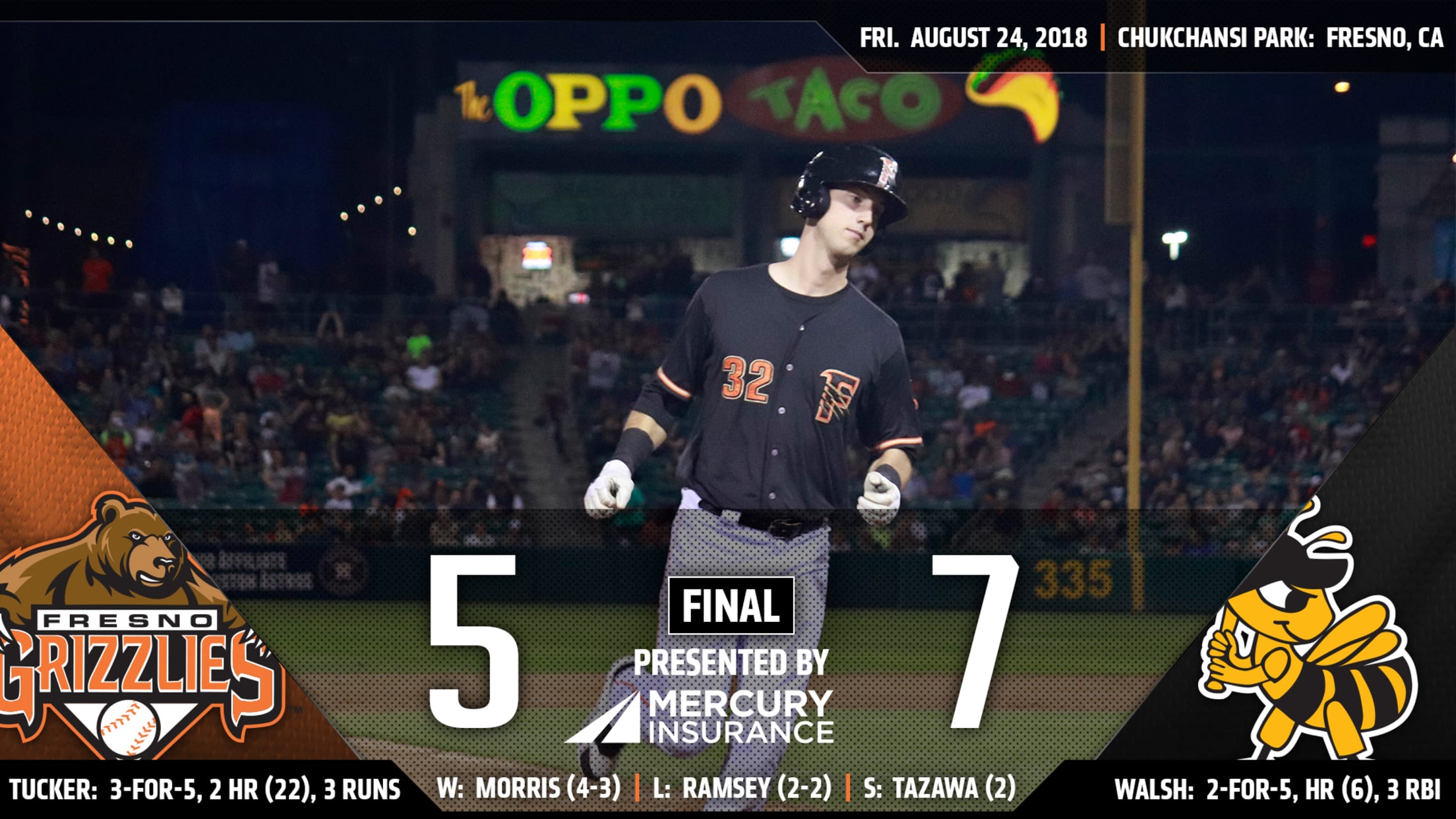 The Salt Lake Bees (68-62) buzzed the Fresno Grizzlies (75-55) 7-5 Friday night from Chukchansi Park thanks to two late longballs. Despite the loss, Fresno's magic number to clinch the Pacific Northern Division is down to one with Reno's loss to Albuquerque. The Grizzlies also fell to 23-11 this season
The Salt Lake Bees (68-62) buzzed the Fresno Grizzlies (75-55) 7-5 Friday night from Chukchansi Park thanks to two late longballs. Despite the loss, Fresno's magic number to clinch the Pacific Northern Division is down to one with Reno's loss to Albuquerque. The Grizzlies also fell to 23-11 this season in series openers (12-5 at home).
Salt Lake sprinted out to a 3-0 lead in the top of the first after sending eight batters to the plate. A bases-loaded groundout by Jared Walsh (2-for-5) netted a run. Then, Dustin Ackley raked a single to center, scoring a pair.
Fresno trimmed the deficit to 3-2 in the bottom of the first. AJ Reed skied a sacrifice fly to right field, adding Jake Marisnick (2-for-4). Reed picked up his Triple-A best 104th RBI in the process. That would tie both his 2017 total and 2015 PCL MVP Matt Duffy's total for most by an Astros-affiliated player for the Grizzlies. Scott McClain holds the franchise single-season record with 108 RBI in 2008. Reed is also fourth all-time in franchise history for RBI (258), trailing Damon Minor (259), Brett Pill (315) and Todd Linden (325). J.D. Davis (2-for-4) followed with a single up the middle, knocking in Kyle Tucker (3-for-5). Davis has hit safely in nine of his past 10 games, going 20-for-38 (.526), with eight clouts and 22 RBI.
Back-to-back taters in the bottom of the third gave the Grizzlies a 4-3 advantage. Marisnick clobbered a 433-foot solo shot to left-center field. It was his fourth dinger at Triple-A. In 18 games, he has 23 hits (13 for extra-bases) and 18 runs. Then, Tucker matched Marisnick with a blast to right field. It was Tucker's 21st big fly of the year. Since Wednesday, he is 10-for-15 (.667) with five longballs. This was the sixth instance that Fresno has gone back-to-back this season and the third time when Tucker is involved.
The Bees regained control 5-4 in the visitor's half of the fifth. A Walsh RBI single to right knotted the score at four. Finally, Jose Rojas lifted a fly ball to left in foul territory, allowing Matt Thaiss to rumble home.
Tucker erased the deficit in the home half of the fifth with another big fly, this time to dead center. His second of the night evened the game at five. It was his 22nd of the year and his third multi-homer game of the season for (August 22nd at Sacramento and May 30th at Albuquerque).
Alberto Triunfel made it 6-5 Salt Lake when he nailed a solo bomb to left field in the top of the eighth. That was his third four-bagger at Triple-A. The lead extended to 7-5 in the top of the ninth when Walsh hammered a pitch to right-field. It was his sixth smash of the season.
That would be enough for Junichi Tazawa to lock down his second save and a 7-5 victory. Akeel Morris (4-3) mustered the win after a perfect seventh while Matt Ramsey (2-2) suffered the decision. Both starters did not factor in the final line. Ivan Pineyro threw five innings for the Bees. He scattered seven hits and five runs (earned) while striking out six. On the other side, Trent Thornton hurled six innings of five-run ball. He was charged with eight hits, two free passes and seven whiffs.
Both squads continue the set with game two of four Saturday evening from Chukchansi Park. First pitch is scheduled for 7:05 PT. Fresno RHP Josh James (6-4, 3.29) and Salt Lake fellow righty Dylan Unsworth (6-1, 5.45) are the probable starters.