Grizzlies INF Ryan Ritter Tabbed California League Player of the Week For May 15 - 21
Ritter wins weekly award for 2nd time after unreal series at Modesto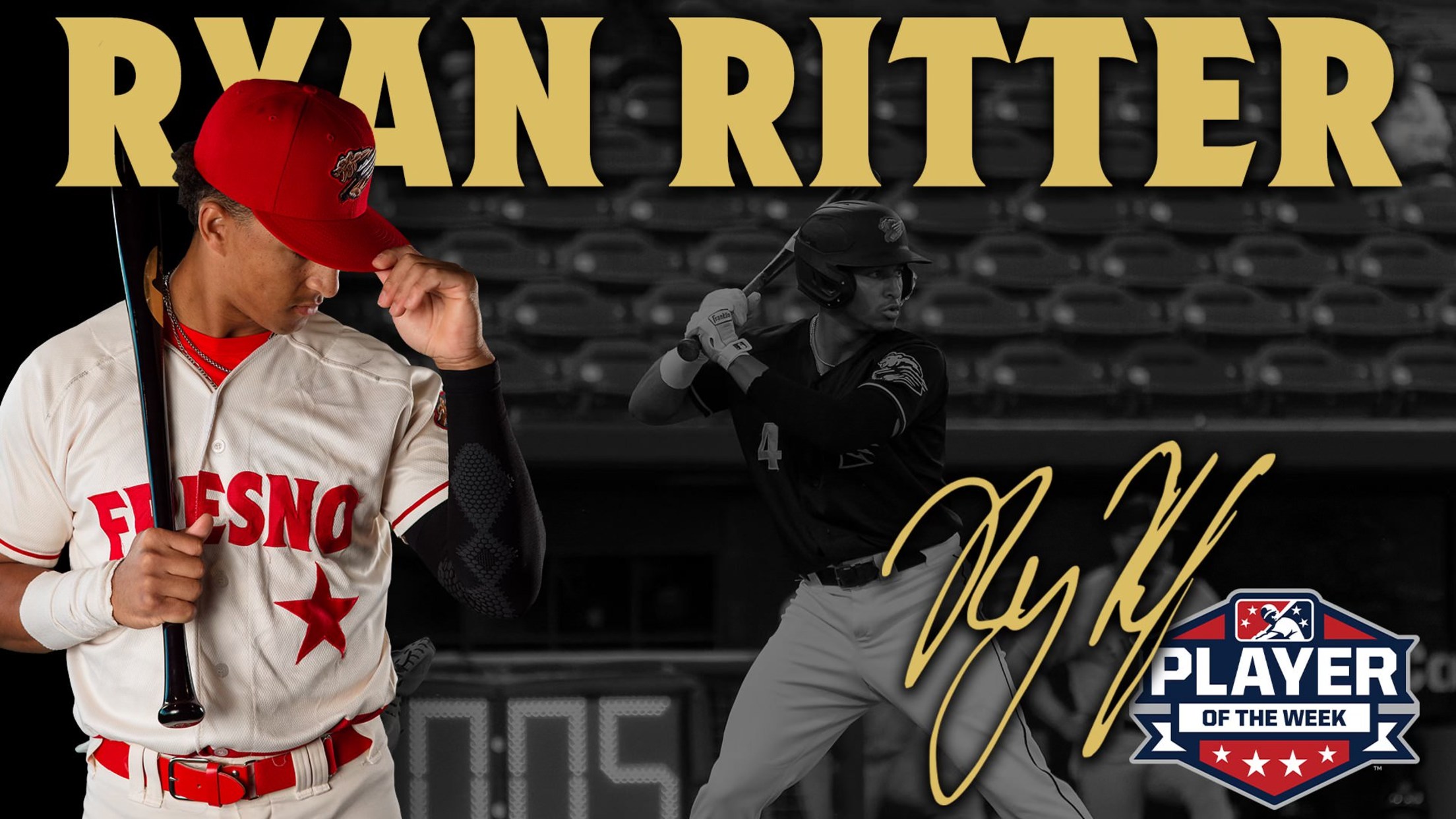 Fresno, CA – Fresno Grizzlies infielder Ryan Ritter was named by Minor League Baseball as the California League Player of the Week for May 15 - 21. Ritter's impressive series at Modesto helped the Grizzlies earn a series split against the Nuts. In six games last week, Ritter went 12-for-24
Fresno, CA – Fresno Grizzlies infielder Ryan Ritter was named by Minor League Baseball as the California League Player of the Week for May 15 - 21. Ritter's impressive series at Modesto helped the Grizzlies earn a series split against the Nuts.
In six games last week, Ritter went 12-for-24 (.500) with three homers, three doubles, eight RBI, seven runs and three walks. Ritter also finished the series with a 1.000 slugging percentage and 1.536 OPS. The University of Kentucky product posted four multi-hit games and in three of those contests, he ended with a trio of hits. Ritter secured all eight of his RBI in the final three games of the series with back-to-back three RBI affairs on Friday and Saturday. The Rockies 4th round draft pick in 2022 doubled twice on Friday, homered two times on Saturday and for good measure, added his third longball of the series (back-to-back contests) on Sunday.
This was Ritter's second California League Player of the Week award after winning on April 17-23. Ritter gives the 2023 Grizzlies their fifth California League award this season (Connor Staine and Blake Adams, twice). Last year, Fresno won 14 California League honors (Weekly and Monthly), a franchise record.
Fresno starts a six-game series tomorrow morning against the Stockton Ports (Oakland Athletics affiliate) at Chukchansi Park. Single-game tickets for the rest of the year, as well as Full, Half and Flex Season Ticket plans, are on sale now. For more information on the 2023 season, please visit fresnogrizzlies.com or contact the club by calling (559) 320-4487.
#Growlifornia
ABOUT THE FRESNO GRIZZLIES
The Fresno Grizzlies are the reigning California League Northern Division Champions and a proud affiliate of the Colorado Rockies organization. The team plays at Chukchansi Park in Downtown Fresno, which is also a year-round community venue that hosts a myriad of other special events including concerts, high school sporting events, and over 100 non-profit community events annually. The 2023 season will mark the team's 21st year in Downtown Fresno and 25th baseball season since their inception in 1998.