In Memoriam: John Carbray (Nov. 9, 1938 - Aug. 10, 2019)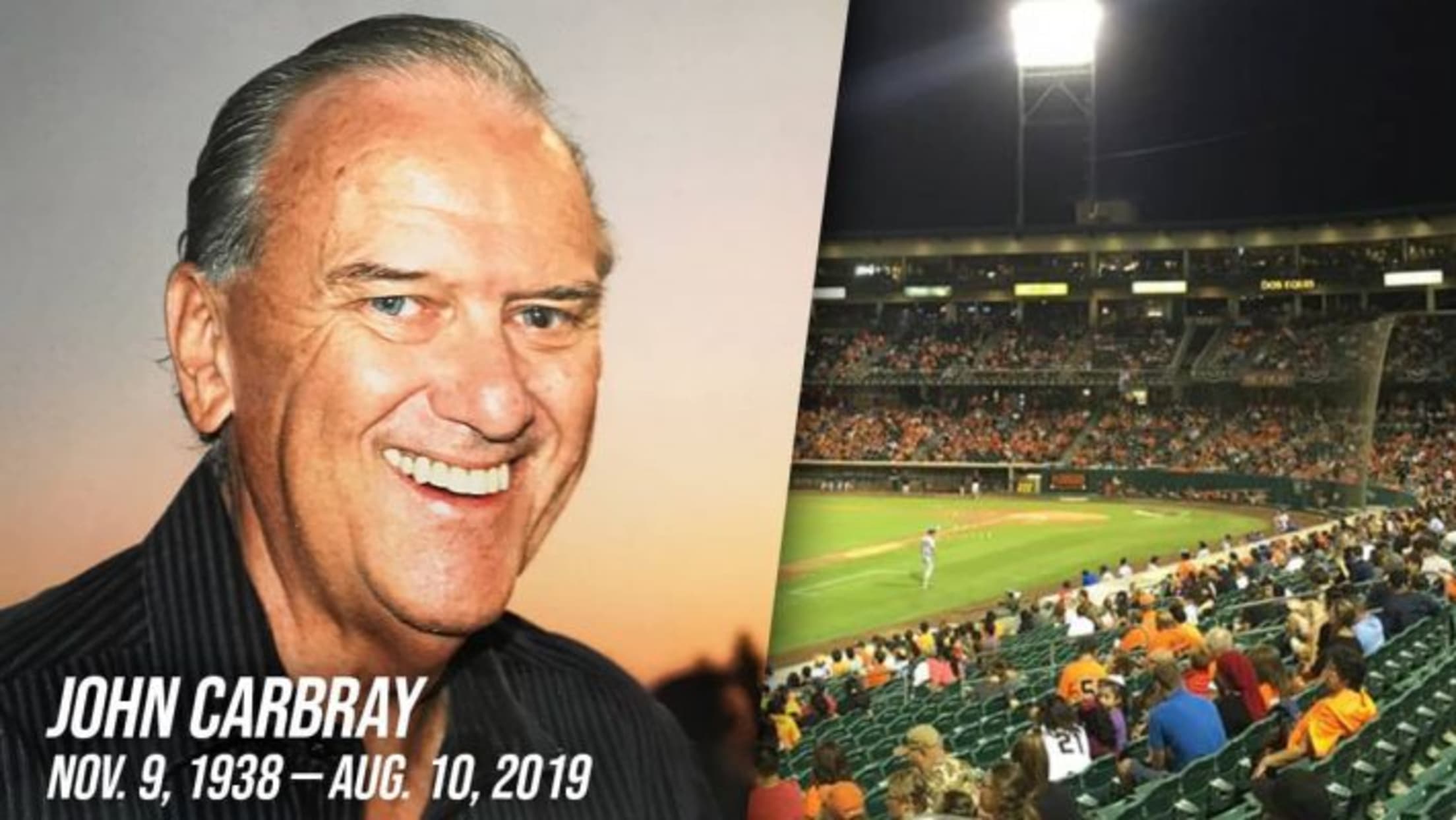 Courtesy: Fresno Athletic Hall of FameJohn Carbray's first breaths were in a dirt floor farmhouse in Paris, Arkansas, as America was recovering from the Great Depression.His coal-miner father left their Ozarks home when John was 6 months old. And, John would crisscross America many times before settling in Fresno nearly
Courtesy: Fresno Athletic Hall of Fame
John Carbray's first breaths were in a dirt floor farmhouse in Paris, Arkansas, as America was recovering from the Great Depression.
His coal-miner father left their Ozarks home when John was 6 months old. And, John would crisscross America many times before settling in Fresno nearly 50 years later and bringing our city a Triple-A baseball team, the Grizzlies, and leading the charge for beautiful Chukchansi Park.
If truth were required on tombstones, his epitaph would be: "He Believed in Fresno When Many Others Didn't."
Carbray, who died Saturday after suffering from Alzheimer's disease for several years, once told me that baseball "saved" him.
He loved playing the game and his coaches gave him the mentoring never provided by his absentee father after he and his mother, Helen Wells, moved to Southern California.
These humble upbringings might explain Carbray's appreciation for the unseen heroes in sports - the groundskeepers, clubhouse attendants, and vendors he always greeted with a smile and a thank-you. Growing up poor also could be why he had a soft spot for kids and children's nonprofits.
A Natural Born Promoter
But nothing explains his creativity and passion for promotion other than he was born with it.
"I think I can promote Russia. Yes, that's right the country of Russia," said Carbray, who at the time was general manager of the Washington Diplomats soccer team."
I don't know if he ever got around to caterpillar races. But before Alzheimer's sidelined him, Carbray had promoted boxing, drag racing, post-game rock concerts, the Fabulous Magicians with basketball handling wizard Marques Haynes, soccer, and, of course, baseball.
Carbray adroitly played to the media. But behind the outlandish quotes was a shrewd, innovative operator. He moved the Diplomats from a high school stadium in Virginia to RFK Stadium, where the Washington Redskins played. He shorted their name to Dips and painted different colors on the field's penalty areas and goal boxes.
Carbray named Fresno's team the Grizzlies - not Giants - because big-league operating agreements didn't last forever. A minor-league team needed its own identity.
Hired to be Fired
In a career filled with executive of the year awards and league-leading attendance marks, Carbray also had disappointments and dismissals - including from the Grizzles.
Understand: No one hired Carbray because their team was a smash hit. He was the guy you needed to pull off the impossible.
"One time, Dad told me, 'I'm getting fired and it's going to be in the paper tomorrow,' " recalled his son Kyle. "Then he said, 'If some of the kids bring it up at school, tell them if their dad got fired, it probably wouldn't get in the paper.'"
Life With the Carbrays
Sports were a family affair for the Carbrays, as John assigned Kyle and his brother, David, various duties with his teams and promotions.
"Other families sent their kids to soccer camp in the summer," Kyle said. "We would work the soccer camps. Sometimes four of them in a row."
But one of John's money-saving ideas was a loser.
"At Friday Night Boxing in Eugene (Oregon), instead of having a hot ring card girl, he put Dave up and all the guys booed," Kyle said. "It was an interesting childhood, to say the least."
They also were childhoods leading to successful careers in sports production. Kyle is an integral member of the CBS Sports crew covering the PGA Tour. David is the lead production manager for Fox Sports, assigned to events such as the World Series and Super Bowl.
On Sunday, CBS Sports announcer Jim Nantz, whose father lost his battle with Alzheimer's, offered his on-air condolences to the Carbray family during the broadcast of The Northern Trust golf tournament.
Against All Odds, the Carbrays Got It Done
For Carbray, Fresno was the ultimate prize. His chance to build a franchise from the ground up instead of wrapping duct tape around somebody else's problems. All he needed was a team and a stadium.
But, at the outset, Carbray had little knowledge of the roadblocks: the just say no to spending politics, the city's inferiority complex, and risk-averse leaders who talked up rebuilding downtown but were comfortable with downtown abandonment.
I remember Tom Sommers, a longtime community leader, and former California Angels executive, telling me about Carbray.
"John doesn't have a lot of money, but no one will work harder to get Fresno a stadium and a Triple-A baseball team," Sommers said.
As it turned out, it took a lot of money (from investors and Fresno taxpayers) to turn the dream into reality. But It's beyond debate that John and his wife Dianne kept pushing when all appeared lost.
"He brought the Grizzlies to Fresno and, just like five of us on the city council, he wanted a first-class stadium," said Garry Bredefeld, a city councilman then and now. "The deal changed a lot of times. It was difficult to get done and, certainly, there were a lot of bumps along the road.
"But the team and the stadium are tremendous community assets and an absolute spark to downtown revitalization. John was a big part of that."
The Wonders of Life
Kyle says that his father's life would make a great movie, and he's right.
Think about the improbability of a newborn born to a hardscrabble family in the mountains of Arkansas helping introduce soccer and international stars such as George Best to a nation of nascent fans. Or that kid someday putting on a Beach Boys concert at Yankee Stadium. Or even, after a vagabond life, bringing Pacific Coast League baseball to Fresno, satisfying a city's longtime yearning.
I told Kyle that his dad, in part, was a product of his times. Sports is too data-driven and the media too fractured for a John Carbray to make it today.
"Dad would've figured it out," he replied confidently.
In Memoriam
Mr. Carbray is survived by his wife Diane, sons David of Hollywood and Kyle of San Francisco, and his dog, Tuxedo.