Fraizer extends hitting streak in Hoppers loss
Greensboro lead-off hitter homers to run streak to 10 games, and Hoppers win series despite lopsided loss in finale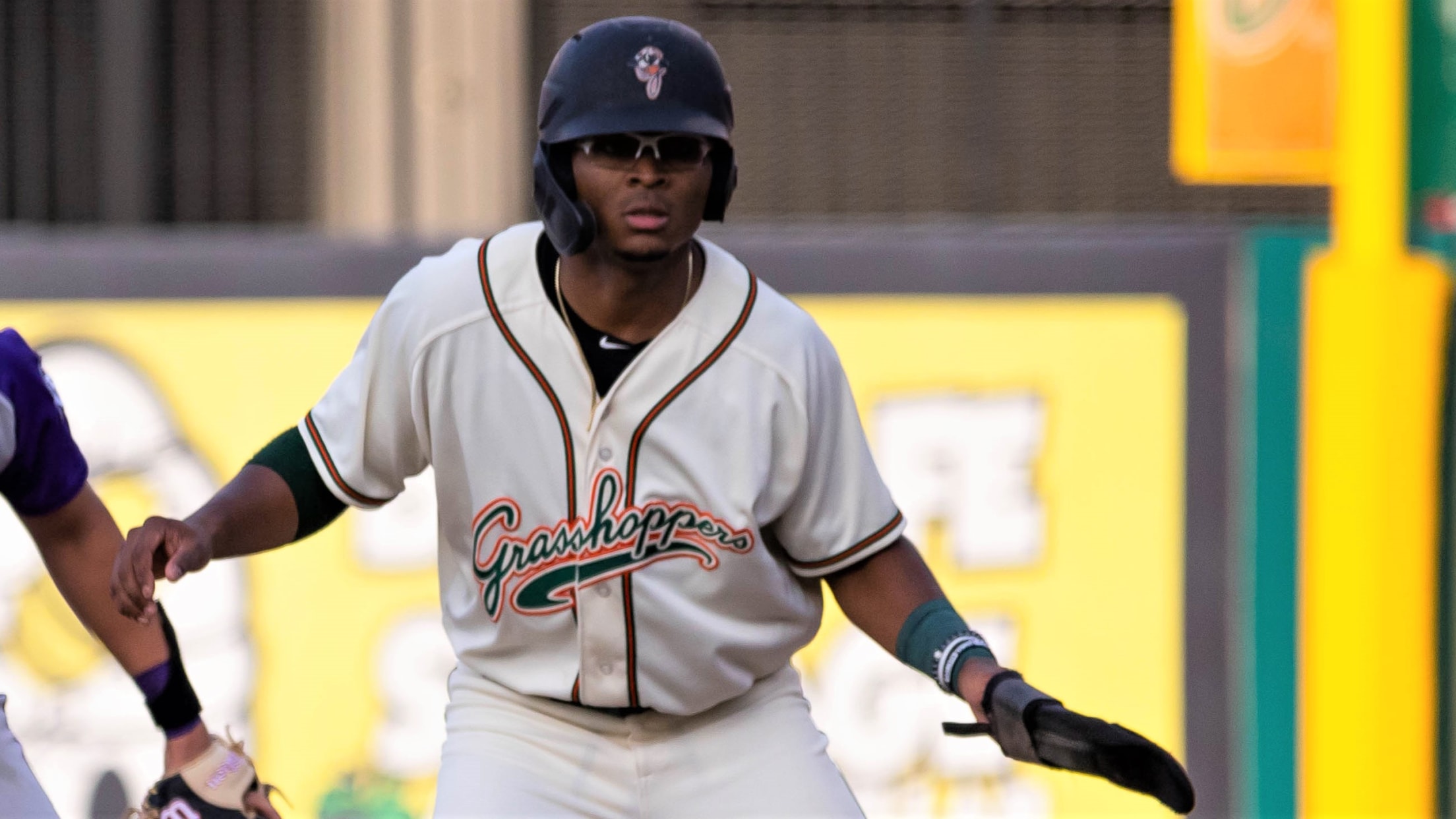 Greensboro lead-off hitter Matt Fraizer homered in the series finale against Asheville to extned his hitting streak to 10 games. (Jak Kerley/Greensboro Grasshoppers)
GREENSBORO ― Matthew Fraizer hit his team-leading 15th home run and extended his hitting streak to 10 games, but the Greensboro Grasshoppers lost their series finale to the Asheville Tourists 10-3 on Sunday afternoon at First National Bank Field. The Hoppers (35-25) won four out of six games in the
GREENSBORO ― Matthew Fraizer hit his team-leading 15th home run and extended his hitting streak to 10 games, but the Greensboro Grasshoppers lost their series finale to the Asheville Tourists 10-3 on Sunday afternoon at First National Bank Field.
The Hoppers (35-25) won four out of six games in the series against the Tourists (26-33), and they remain in second place in the High-A East's South Division standings behind the Bowling Green Hot Rods (39-21).
Fraizer finished 1-for-2 with two walks Sunday, hitting a tape-measure shot in the eighth inning that reached the Carroll Building across Eugene Street beyond the wall in right-center field.
It was a bright spot in an otherwise miserable game for Greensboro. Asheville jumped on starter J.C. Flowers (3-1, 3.21 ERA) and scored seven runs in the first four innings to take a commanding lead.
The Tourists led 10-0 before Lolo Sanchez singled to lead off the bottom of the seventh inning off winning pitcher R.J. Freure (2-5, 7.96 ERA) to break up Asheville's no-hit bid.
The Hoppers finished with just four hits. Fraizer's home run broke up the shutout bid, and Grant Koch hit a two-run home run in the ninth inning.
Asheville pounded out 13 hits, including four home runs. Matt Barefoot went 3-for-5 with a homer, two doubles and three RBIs to lead the Tourists' offense.
Greensboro pitchers did strike out 16 in the game, and that included two strikeouts by Dylan Shockley, a backup catcher who pitched a scoreless ninth inning for the Hoppers.
NOTES: Fraizer is 19-for-39 (.487) during his 10-game hitting streak, and he has hit safely in 14 of his last 15 games. Fraizer had a 16-game hitting streak in early June. ... Fraizer leads the High-A East in batting average (.330), hits (74), runs scored (43) and OPS (1.015). He ranks second in home runs (15) and on-base percentage (.412). ... Frazier's 37 RBIs are tied for seventh in the league. Former teammate Fabricio Macias, who was promoted to Class-AAA Indianapolis, still leads the Hoppers with 38 RBIs. ... Macias is 8-for-17 (.471) with a home run and five RBIs in five games since joining Indianapolis, with three multi-hit games in a row. ... Regular Hoppers starters Jared Triolo and Aaron Shackelford, who are tied for ninth in the league with 36 RBIs apiece, got the day off. ... Right-hander Cameron Junker, who was promoted from Low-A Bradenton and joined the Hoppers on Friday, made his second relief appearance and struck out all three batters he faced.
In his career at the News & Record, journalist Jeff Mills won 10 national and 12 state writing awards from the Associated Press Sports Editors, the Society for Features Journalism, and the N.C. Press Association.