5th Season Friday: Mike Minor
Part Ten of a look back at the greatest players in Gwinnett's first four seasons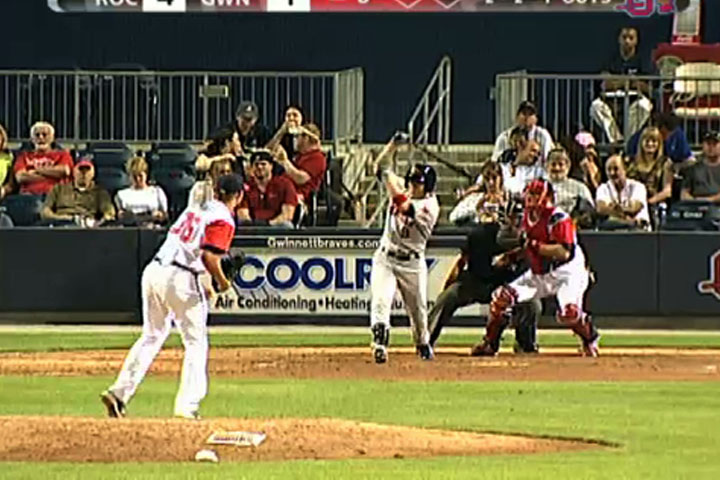 By Dave Lezotte / Gwinnett Braves | March 8, 2013 3:47 AM ET
The 2013 season marks the fifth in the brief history of the Gwinnett Braves Baseball Club. To honor that milestone, GwinnettBraves.com will feature some of the great players from the previous four seasons of G-Braves baseball on "5th Season Friday." The feature will run each Friday until Opening Night on April 4.
Friday, March 8: Mike Minor
In four short years, Mike Minor has gone from Atlanta's first round pick to a productive member of the Braves starting rotation. Along his path to the Major Leagues, the left-hander from Nashville, TN has twice called Coolray Field home. In 22 starts for Gwinnett between 2010 and 2011, Minor went 8-6 with a 2.82 ERA and racked up 136 strikeouts to become one of the G-Braves' brightest prospect arms.
Minor's ascent through the Braves organization was lightning-quick following his seventh-overall selection out of Vanderbilt University in 2009. He made just four starts for Class-A Rome in his professional debut that same year, but made a significant splash by going 0-1 with a 0.64 ERA, 17 strikeouts and no walks in 14 innings. A year later, he opened the season with Double-A Mississippi and continued to impress despite a 2-6 record and 4.03 ERA. In 87 innings, Minor struck out 109 batters and held Southern League opponents to a .233 average.
His 15-start stint with the M-Braves resulted in a promotion to Triple-A Gwinnett by the end of June. Minor made his first start for the G-Braves on July 1 at Toledo and immediately proved ready for the level. He turned in 7.2 innings of three-hit, one-run baseball and fanned nine in a 4-2 win over the Mud Hens. It would be the first of three-consecutive wins in the International League for the southpaw, including his Coolray Field debut on July 6 when he limited Norfolk to a run on five hits over 5.0 innings in a 9-4 victory.
Minor made just six starts for the G-Braves in 2010, but nearly all were brilliant. Following his first Triple-A loss (despite a quality start) on July 24 vs. Louisville, he responded with his best start of the season on July 30 as he one-hit Rochester over 7.0 innings and struck out eight in a 10-0 rout.
On the strength of his success in Gwinnett, Minor was called up by Atlanta for his Major League debut in early August of 2010. Thrust into a starting role, he posted a 3-0 record and 3.91 ERA over his first four starts, including three-straight wins from August 17 to August 31. On August 22 at Chicago, he dominated the Cubs lineup with 12 strikeouts over 6.0 innings in a 16-5 Braves' victory.
Minor pitched through early September with the Braves, finishing 3-2 with a 5.98 ERA and 43 strikeouts in just over 40 innings during his initial taste of the big leagues. Though a rotation spot seemed within his grasp for 2011, he'd spend much of the next year bouncing between Atlanta and Gwinnett.
Minor opened the 2011 season on Atlanta's 25-man roster for the first time in his career, but wouldn't stay long with the club. In his season debut on April 6 at Milwaukee, he surrendered five runs over 4.1 innings and walked four in a 5-4 loss. Shortly after, he was optioned back to Gwinnett.
The 24-year-old shook off any disappointment of the demotion and continued to shut down International League competition. Minor struck out nine and gave up just one earned run in a no-decision on April 12 vs. Norfolk, the first of six-straight quality starts to begin the year. On April 23 at Charlotte, he again allowed one run and struck out eight over 6.2 innings in a tight 3-1 win. Two days later, he was bestowed with his first-ever IL award as he took home Pitcher of the Week honors on April 25. In winning the award, he became the first G-Braves' left-hander to earn the distinction and the first pitcher not named Todd Redmond to win since Chris Resop did so on May 16, 2010.
A 7.0-inning, one-run performance followed in a win at Pawtucket on May 10, and following a loss to Rochester on May 20, Atlanta recalled him once again. Minor spent the next month wearing out the road between Lawrenceville and Atlanta. He made a pair of starts for the Braves, on May 25 at Pittsburgh and on May 31 vs. San Diego, going 0-1 with a 3.09 ERA. A return to Gwinnett came on June 5 and proved to be Minor's best start in a G-Braves' uniform.
In a home match-up with Buffalo, Minor flirted with history. He took a perfect game into the seventh and a no-hitter through one out in the seventh. A walk to Luis Figueroa and single by Valentino Pascucci ended both bids, but proved to be the only base runners allowed by Minor over 8.0 innings. He'd exit with a 6-0 lead and nine strikeouts, and the G-Braves would hang on late for a wild 7-5 victory.
Minor garnered his second IL Pitcher of the Week award on June 6 and earned another trip back to Atlanta, where he made another three starts for the big club. His third stint included his first Major League win of the year, June 21 vs. Toronto when he turned in 7.0 innings of one-run baseball and struck out eight in a 5-1 outcome.
The back-and-forth continued for the remainder of the 2011 season. Minor finished the year with a 4-5 record and 3.13 ERA in 16 starts for Gwinnett. Against International League opponents, he struck out 99 while walking 27 and allowed a .246 opponent average. His Major League numbers were also solid as he went 5-3 with a 4.14 ERA and 77 strikeouts over 15 starts for Atlanta.
The 2012 season saw Minor achieve stability with the Braves. He made 30 starts in his first full campaign in the Majors, going 11-10 with a 4.12 ERA and proving himself as a reliable mid-rotation starter. A shaky beginning of the season - 5-6 with a 5.97 ERA - was easily forgotten by a strong second half as Minor put together a 6-4 record and 2.16 ERA in his 14 second-half starts.
Gone are his days of movement in the Braves' minor league system, and likely his time in Gwinnett. Heading into his second full season with the Atlanta Braves in 2013, Minor now hopes to develop into a front line starter with the same speed in which he reached the big leagues.
The Gwinnett Braves are honoring five great former players during Season Five in 2013 with the Alumni Bobblehead Series! Collect bobbleheads of Brandon Beachy (4/6), Freddie Freeman (5/18), Jason Heyward (6/22), Kris Medlen (7/6) and Craig Kimbrel (8/10)! Want to secure your tickets to all five G-Braves Alumni Bobblehead dates? Purchase the Bobblehead 5-Pack starting at just $50 today!
This story was not subject to the approval of the National Association of Professional Baseball Leagues or its clubs.
View More