Stripers Mobile Tickets
Below are some basic functions of the Stripers Mobile Tickets site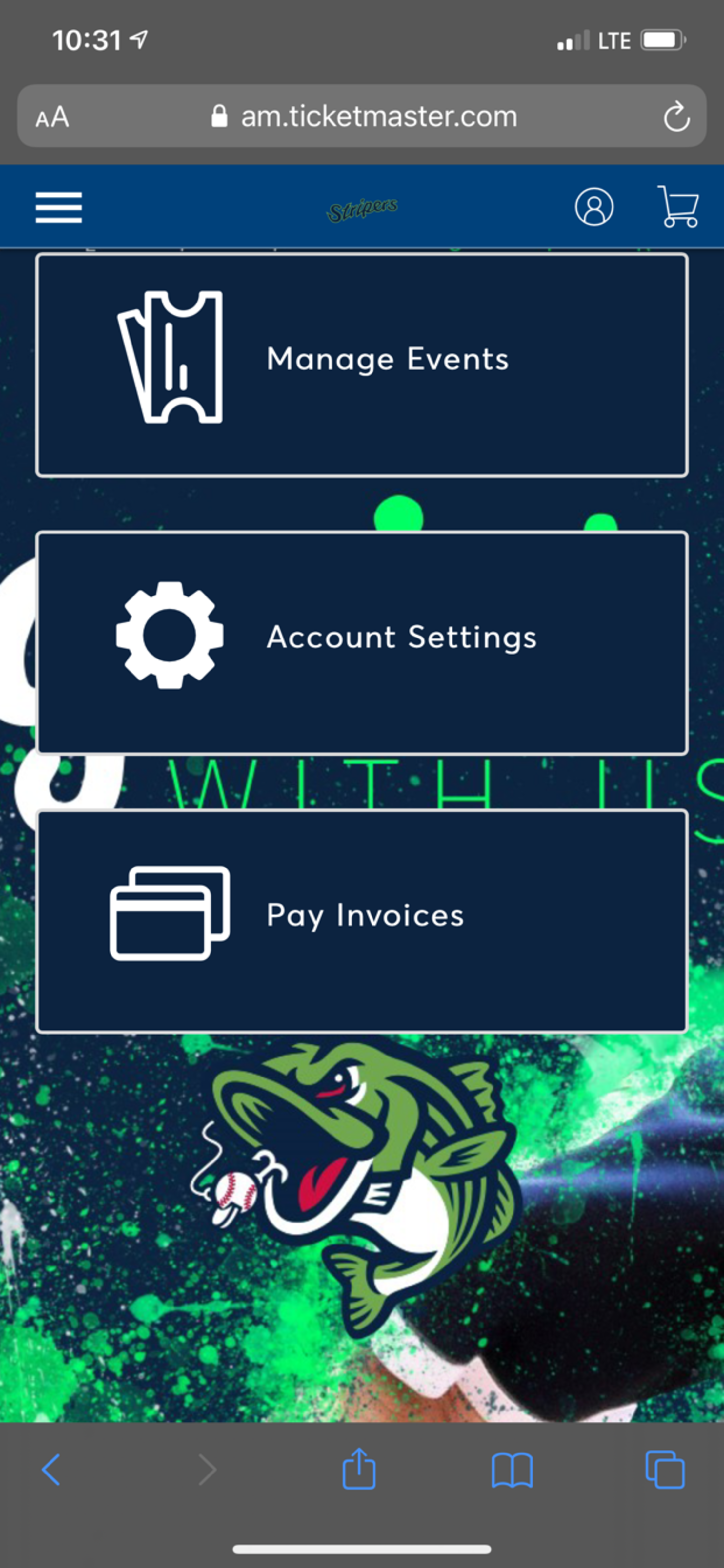 Login Screen
Select the top right icon of a circle with a person inside. Enter your email and password (if you do not know your password, click "Forget Password" or call 678-277-0340 for assistance).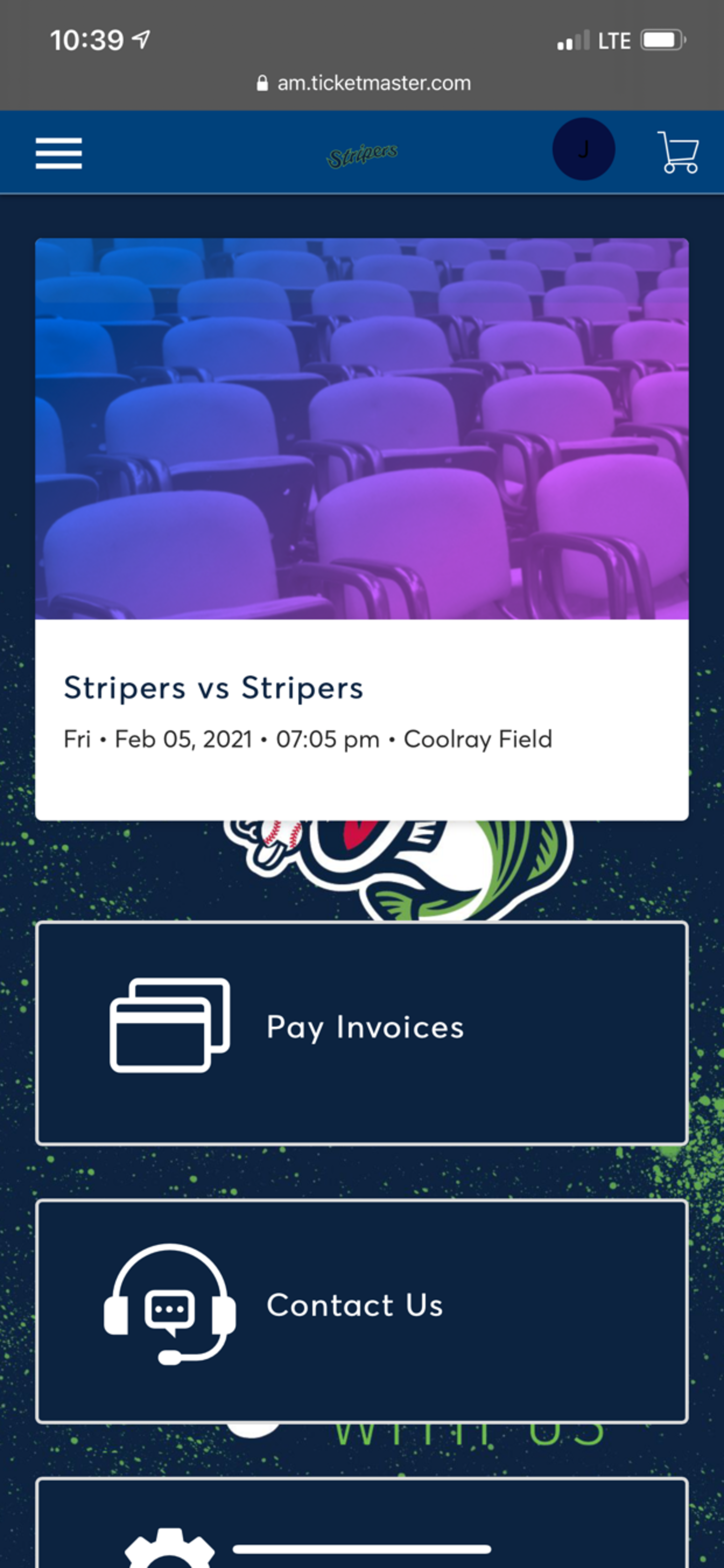 Main Screen
Once you log in to your account, you will see this Homepage. The next upcoming event(s) will show up along with a few account options. If you select the Menu (3 stacked bars in the top left corner), more account options will appear.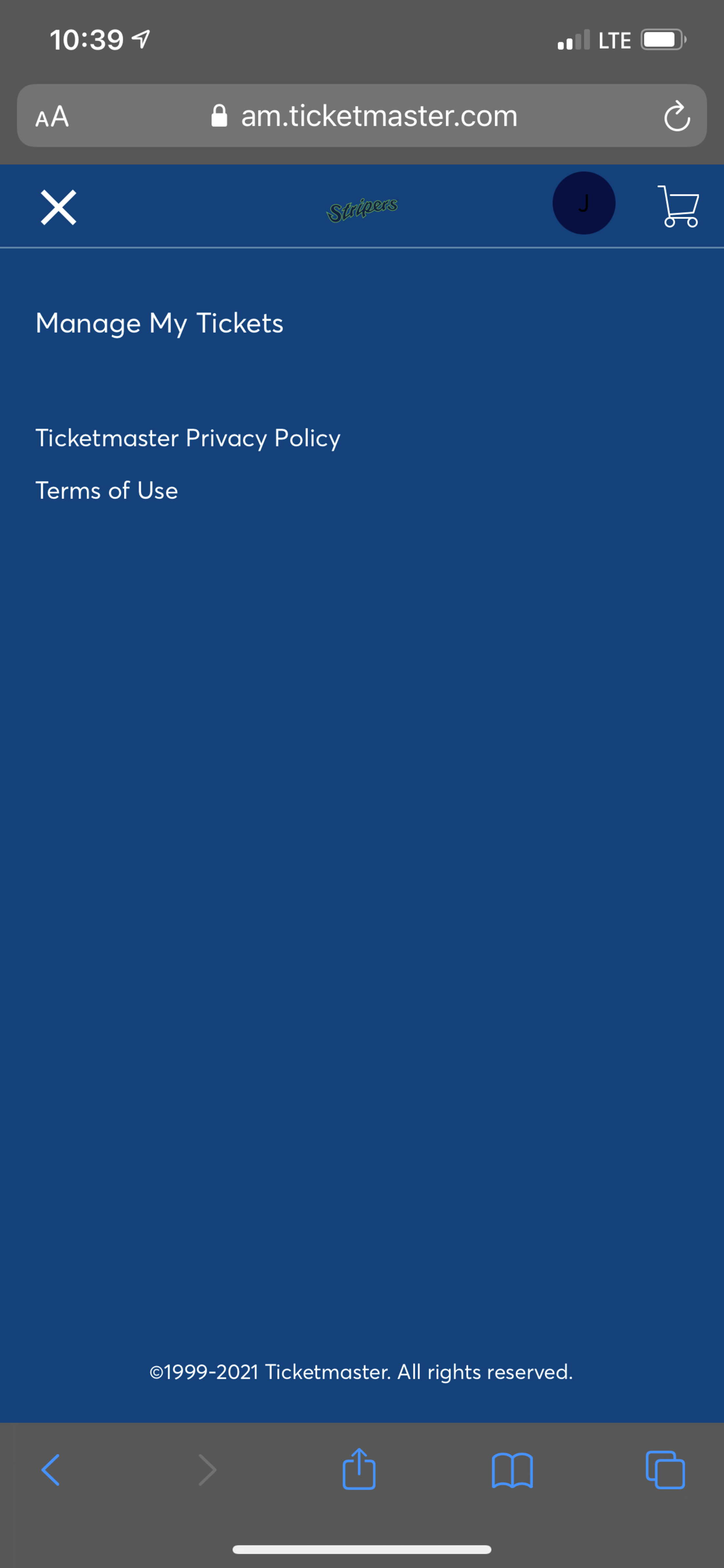 Manage Tickets
Once you select the Menu button, you will see a "Manage My Tickets" option that will allow you to view/transfer and do more with the tickets on your account.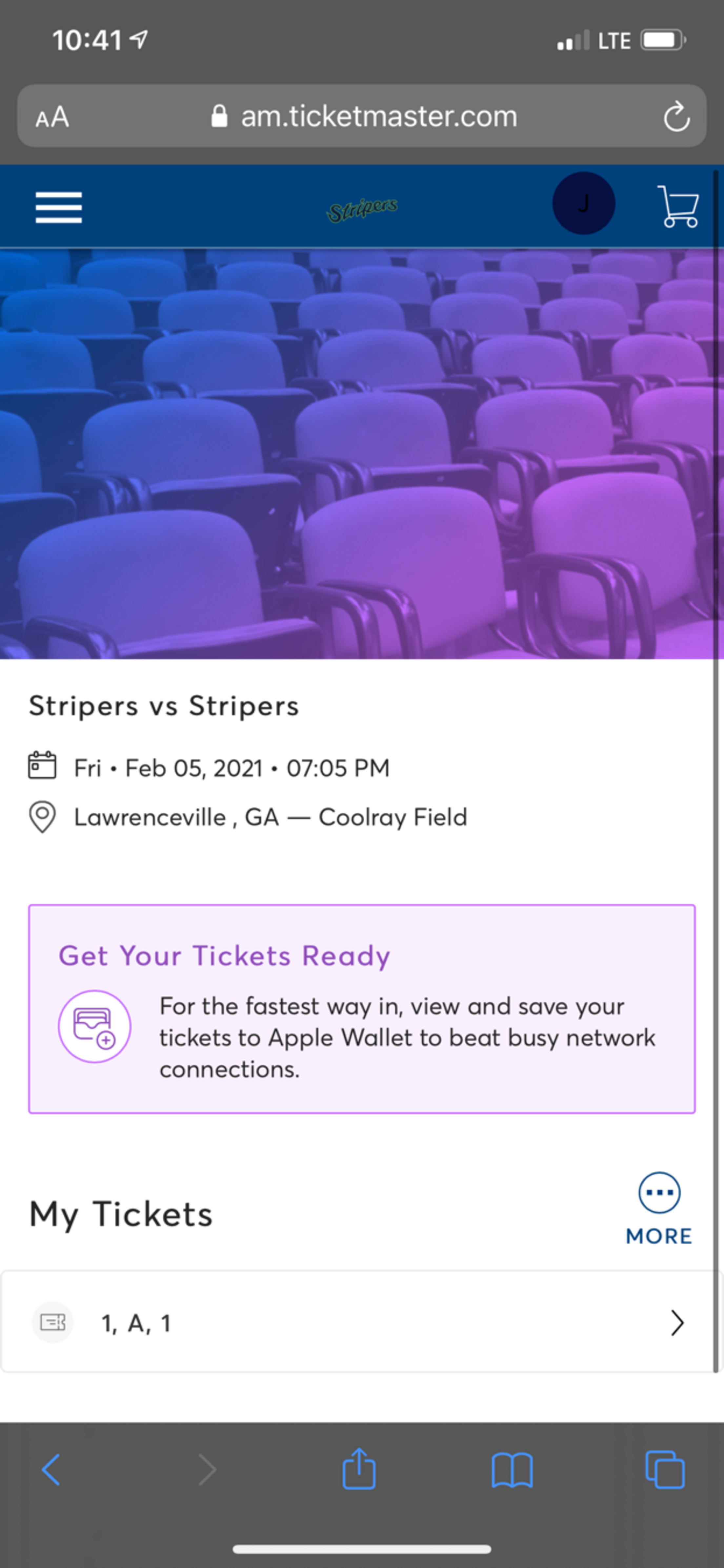 In Event
Once you find the event you are interested in you will see all the event info as well as your tickets at the bottom. You can either select the ticket to see your barcode (present this barcode to be scanned at the Coolray Field gates) and ticket options, or select the "More" icon for ticket options.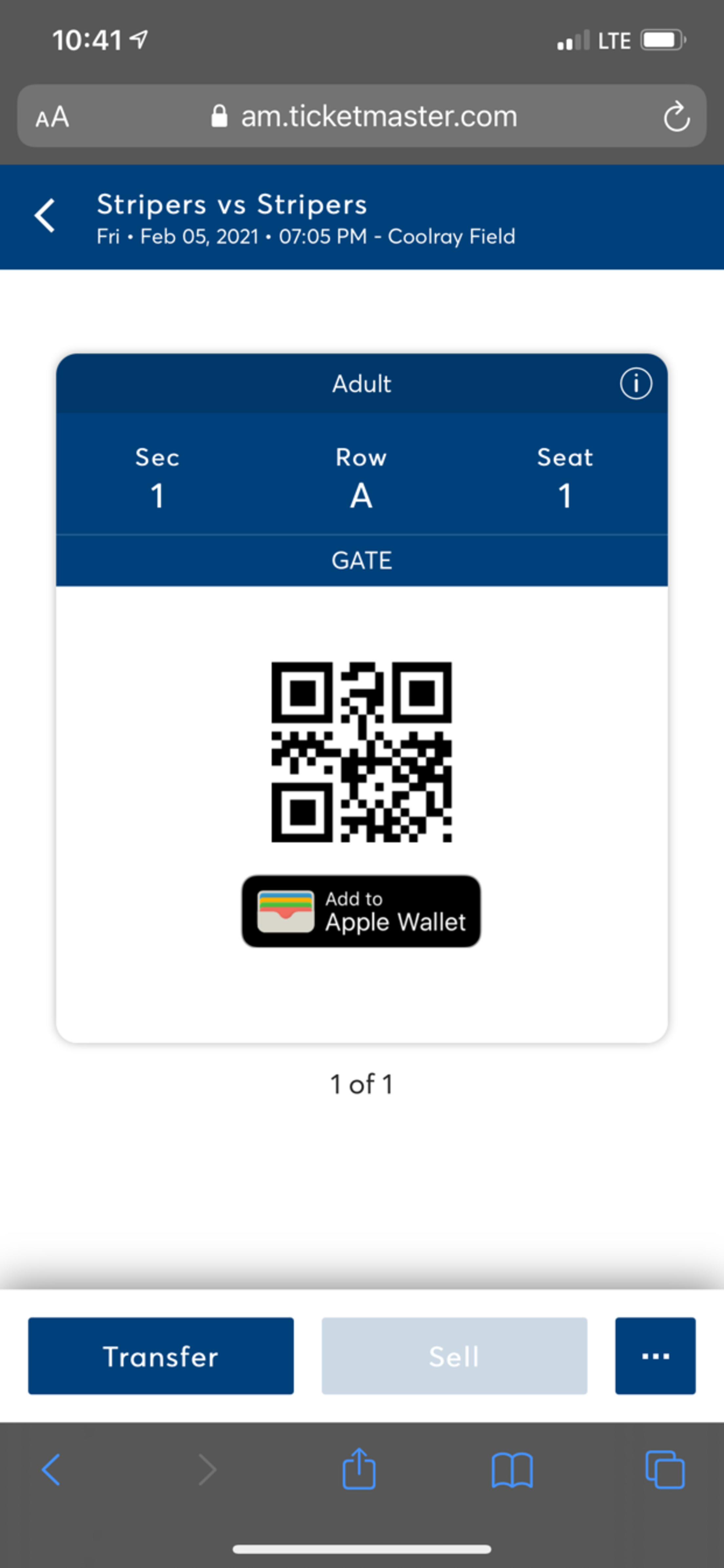 Ticket
Selecting your ticket will show you the ticket for the game. It will have Seating Information (Section, Row, Seat), along with a barcode to enter the Coolray Field gate. It will also have options to "Add to Wallet," "Transfer," or "Sell." If you select "Add to Wallet" it will prompt you to add to your phone's wallet.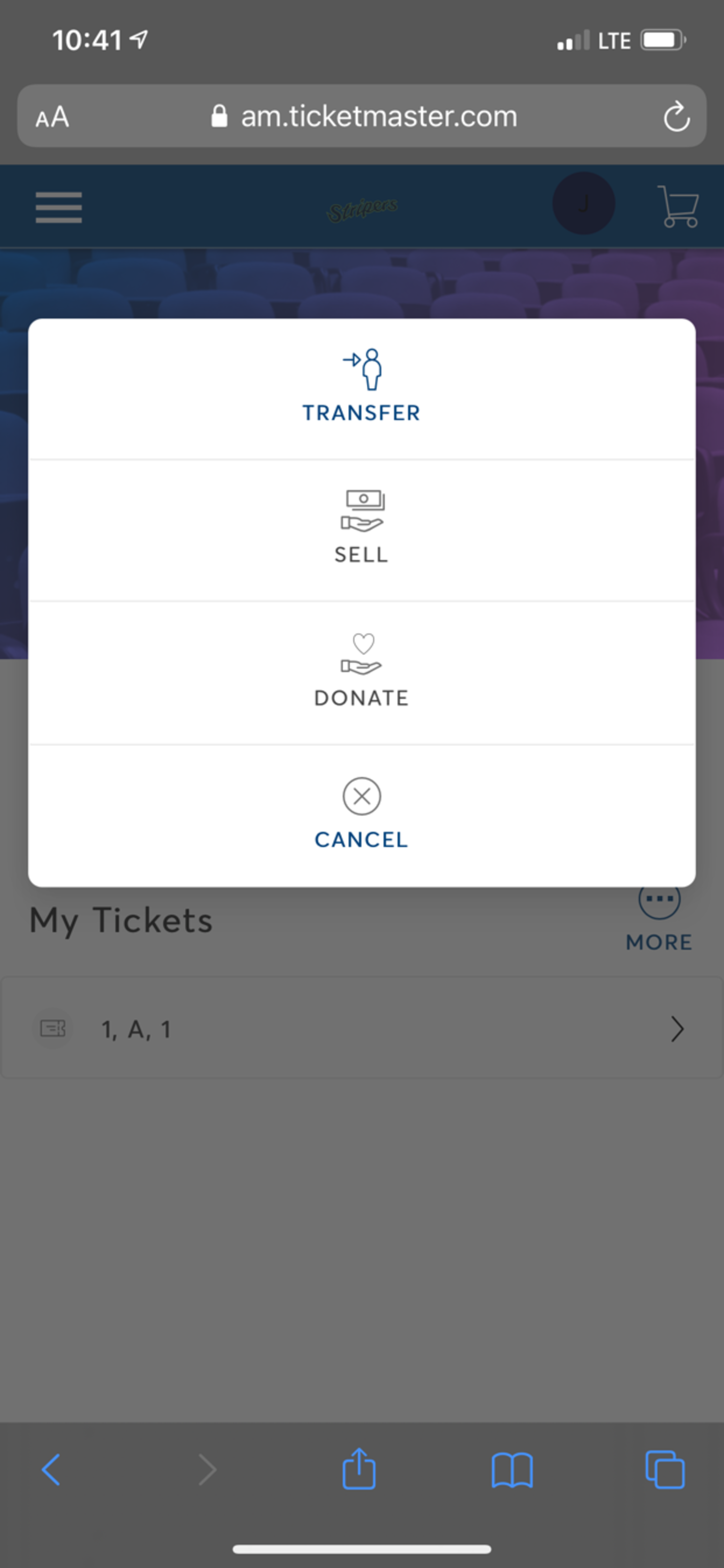 More Options
If you select the "More" icon, it will show you all of the options you can do with that ticket. To share ticket(s) with another person, select "Transfer."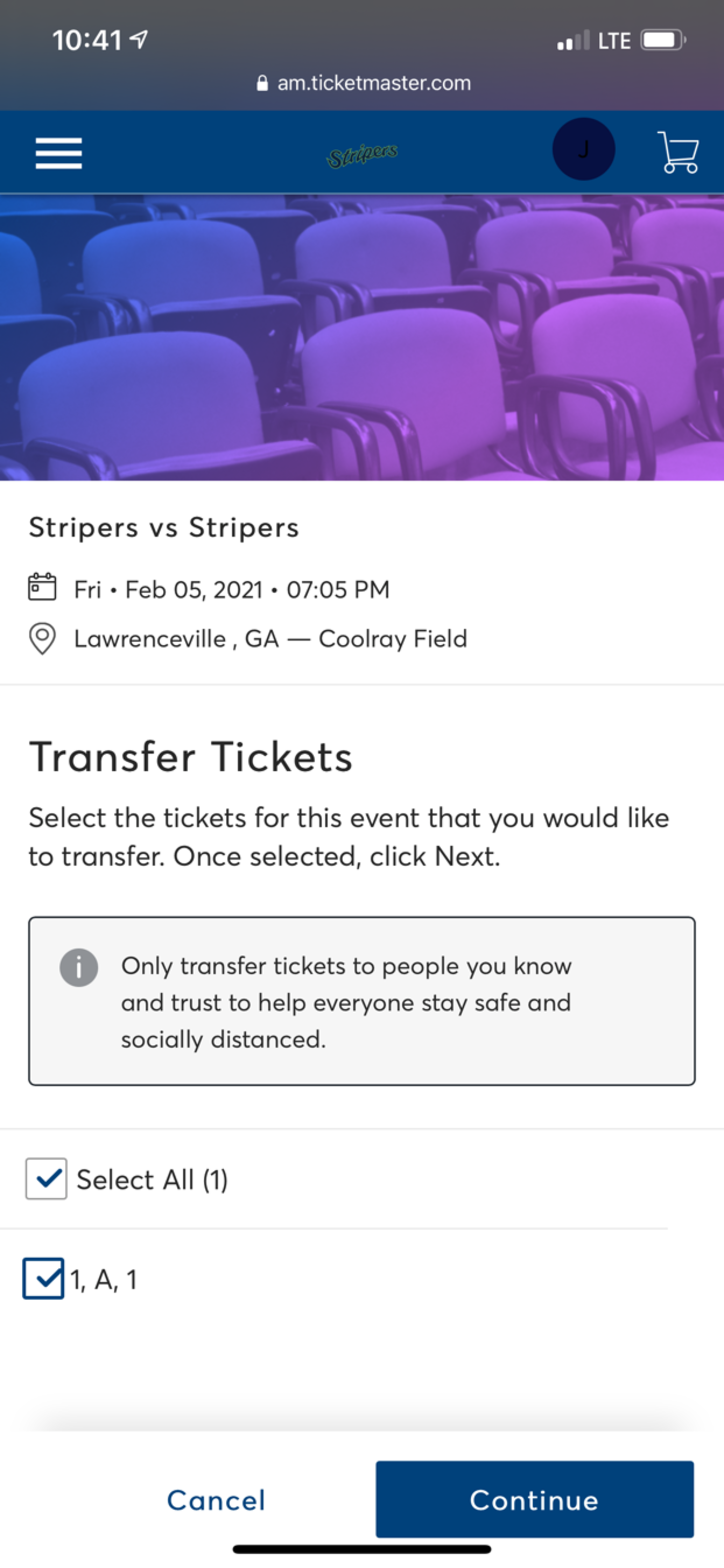 Select Tickets to Transfer
Once you click "Transfer" it will show you all your tickets for the selected game and you can choose which tickets you want to share. Once you select the desired tickets, click "Continue" at the bottom right corner.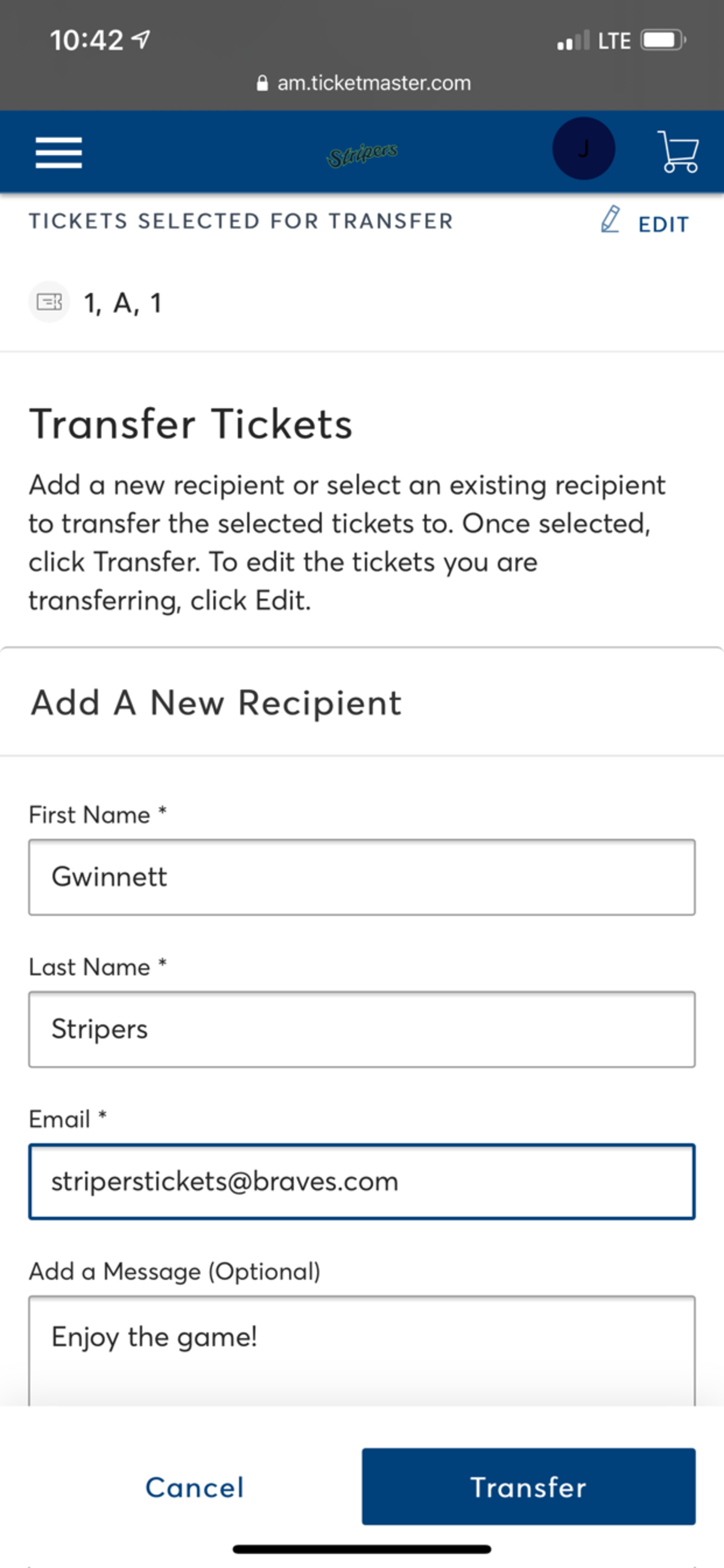 Enter Info to Transfer
Enter the information of the person you want to send the tickets to, including name, email, and optional message. Once everything is entered, click "Transfer" at the bottom right and you will be asked to confirm everything one more time before the tickets are sent for the person to accept.
Frequently Asked Questions
I am a season member/anytime ticket/group ticket buyer; how do I access and manage my tickets?
Your tickets can be access and managed by using your account manager. You can find that log-in page at My Account page.
Can I still print my tickets from home or request will call?
No. As part of a contactless initiative, the Stripers are replacing the print-at-home PDF ticket option with mobile ticketing. PDF tickets will no longer be valid for entry. Will call will no longer be an option.
What if I don't have a smartphone?
If you do not have a smartphone, please contact the Stripers ticket office at 678-277-0340.
Can I have multiple tickets on a single phone?
Yes. When accessing your tickets through your account, tap on the game, and you will be able to swipe right to left through your available tickets. We strongly encourage saving your tickets to your phone's Wallet or Passbook prior to Gameday.
If I purchased my tickets from directly from Ticketmaster, how do I access them?
You will be able to access your tickets via the Ticketmaster App or by going directly to ticketmaster.com on your smart phone then entering your email address and Ticketmaster password.
Can I use a screenshot of my ticket to enter Coolray Field?
No, screenshots of tickets or any ticket produced by an unauthorized source will not be accepted. You can access your tickets through the Ticketmaster App, or on the My Account page on your phone's browser, or from your "Apple Wallet" (if you have an iPhone).
I have an Android and cannot add my ticket to my mobile wallet, how do I get in the stadium?
Some Androids do not have the ability to add to the mobile wallet at this point. You can find your barcode using the Ticketmaster mobile app or on ticketmaster.com . You can also log on to your Account Manager using the web browser.
I have routinely transferred tickets to friends/coworkers in the past. Has that process changed?
The process to transfer a ticket has not changed. However, the recipient will only be able to access tickets for entry via mobile device. The ability to print tickets at home (a PDF) is no longer available. We encourage you to communicate in advance with whomever you may transfer tickets to and make sure they have a smartphone device to accept and view tickets.
What if my entire party is not with me when I enter Coolray Field?
Every fan needs to present a ticket to enter Coolray Field. If your party is not with you, you are able to transfer the ticket to them via your smartphone so they may enter separately.
Once I transfer my tickets to someone can they transfer to someone else?
Yes, there is no limit to the amount of times a ticket can be transferred.
Why don't I see a barcode when I add the ticket to my mobile wallet?
Once the ticket is in your mobile wallet it will be scanned by a reader – you will not see a barcode once the ticket is in your mobile wallet.
When I send my ticket(s) to someone else, do they have to download the Ticketmaster App?
No, they can either access them at ticketmaster.com or download either the Ticketmaster App com to have their tickets on their mobile device.
Where can I see the individual ticket prices?
Once you are logged into your account, select your mobile ticket and click 'Ticket Details' to see the individual ticket price.
What if I transfer my ticket(s) to someone who does not have a smartphone?
Please contact the ticket office for assistance.
I have logged into my account and it says I don't have any tickets, what is going on?
You have most likely logged in using an email address that is not associated with your account. Try logging in with an alternative email address. If the issue persists – please contact the Ticket Office.