Ciriaco's go-ahead shot lifts Clips in opener
Columbus erases four-run deficit to grab lead in Governors' Cup Finals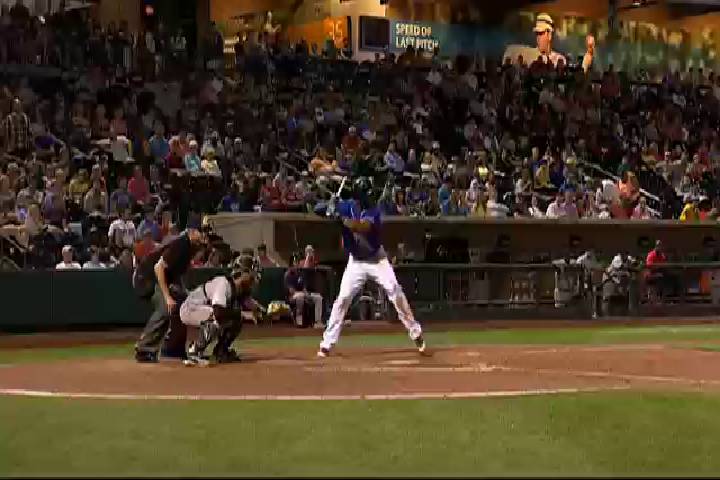 By Danny Wild / MiLB.com | September 15, 2015 11:07 PM
The biggest moment of Audy Ciriaco's career was just the latest chapter of playoff magic for the Columbus Clippers.
"This is unbelievable, I can't describe the feeling," Ciriaco said, moments before getting soaked in Gaitorade by his teammates. "This is something awesome. This is the coolest thing I have ever done in my life."
One night after homering to send Columbus to the Governors' Cup Finals, Ciriaco slammed a go-ahead solo shot in the eighth inning to cap a late comeback and give the Clippers a 6-5 win over Indianapolis in Game 1 of the best-of-5 series at Huntington Park.
Ciriaco, a 28-year-old middle infielder, connected on a 3-2 pitch from reliever Josh Wall leading off the eighth after Columbus erased a 5-1 deficit with four runs in the seventh. The blast made a winner of Joseph Colon (1-0), who struck out four over the final two innings.
"We need to enjoy it," Columbus manager Chris Tremie said a night after his team nearly no-hit Norfolk in the decisive fifth game of the semifinals. "Last night was great winning, tonight was a big win again. [We need to] enjoy this and we gotta come back, refocus and win again tomorrow. A lot of exciting things happening right now."
Indianapolis took control early behind veteran starter Chris Volstad, who struck out seven and limited the Clippers to a run on six hits and walk over six innings. Gorkys Hernandez went 3-for-4 with an RBI as the Indians built a 5-1 lead by the seventh.
"Unfortunately, we gave up some runs in the top half of that inning, things didn't look too good," Tremie said.
But Columbus clawed back in the bottom of the seventh when Erik Gonzalez hit an RBI double, Zach Walters lined a two-run single and Adam Moore followed with a game-tying RBI double to right off Wall. Ciriaco, who went 2-for-4, followed an inning later with his third postseason homer.
"The guys, they just responded," Tremie said. "It was loud, it was quick, it was just exciting. It was an unbelievable inning right there. It was a great ballgame all-around."
Columbus again enjoyed a decided homefield advantage with a full house of 11,048 -- another playoff record -- after the team offered free admission.
"It's unbelievable. Every time you get a hit, you get an ovation. Make a play, you hear the crowd going nuts," Ciriaco said. "That just makes you want to do more for the team and do good things, so they enjoy the game and we can help the team win."
"Now that was exciting!!!" Clippers outfielder Tyler Holt tweeted. "Columbus let's do it again [tomorrow]. Pack this place. Last home game of season!"
Ryan Merritt started for Columbus and allowed four runs on nine hits and two walks with four strikeouts over 6 1/3 innings before Trey Haley got the last two outs in the seventh. Colon pitched a pair of perfect innings, striking out Pirates No. 3 prospect Josh Bell looking for the final out.
"Colon coming in and just shutting the door was awesome," Tremie said. "All-around effort, everybody contributed. It's a good win."
Tremie praised Ciriaco, a veteran infielder who came up in the Tigers system before signing with Cleveland in 2014. He hit .236 with six homers and 37 RBIs in 77 regular-season games for Columbus, enduring five stints on the disabled list.
"He's been part of this team all year long, a big part of it," the manager said. "There's times during the year things weren't going his way and he kind of had to wait and he was great, professional about it. Great teammate. He's getting a chance. He's gotten a chance over the last month or two months. He's been a big part of it and obviously tonight, that's a huge at-bat."
The Clippers will look to take a two-game edge on Wednesday when 15-game winner Toru Murata takes the mound opposite Indianapolis' Wilfredo Boscan at 6:35 p.m. ET.
Danny Wild is an editor for MiLB.com. Follow his MLBlog column, Minoring in Twitter. This story was not subject to the approval of the National Association of Professional Baseball Leagues or its clubs.
View More