Franklin, Bulls take 2-1 series lead
Leadoff homer in second inning proves decisive in 3-2 victory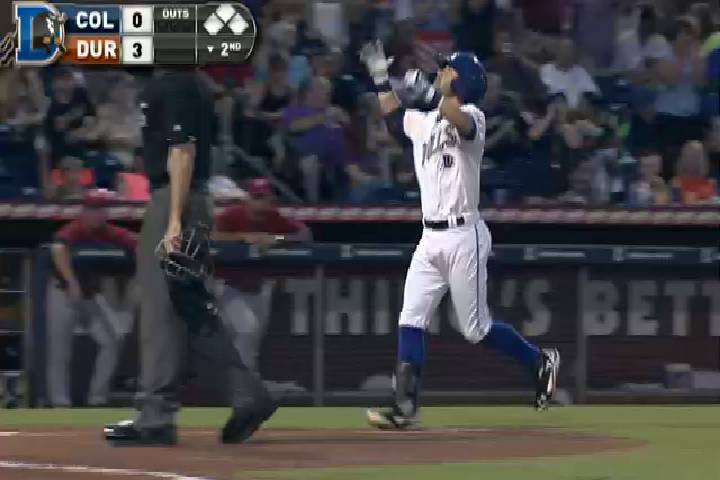 By Bob Sutton / Special to MiLB.com | September 5, 2014 11:07 PM
DURHAM, N.C. -- It's not too late for Nick Franklin to make a strong impression on his new organization.
The Rays prospect has picked up the pace offensively in the International League playoffs, with his solo homer making the difference Friday as Durham beat Columbus, 3-2, to take a 2-1 lead in the best-of-5 semifinals.
"I struggled a little early [once I got here]," said Franklin, who spent the final month of the season with the Bulls after he was acquired from the Mariners. "I think that's a little natural coming to a new team. I'm sticking with it and sticking with the plan."
Franklin is 5-for-10 in three playoff games. He led off the second inning with his first postseason homer to give the Bulls a 3-0 lead.
"I don't really change anything because it's the postseason," he said.
Bulls manager Charlie Montoyo said he gave Franklin the green light on a 3-0 count a night earlier. Even though that resulted in a flyout, Montoyo was hoping a positive message was sent.
"I want to show him confidence," Montoyo said.
Franklin's blast on Friday night was his third in 30 games since joining the Bulls in the three-way deadline day deal that sent David Price to Detroit.
"When it left the bat, you kind of had a good feeling," said the switch-hitting Franklin, who was batting from the left side against Columbus starter Shaun Marcum.
Franklin's hitting was a tool that made him a highly regarding prospect for the Mariners prior to the trade.
"I was expecting something like that anyway," Montoyo said of Franklin's offensive contributions this week.
Bulls starter Matt Andriese struck out eight over five innings, allowing two runs on three hits and two walks for his first win in nine appearances since July 17. Three relievers combined for four shutout frames.
"He has battled," Montoyo said of Andriese. "He gave us five innings. He left with the lead."
Former Bull Elliot Johnson and Ryan Rohlinger started the fifth with back-to-back homers for Columbus.
"It has been feeling good the last half of the year and the wins have been hard to come by," Andriese said. "I don't think the way I pitched really is reflected in the win column."
The Clippers didn't convert after Indians No. 5 prospect James Ramsey's leadoff double in the eighth off Josh Lueke.
The Bulls struck for two first-inning runs, with Jeremy Moore coming through with a two-out RBI single and scoring on a double by Rays No. 18 prospect Tim Beckham.
Game 4 is Saturday afternoon.
Bob Sutton is a contributor to MiLB.com. This story was not subject to the approval of the National Association of Professional Baseball Leagues or its clubs.
View More